Al Amin, Laudium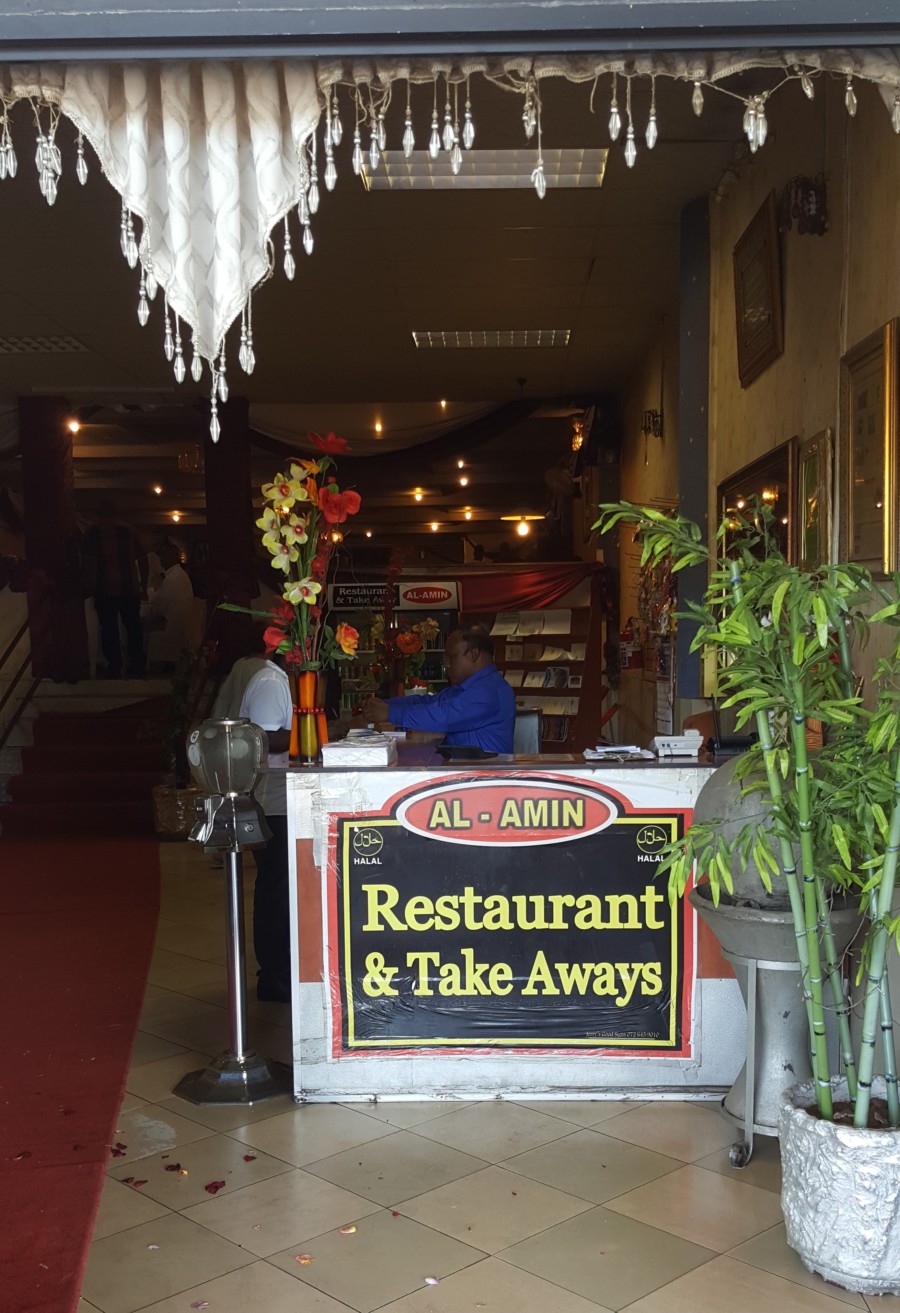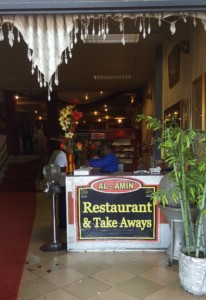 No one ever went to Al Amin in Laudium, Pretoria for tips on interior decorating. The cavernous space – formerly a car showroom – is wedged between a discount toilet paper shop and an Engen service station. The garage does a (literally) roaring trade from its air compressor which provided a constant chug-chug-chug accompaniment to my most recent (Saturday mid-day) meal. The restaurant walls are bedecked with multiple flat-screen televisions. More often than not, the aforementioned TVs are booming out cricket commentary. Plastic tables and chairs are covered in vivid yellow satin.
So why do I keep going back? Because only an idiot sees décor or hears sports scores and air compressors when the food is this good. At Al Amin everything from the first bite of bread to the last swallow of soji pudding is always exquisite.
Pakistani-born chef Mohammed Mojib uses gas tandoor ovens to make aromatic sesame seed flecked naan breads (R7). Aloo paratha with cumin infused potato filling (R20) competes for attention with luscious, light and buttery beyond all imagining rumali roti (R5). Clearly, the doughs described are offered up within completely different food genres but the only bread I have tasted this year that even comes close to being as good, is that made by chef Freideline Denyssen at Terroir restaurant in Stellenbosch.
I used the aforementioned breads to scoop up gloriously golden pearls of masoor dal lentils (R35) and a chicken karahi with an intense, aromatic, umami-rich gravy (R50). Kachumbar, chopped cucumber, tomato, onion salad dressed with a squeeze of lime added textural dimension and citrus cut through the ghee-laden abundance of the curry.
My partner's biryani (R65) was lovely and served in such a large portion that we took leftovers home and subsequently ate them as a second meal for three. Long-grain saffron rice was scented with cardamom and cinnamon then peppered with chunks of delicately flavoured mutton and plump pieces of potato.
Al Amin is strictly Halal so we drank cool, refreshing salt lassi. Confusingly, the soji halwa (R40) was listed on the menu amidst the starters but my eager eagle eyes can spot my favourite semolina dessert anywhere. It is the kryptonite against which I am powerless to resist. So, I didn't. And it was everything one wants in soji – warm, creamy, cardamom-infused comfort studded with golden sultanas and sprinkled with flaked almonds. Surely what angels eat. Definitely my death row last meal request.
Prices are almost absurdly low. Serious greed and considerable concentration is required to spend R150 a head. My advice is make the effort. Focus on eating as much as you can at Al Amin. You won't be sorry.
Al-Amin: 012 374 6753 / 6771; 217 Jewel Street, Laudium, Pretoria; open daily for lunch and dinner
Dr Anna Trapido was trained as an anthropologist at King's College Cambridge and a chef at the Prue Leith College of Food and Wine. She has twice won the World Gourmand Cookbook Award. She has made a birthday cake for Will Smith, a Christmas cake for Nelson Mandela and cranberry scones for Michelle Obama. She is in favour of Champagne socialism and once swallowed a digital watch by mistake.
Like our content?
Show your support.
Subscribe