Aurum, Sandton
5
I hate writing negative restaurant reviews. Especially bad reviews of new restaurants. I know that opening an eatery is extremely anxiety-inducing, exhausting and expensive. I recognize that the first few weeks of any new venture are almost always riddled with unexpected complications.
Wherever possible I try not to review such spaces too soon, so as, to give them time to settle in and smooth out the culinary creases. Even then, most of the time I adopt a policy of, say nothing if there is nothing nice to say – if only because there is inevitably fall out from less than complimentary comments. Well-mannered chefs, owners and PR people ask for further thoughts. Badly behaved brethren (and in my experience, it is always the brethren – female food industry players take criticism with greater grace) rant, storm and blaspheme in awful emails.
However, there are certain epicurean 'event' openings, for which considerable claims have been made in the pre-publicity. These are time sensitive, news happenings – like significant theatre openings – and must be reported upon right away. So here goes…
Aurum restaurant, at the recently completed, über-exclusive Leonardo building, Sandton, is just such a spot. The restaurant had been open for 12 days when my friend and I visited but media releases announcing the imminent arrival of "the new gold standard in hospitality" had been glittering up my email inbox for at least six months prior to launch.
What follows is not an anti-elitist stance. Johannesburg is Africa's richest city. I like it that way and I am unapologetically keen for there to be more high-end dining destinations therein. The recent spate of emigrations and deaths amongst Gauteng's old guard gourmet grandees has Egoli due to some new posh-nosh palaces. A peek at the Aurum menu online suggested that the holy trinity of truffles, caviar and Champagne were well represented so I had high hopes for an evening of wallowing in lovely luxury.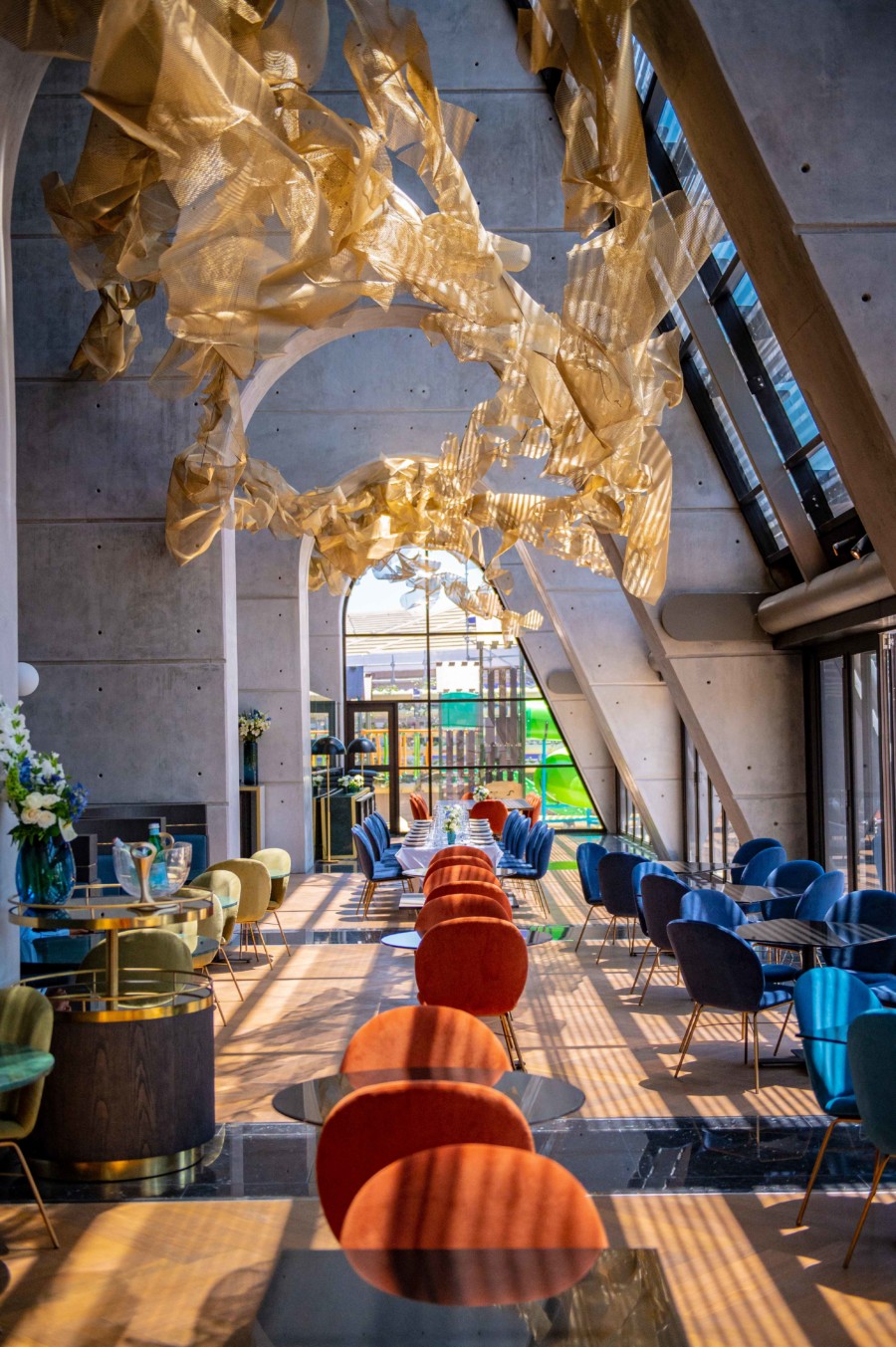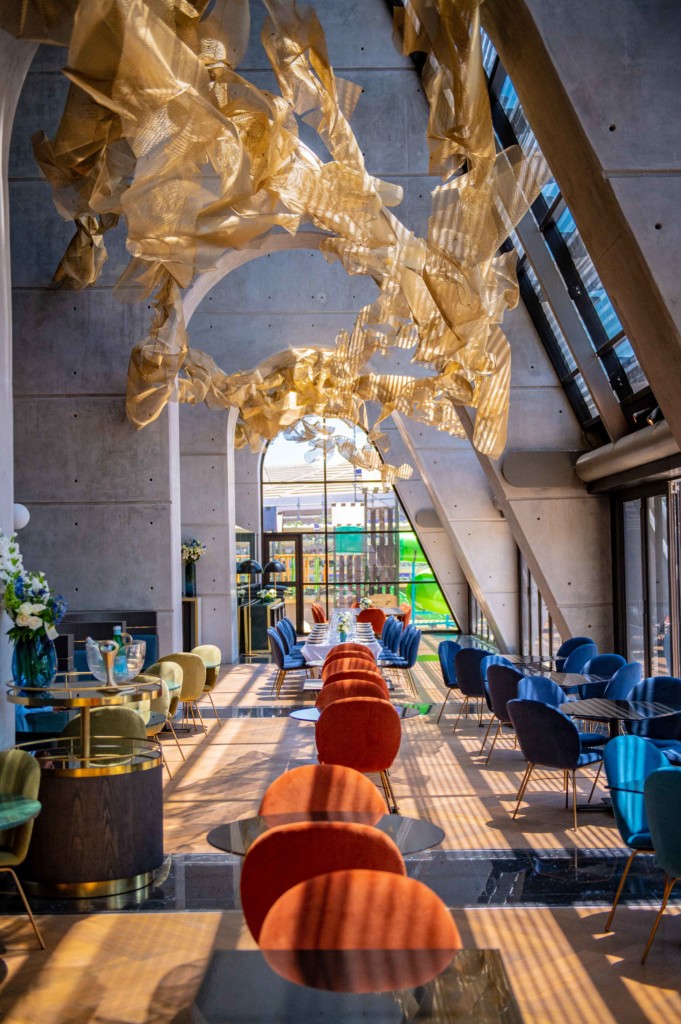 Décor calls to mind those cavernous, late-19th-century train stations where cathedral-esque high ceilings and infinite arches meet faith in the unstoppable progress of modernity. There is a lot of marble and gold twiddly bits float from the super-high ceilings. All of the above match the mood of Johannesburg which was founded on similar sentiments.
There are promising signs and glimpses of the potential for glory at Aurum. Sommelier Lisa de Beer has assembled a superb local and international wine list which provides a platform for younger generation producers of innovative excellence. Mark ups are at the reasonable end of average and there is something to intrigue and educate even the most encyclopedic of wine buyers. De Beer presents her selection in a charming and insightful manner. Her considerable wine knowledge is balanced by a well-judged mélange of enthusiasm and gravitas. Our waist-coated waiter was similarly skilled – informed, amiable, attentive and mostly unobtrusive. So far, so good. After that? Not so much.
For all its high ceilings, the main body of the restaurant is set within a long, thin space with somewhat cell-block-like dimensions. During my dinner the oddly oppressive mood was accentuated by a grey-haired man in a short-sleeved shirt who filed up and down all evening. Not just sometimes. Literally all evening. When he had walked all the way in one direction he turned around and marched back. His vibe combined looming and lurking. My friend and I couldn't decide if he was more 1970s plain clothes security policeman or lonely zoo tiger, driven mad by solitude, pacing back and forth behind the bars of a tiny cage. Since neither seemed likely I eventually asked our attendant if the pacer was the owner's extremely anxious dad looking to check up on his investment. The poor waiter had to explain that the patrolling person was the floor manager. Since the service staff all seemed to be doing a pretty good job, his presence was at best unhelpful. This may seem like a lot of words to waste on a single employee but he was deeply disconcerting.
The only area in which our actual waiter was less than perfect was his apparent neediness. He followed the collection of each plate with "Did you enjoy that?". He was not alone in this. The pacer did it too as did the sommelier. I know a lot of restaurants instruct their staff to do this but my view is that it constitutes inappropriate, intrusive and unhelpful touting for compliments. If diners have a problem they will let service staff know. If they want to pass complements to the chef they should be free to choose their moment. The question "Did you enjoy that?" is right up there with "How are you?" when meeting a casual acquaintance in the street. The only answers that will allow both parties to move on are "Good/fine. Thank you". These are non-optional social conventions carrying well-mannered half-truth. Every time I issued such a non-committal but polite pleasantry the waiter's stock response was "Thank you. I will tell the kitchen." Which made me complicit in a deception that was not of my making. Had I told the whole truth then and there, the evening would have descended into drama. I was still formulating my thoughts and not yet ready to express my reservations. Fortunately, the kitchen seemed to spend a lot of the evening dropping heavy objects. I couldn't see the kitchen from where I was sitting but it sounded like metal baking trays hitting tiled floors. Perhaps this crashing cacophony drowned out my non-commital cordiality.
Chef Darren O'Donovan describes his food as: "modern European interpretations with a twist of local ingredients". Maybe that means oddly unbalanced. My starter of tuna tartare was accompanied by avocado, pickled red onion, a popped sorghum tuile and what the menu listed as "aerated mayo" (R130). Tuna plus avocado plus mayonnaise = fat3. The indefatigable sommelier did what she could to raise the experience with a pleasant pairing of Domaine du Margalleau Vouvray 2018 but such a significant fat-cubed offering requires more acid, spice and salt to lift flavour and texture than the wine could provide. Perhaps the pickled onion was intended to provide tart taste contrast but it was too mild to have that effect. Sorghum seemed like it might be a nice nod to heritage ingredients but, in the absence of sour, the sweet just hung over all that fat like Kellogg's Honey Smacks cereal. All mayonnaise is whipped and hence aerated but I imagine the idea here was to pass it through a siphon for super aeration. The actual outcome was a thin, flat, salad cream-like substance which left my starter tasting like the filling for a petrol-station-forecourt tinned tuna sandwich. Anyone in any doubt as to the non-U nature of the afore mentioned condiment should refer to the infamous Fawlty Towers salad cream scene.
Then came a punishingly salty duck ragu (R135) with what was described on the menu as duck and juniper jus. The aim with sauce reduction is to concentrate flavour but here the process seemed to have gone on so long that the thick, flat, Bovril-like substance presented had lost all delicacy. Again, the sommelier did what she could with a well-chosen Crystallum Peter Max Pinot Noir 2018.
The Karoo springbok loin (R250) was a beautiful and well-cooked piece of meat. As she poured me a glass of David and Nadia Topography Pinotage 2017, de Beer described the process by which the meat's accompanying black garlic had been made in-house. All the black garlic I have ever had before has had a mellow, soft sweetness but at Aurum it was bizarrely bitter and induced instant, intense heartburn such as I had only previously experienced when very pregnant. The springbok also had a sprinkling of hazelnut dukkha which seemed burnt but maybe that was the heartburn talking.
I could go on and on but I won't except to say that the highlight of the evening was a really lovely scoop of brown butter gelato – nicely nutty, creamy, simple abundance done really, really well. The brown butter bliss was accompanied by a second scoop of (almost as excellent) subtle, smooth, floral rose geranium gelato (R55).
So, given most of the above, why write about Aurum at all? Because, like Everest, it is there and laying claim to the top spot. The golden city deserves a glamour gourmet dining destination. Right now, Aurum is not it. I am not without sympathy. Running any restaurant is very, very hard. Opening an eatery that is aiming for iconic status is even more difficult. Doing so in this economic climate is beyond heroic. Criticizing when said restaurant is less than perfect is a much easier exercise. I do know that almost anyone can identify faults but that it takes great skill, perseverance and energy to sort them out. I hope that they persevere.
Aurum: 087 536 0100; Level 7, The Leonardo, 75 Maude St. Sandton, Johannesburg; www.aurumrestaurant.co.za
Dr Anna Trapido was trained as an anthropologist at King's College Cambridge and a chef at the Prue Leith College of Food and Wine. She has twice won the World Gourmand Cookbook Award. She has made a birthday cake for Will Smith, a Christmas cake for Nelson Mandela and cranberry scones for Michelle Obama. She is in favour of Champagne socialism and once swallowed a digital watch by mistake.
Attention: Reviews like this take time and effort to create. We need your support to make our work possible. To make a financial contribution, click here. Invoice available upon request – contact info@winemag.co.za
Like our content?
Show your support.
Subscribe