BICCCS, Brooklyn Bridge, Pretoria
At BICCCS Brooklyn Bridge, Pretoria chef Fortunato Mazzone serves up the sort of simple abundance that makes a diner sigh and feel sorry for absent friends. Conversation quickly turns to who must be brought to enjoy the trattoria-type delights and which missed menu offering must be tried next time. One bite in there is no doubt in anyone's mind that there will be a next time.
Chef Mazzone has a long history of providing Pretoria with superb Southern Italian-style cuisine. In the 1970s he grew up amidst the marinated melanzane sott'aceto and freshly baked schiacciatta breads of his father's eponymous Giovanni's restaurant in Sunnyside. The father-and-son duo subsequently shared their kitchen and front of house talents for two decades at Waterkloof's late lamented, Ritrovo. In recent years Giovanni has taken a back seat as Fortunato has opened Priva champagne bar and cigar lounge and Forti's Grill and Bar in Menlyn. The latter offers contemporary, creative, Italian inspired fine fare with an extraordinarily encyclopedic local and international wine list.
BICCCS (selling Bread, Ice cream, Cake, Croissant, Coffee) began five years ago as a retirement project for Giovanni. What was a single snack bar has subsequently evolved into a bouquet of casual yet classy day time eateries. While the older chef still comes in occasionally the brand has now essentially passed from father to son.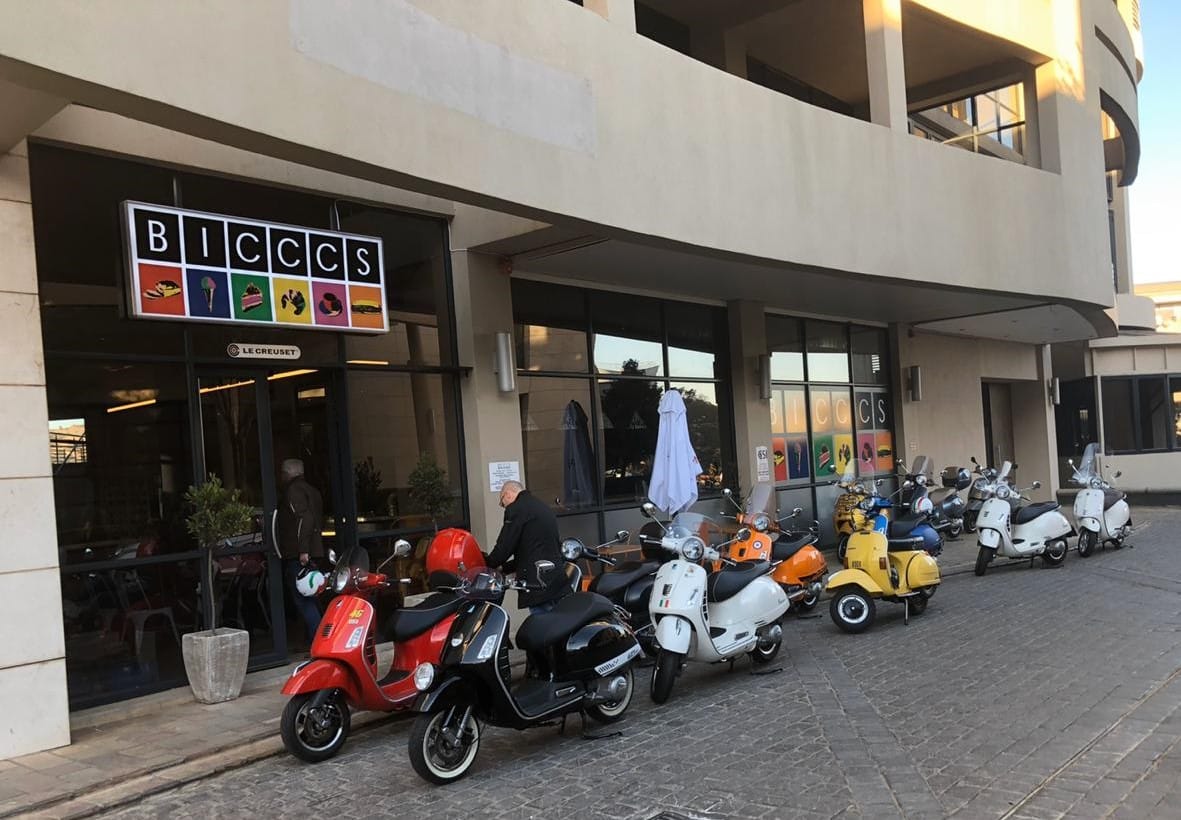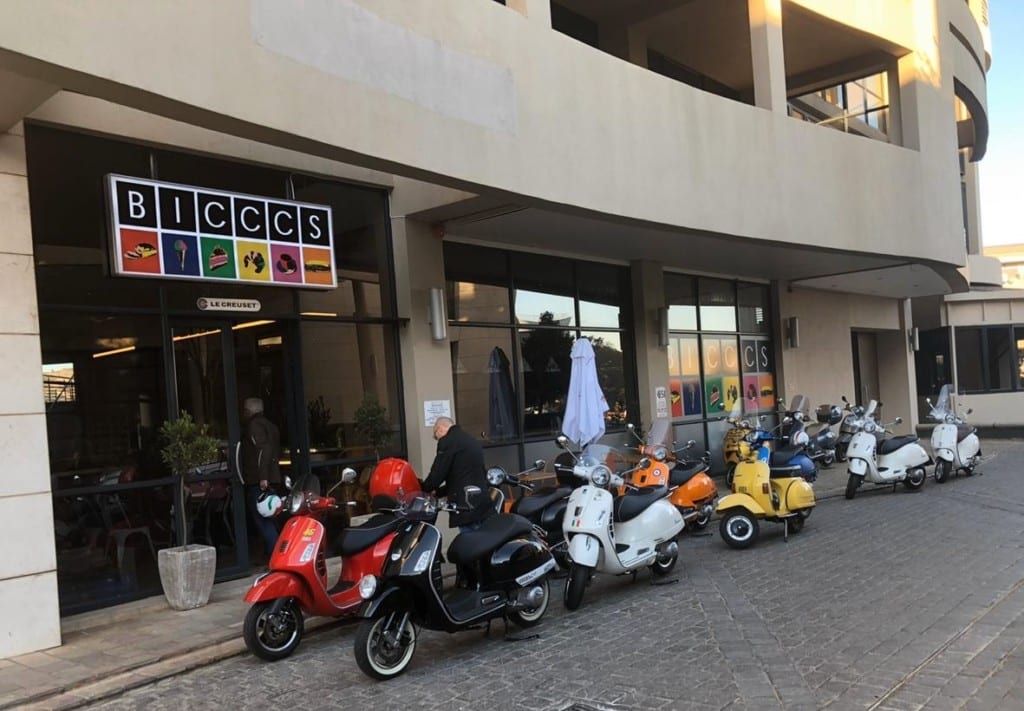 BICCCS Brooklyn Bridge is Fortunato's most recent epicurean offering. Brooklyn Bridge is an upmarket office park. Tenants include high-end law firms, actuaries and the Mexican embassy. As in all the BICCCS branches, décor is super-simple with primary colour chairs, tables and crockery.
The menu is short with clipped prose and reasonable prices. All-day breakfast competes for customer attention with Neapolitan-style pizzas, pastas and a selection of other hearty, wholesome, Southern Italian casual classics. Desserts are similarly simple but effective – of more anon – but first to pizza.
In Elizabeth Gilbert's mega-selling book-turned-film Eat Pray Love, there is a pizza place in Naples where the author observes that: "I love my pizza so much that I have come to believe in my delirium that my pizza might actually love me." And so, it is at BICCCS Brooklyn Bridge.  My son ordered Regina pizza (R90). The crust had that glorious ratio of blistered crackle to airy, pliability that can only come from a slow-proved dough meeting a super-hot oven.  Chewy around the edge and distinctly more yielding in the centre. Sweet- sour caramelized tomato tastes were layered into hints of oregano, garlic, ham and molten Mozzarella. Such simplicity is never simple and the pizza at BICCCS Brooklyn Bridge is a case study in what happens when great ingredients meet technique and form.
Teenagers eat fast and furiously. So much so that I almost missed out on trying the afore-mentioned pizza perfection. I managed to steal only one slice because I was engrossed in my own order. The vegan section of the menu listed 'bean, spinach and broccoli stew' and that is what I ate (R75). I am not a vegan but I love the unself-conscious, incidentally vegan dishes that are so common in Italian peasant food. A lovely wilted tangle of chard, onions and garlic was topped with vivid green broccoli florets and fagioli so tender that they had reached a roast chestnut-like rich, rounded state of bean Nirvana. There were also two great cushiony slices of straight from the oven, crisp crusted bread with which to sop up the accompanying cloudy broth and halo of olive oil.  
Wine matches the food and the mood. The chef's own Nick and Forti's by Saronsberg label is joined by a small selection of trusted, recognizable estates. Varietals and blends complement the core tastes described above. This is not a list to move diners outside of comfort zones but rather one that allows them to sociably savour the best of what they know. Almost everything is available by the glass. It was lunch time and I am a useless lightweight when it comes to daytime drinking so my boy and I shared a caraff of Protea Rose (R40). The wine's refreshing yet subtle floral, fruity flavours and well-judged acidity complemented both of our choices.
For dessert we were tempted by chef Mazzone's legendary gelato – scoops are big, prices are small, tastes are sublime – but ultimately decided on a move out of Italy and into Portugal as we shared a delicate, delicious Pasteis de Belem custard tart (R40). The puff pastry shell was light, crisp and slightly salty. The filling was silky smooth and beautifully balanced between sweetness, cinnamon, lemon zest and vanilla.
Add in an excellent espresso and a tip and we still ended up with a bill for two of only R300. As with all Mazzone owned establishments service was warm and personal but never intrusive. The only drawback is that BICCCS Brooklyn Bridge closes at 8pm but food this fabulous is worth eating early for.  Use the extra hours in the evening to decide who to take and what to order next time.
BICCCS Brooklyn Bridge: 012 3400255; shop 2, Brooklyn Bridge, 511 Fehrsen Street, Brooklyn, Pretoria;  https://www.bicccs.net/
Dr Anna Trapido was trained as an anthropologist at King's College Cambridge and a chef at the Prue Leith College of Food and Wine. She has twice won the World Gourmand Cookbook Award. She has made a birthday cake for Will Smith, a Christmas cake for Nelson Mandela and cranberry scones for Michelle Obama. She is in favour of Champagne socialism and once swallowed a digital watch by mistake.
Attention: Reviews like this take time and effort to create. We need your support to make our work possible. To make a financial contribution, click here. Invoice available upon request – contact info@winemag.co.za
Like our content?
Show your support.
Subscribe