Cosy Corner – restaurant review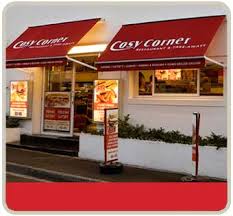 I have never had a salomie so generous. I could hardly get my hand around it, such was the girth of this famous curry roll from Cosy Corner in Lower Wynberg.
And it was delicious. The potato in the curry was miraculously tender: no flouriness, no glassiness. It held together perfectly. The lamb – huge chunks of it – was melt-in-the-mouth: not dry, not chewy. The gravy itself – which should be the hero of any curry – was earthily-spiced with a heat to warm the inside of your mouth and a fragrance to make you feel like your were there at the genesis of this curry, standing at the chopping board over little piles of freshly minced garlic and ginger.
It got better: the roti. How did they do it? Here was a single flatbread wrapped around a vast quantity of filling –with not a tear or a soggy patch in sight.
This roti was buttery like a shortcrust pastry for a meat pie, and elastic like a good pizza base. I thought I had tasted the best roti in Cape Town at Mariam's Kitchen in St George's Mall – a dense texture with a flaky, buttery top – but the Cosy Corner one managed to look more like a regular roti, with its attractive brown polka dots on the surface.
Tasneem Hartley and her husband Yousri are the owners here. "We are well known for our rotis," Tasneem tells me. A family friend supplies 1000 of the breads a week.
Cosy Corner was opened by Tasneem's parents, Ismail and Zuleiga Hartley, in 1973. It has operated on the same corner for 41 years. It stays open every day until 2am.
I find this staggering. People are fond of saying that Cape Town restaurants must struggle to survive. Cosy Corner is on a quiet part of Ottery Road. It sits among smallish houses in an already humble suburb. I say it's all about the food.
There are four types of samoosa here. If a masterclass is ever required in subtle spicing, Cape Town-style, these samoosas could constitute the textbook. The chicken filling made me sigh and raise my eyes heavenward. It was mild enough for a child to eat, but with the same balance of heat and fresh tastes as the lamb curry.
"We still use Mom's recipes for the curries. She's 92-years-old now," says Tasneem. "When she and Dad started out, cooking was what she could do. It was their way of providing for us."
The curries I tried – the butter chicken and Durban-style chicken fillet curry – were not as rich as I'd expected them to be; not as packed with spices and oil. Zuleiga's chicken curries feature perfectly-cooked meat and potatoes, but they taste homemade – a pleasant eating experience in its own way.
Cosy Corner is most famous for its gatsbies. A gatsby, if you don't know, is a Cape Town thing. It's a long bread roll filled with meat, chips, salad and sauces. A gatsby is to Cape Town what a bunnychow is to Durban.
The flagship gatsbies here — the full tandoori chicken gatsby, the masala steak gatsby and the calamari Gatsby – cost over R100, and can feed up to four men.
The fried masala rump steak is the one that makes Tasneem swell with pride. "I am the only person in the Western Cape who uses A-Grade rump steak… We developed the basting sauce for the steak with both a food technologist and a food stylist."
In separate polls, listeners to radio station KFM and viewers of the morning TV show Expresso voted Cosy Corner's gatsbies the best in town.
"I am the most expensive but I sell the most," Tasneem says.
Note: Cosy Corner is a strictly halaal establishment with no alcohol allowed on the premises. Take-aways are however an option.
Cosy Corner 021 797 2498; 119 Ottery Road, Wynberg.
Daisy Jones is author of Star Fish, a cookbook about sustainable fish. She has written restaurant reviews for Business Day and various guides.