Goddess Café, Waterkloof
I don't want to run with wolves. I just want to dine with my dog. Which is surprisingly hard to do in Gauteng. The region's restaurants have almost entirely failed to recognise pooch patrons. Human toddlers can be bought a babyccino (frothed milk with chocolate sprinkles) at many sidewalk cafés but the suggestion of a chien-a-chino is often met with spurious hygiene excuses. I contend that canine consumers are less dangerous to health and safety than infants of our own species. Besides, the French have been dining with dogs since time immemorial and their food-borne disease data is consistently amongst the lowest in the world.
In any event, the quality of canine company overrides any possible risk. Dogs make marvellous dinner dates. Not only do they always agree with their owner's opinions but they also have potential as astute epicureans. Geoffrey Steingarten, food editor for American Vogue, has argued that that their sense of smell is a million times subtler than our own and that consequently their palates are worth cultivating. He points out that dogs did not evolve eating dry pellets and that they all prefer pizza and overcooked sausages to even the most expensive of specialist dog foods…
Armed with this epidemiological and olfactory evidence, I sought out one of the few Pretoria eateries offering a dedicated dog menu and took my son's canine companion, Tilly Jackson (a one-year old Italian greyhound named after a character in the Red Dead Redemption computer game) out to lunch.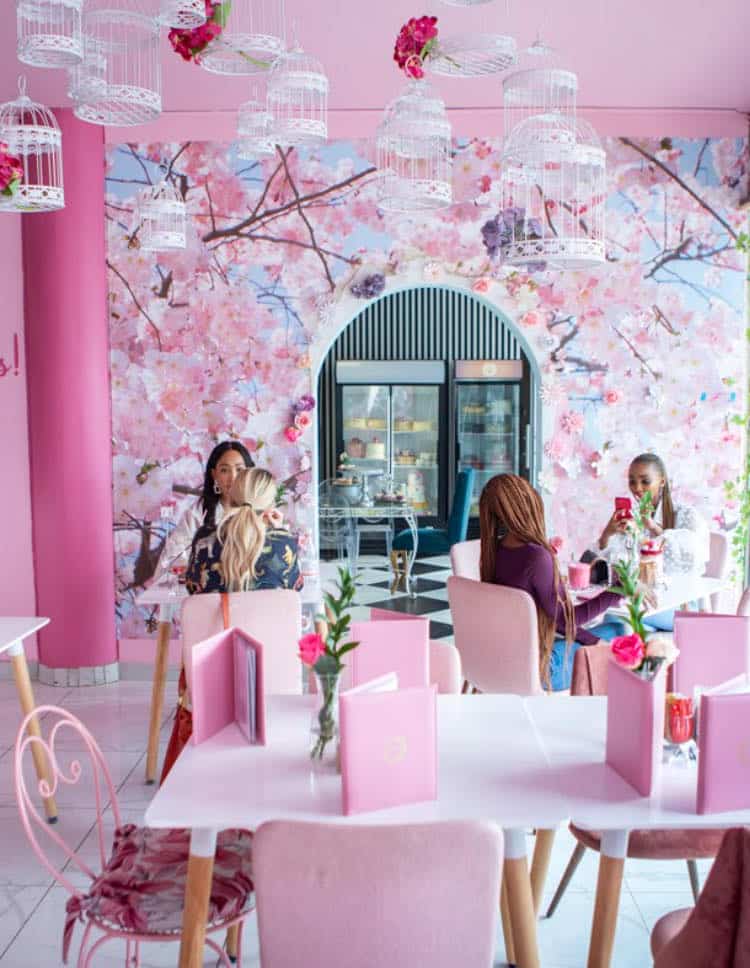 Goddess Café is the sort of place where impossibly thin, astonishingly affluent ladies who lunch pick at posh salads. It is baby shower and birthday party central with sparkly chandeliers, pink roses and 'it's a girl' balloons absolutely everywhere. Lest anyone miss the intended target market, images of gilded bird cages are painted onto the glass shopfront. There is a sideboard of tiered cake stands with buxom Victoria sponges, syrup-slicked pastries and pert, snowy meringues that no one eats but everyone stops to ooh and ahh over. The key criteria for inclusion in the wine and spirits list appears to be colour. Pink gins, rosé wines and salmon-hued sparklings make up most of the alcoholic entries.
Stuck in traffic, about halfway there, I began to wonder and then worry if this was such a good idea. Tilly is a lockdown puppy. She has lived her whole life in a state of social distance. She had never before been amongst unfamiliar people. The only other dog she knows is Frank Friedman Oppenheimer, our elderly greyhound. She barks at dogs she sees behind fences on her walks. When we arrived at Goddess Café, I noticed that there was already a Jack Russell lunching – which was initially a relief – at least I hadn't misunderstood the aims of the eatery – and then almost immediately a cause for concern. What if Tilly barked or bum-sniffed more that was socially acceptable? How much bum-sniffing is too much in such settings?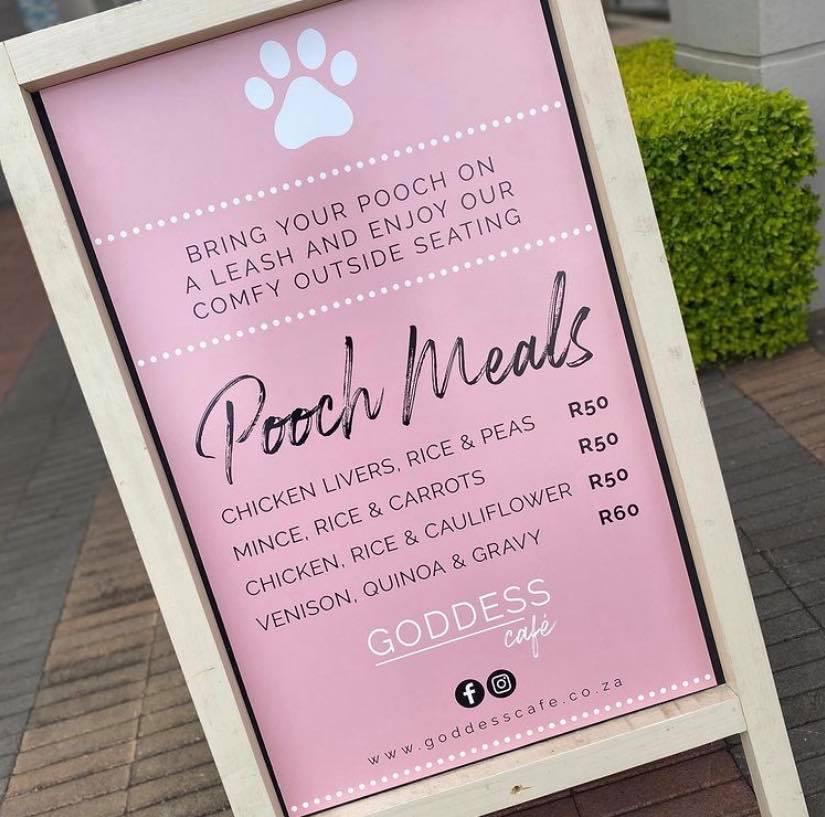 Fortunately, Miss Jackson behaved as if to the manor born. Her only faux-paws (geddit) came with the arrival of drinks. The outside area in which we sat is relatively small and that coupled with Tilly's eagerness to access her bowl of H2O resulted in our charming waitress becoming momentarily tangled up in the dog lead. Then, when the bowl was set before her, Tilly lapped at the water so enthusiastically that it shot across the cobbles with an ungenteel clatter. The subsequent arrival of a bone-shaped biscuit amuse gueule was more elegantly engaged with.
The menus both human and dog are stylish with a mostly Mediterranean meets California, Megan Markle-ish foodie feel. Smashed avocado on slivers of sour dough compete for customer attention with butternut and pomegranate salads and rosemary roasted chicken. The 'dogustation' menu features an assortment of the sort of meat and low-GI, gluten-free starches that the Keto crowd approve of.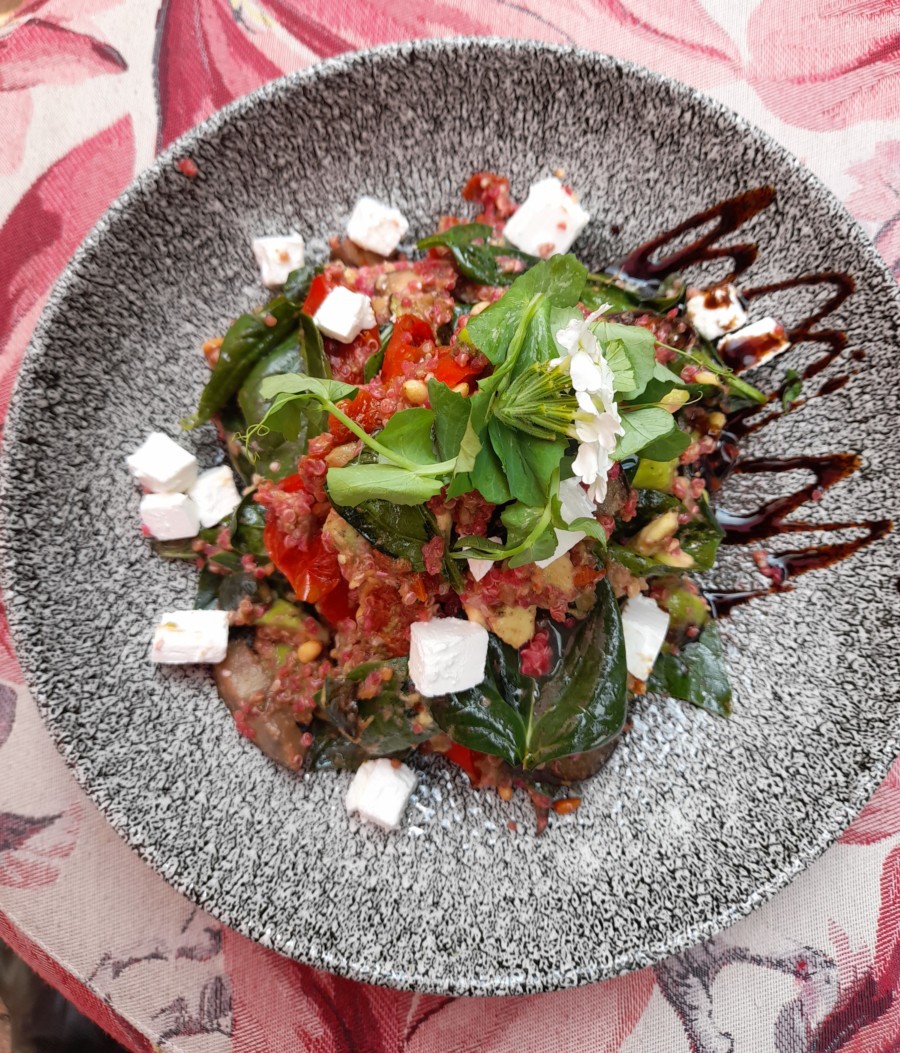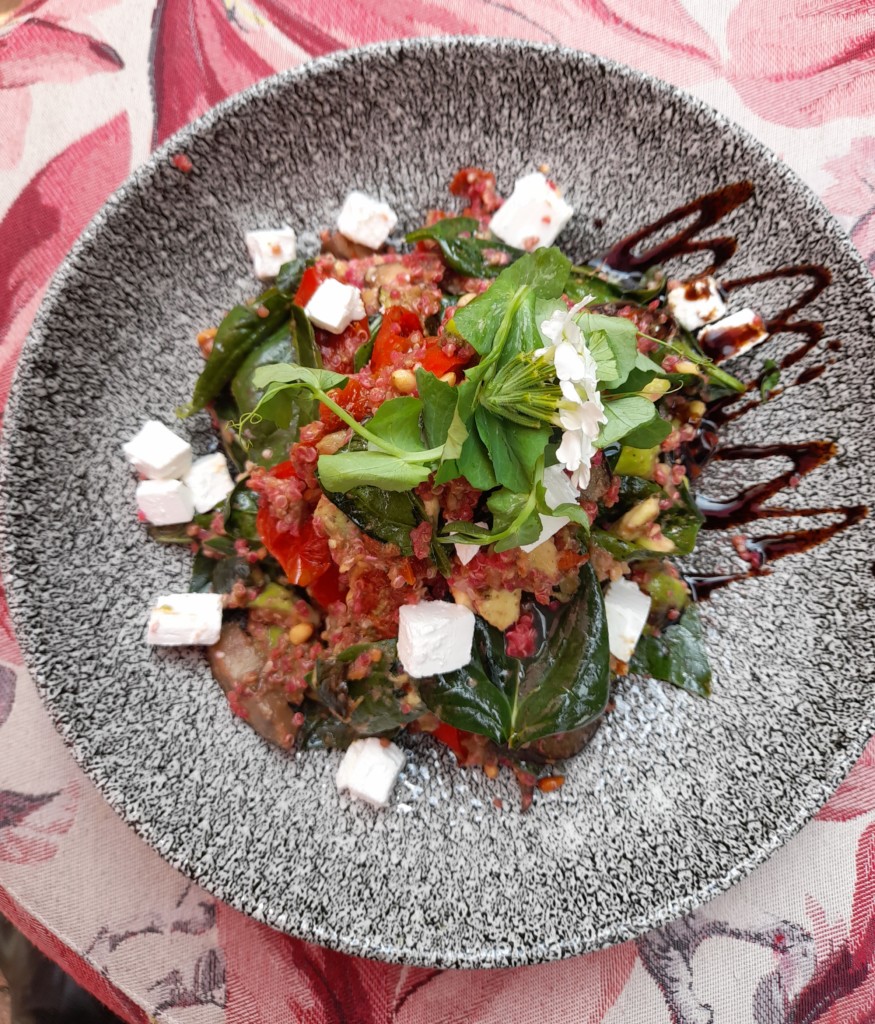 I chose a salad of quinoa, basil pesto, roasted peppers, pine-nuts, feta and soft, smoky grilled aubergine. I intended to add the optional roast lamb but it was already 2pm by the time I arrived and in my absence the ladies who lunch had gobbled it all up. The lack of lamb notwithstanding, my salad was bright colours and vivid tastes in all the right ways. The dressing had nicely layered basil, coriander, lemon and honey notes. Tilly could have chosen chicken with cauliflower rice or livers with peas but she ultimately ordered an envy inspiring bowl of venison and quinoa with gravy.
It has not escaped my attention that we both ordered quinoa-containing meals. Goddess Café is the sort of place where quinoa comes up a lot. In most commercial eateries I am emotionally (although not literally) allergic to quinoa. Not only because I am absurdly patriotic/partisan about African ancient grains (think fonio and sorghum) which offer the same nutritional advantages without the foodie fashionista faff of quinoa but also because the aforementioned South American seed is so often both gloopy and bitter. In this instance I am going to forgive the use of the Q-stuff because it was red quinoa which cooks down to a pretty pink and at Goddess Café pink is at least as important as taste. Besides, it was well cooked – not at all gloopy – actually it was nicely nutty with a pleasingly chewy texture.
Tilly proved herself to be intimidatingly abstemiousness. She picked at her quinoa but mostly she ate around the seeds to get at the meat. I requested a doggy bag for my doggy and sampled a teaspoon of her left overs when we got home. They were perfectly pleasant. As was everything about Goddess Café…
Goddess Café: 012 534 3554; Shop 6, Waterkloof Corner Shopping Centre, Corner Main and, Crown St, Waterkloof, Pretoria; Godesscafe.co.za
Dr Anna Trapido was trained as an anthropologist at King's College Cambridge and a chef at the Prue Leith College of Food and Wine. She has twice won the World Gourmand Cookbook Award. She has made a birthday cake for Will Smith, a Christmas cake for Nelson Mandela and cranberry scones for Michelle Obama. She is in favour of Champagne socialism and once swallowed a digital watch by mistake.
Help us out. If you'd like to show a little love for independent media, we'd greatly appreciate it. To make a financial contribution, click here. Invoice available upon request – contact info@winemag.co.za
Like our content?
Show your support.
Subscribe