Restaurant review: Gounden's, Lanseria International Airport
5
Few people seek out airport dining but sometimes travellers have to sustain themselves in such situations. In recent years there have been attempts to create better-eating experiences at airports all over the world but somehow, they seldom succeed. There is only so much burnt coffee and giant Toblerone that can be consumed before tired, hangry tantrums set in. Which is why finding Gounden's at Lanseria airport was such a sweet surprise.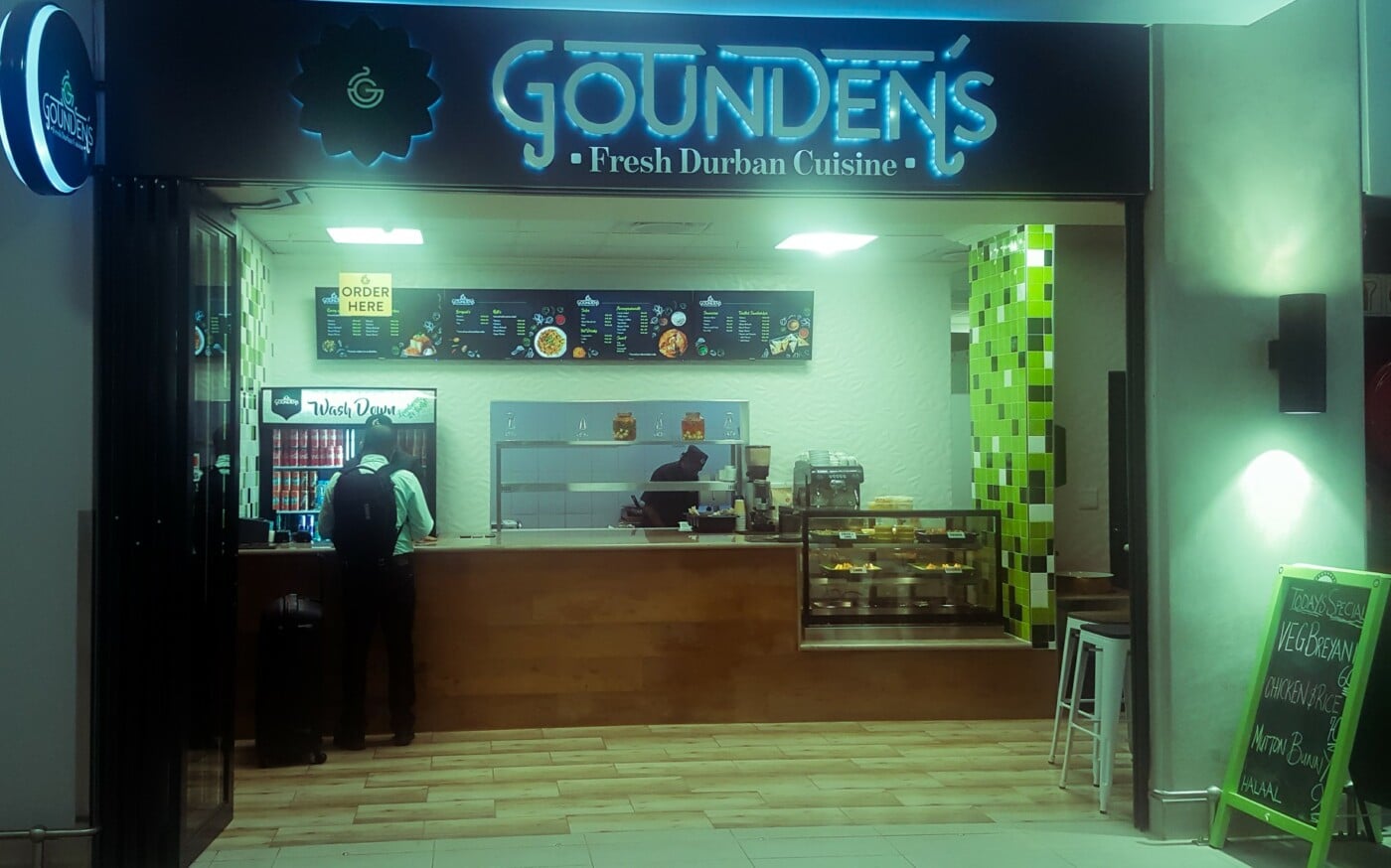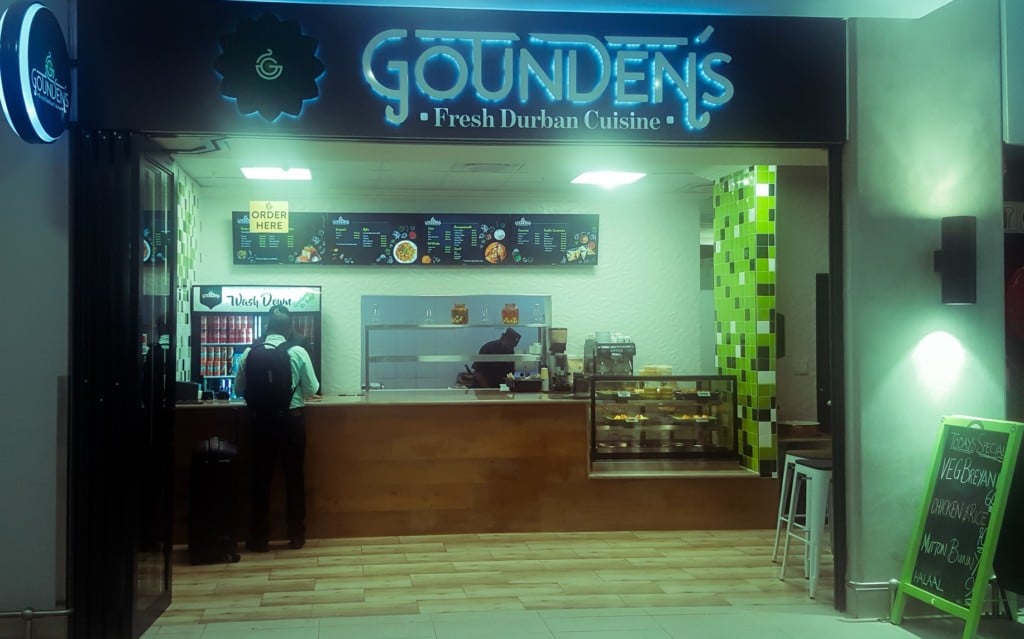 This teeny-tiny, brand new restaurant sits amidst the car hire companies on the walkway between the parking area and the airport terminal. Lanseria being a small aerodrome, the walkway serves both coming and going passengers. It is a clean-lined white box of a space, with eight bar stools and a single table. It makes up for the slightly clinical décor with boisterously brilliant food.
The Lanseria Gounden's has no connection (other than a shared surname and ancestral ethnicity) with the iconic KZN restaurant of the same name but it is none the worse for that. I have never before wished for a flight delay but the meal described below had me longing for inclement weather and/ or goats on the runway. Sadly, neither transpired so my travelling companion and I had only half an hour to feast before we flew.
We started our meal with light, crisp mutton mince samosas (R8 each) served with a punch of bright green chilli chutney and a slosh of cooling amasi soured milk. There is no liquor license at Gounden's but the fridge is full of Cokes and Cream Sodas which provided us with pleasant compare and contrast, sweet to spice sipping. My friend followed his samosas with a vibrant, red sauced chicken curry (R60) accompanied by a tart, tangy carrot pickle and two roti flatbreads with which to tear and scoop.
I ate mutton curry bunny chow (R80) which was generously packed with tender meat and sauce-infused potato chunks. Exuberantly pungent masala gravy soaked into the plump white bread walls in all the right ways. A knife and fork was offered to me but only weirdos eat bunny chow with cutlery so by the time I reached the bottom of the bread my fingertips were turmeric stained and smelt richly of ginger, garlic and happiness. Finicky flyers can relax safe in the knowledge that the tiny dining room has a small sink station to cleanse pre and post bunny hands.
We were full to bursting (and dangerously close to missing our flight) but greed gave us the strength to share a tub of superb soji (R40). Even under ordinary circumstances, this cardamom and semolina pudding is the kryptonite against which I am powerless to resist so imagine my delight when I saw that the Gounden's soji was dotted with flaked almonds which had undergone a red and green Bollywood colour wash. This gorgeously gaudy dessert gave us just the right sugar rush to hurry onto our plane and into the sky.
Gounden's Fresh Durban Cuisine: 065 526 1594; Multi Storey Parade, Lanseria Airport, Lanseria; Trading hours; Sunday – Friday: 07h30 – 20h30; Saturday: 07h30 – 18h00
Dr Anna Trapido was trained as an anthropologist at King's College Cambridge and a chef at the Prue Leith College of Food and Wine. She has twice won the World Gourmand Cookbook Award. She has made a birthday cake for Will Smith, a Christmas cake for Nelson Mandela and cranberry scones for Michelle Obama. She is in favour of Champagne socialism and once swallowed a digital watch by mistake.
Like our content?
Show your support.
Subscribe