Hero, Farm to Fork, Hartbeespoort
We are not only what we eat but also how we write about what we eat. Since mid-March my approach to reviewing has ebbed and flowed with the lockdown legislation. There have been practical how-to-help food charity pieces, on-line takeaway round ups, surveys of outdoor eateries for socially distant dining, angry/ angst-ridden epicurean obituaries and survivors guilt comfort food baking recipes.
Such is the pace of the pandemic that conditions often change in the time between consumption and write up. Or write up and publication. Which is what happened here. I ate the meal described below in early December. At that time Covid-19 appeared to be relatively under control. Much to everyone's surprise, the town in which I live (Hartbeespoort) was doing a roaring tourist trade. Deterred from travelling further afield, it seemed as if all the remaining wealth in Johannesburg was spending its weekends chez nous. Guest houses, restaurants and gin bars were fully booked and buzzing. News broadcasts were reporting on the beginnings of international immunizations. Hope seemed on the horizon. So, I went out to (socially distanced) supper.
winemag.co.za doesn't publish reviews between mid-December and mid-January so, I wrote up the repast and kept it in reserve as my first 2021 submission. Since then, disease rates have risen and the resultant regulations have made dining out almost impossible. The Bojanala region within which Hartbeespoort falls has been declared a national COVID hotspot. The restaurant described below is currently closed. Faith in the future is hard to muster but what else have we got? What follows is the review of a meal eaten and enjoyed. I post it with the ardent hope that someday soon others will be able to do the same.
Hero, Farm to Fork opened on 1 December 2020. The 40-seater, smart-casual venue is located at the foot of the Hartbeespoort Aerial Cableway. Originally constructed in 1973, the 2km cable jaunt offers panoramic views of the Magaliesberg. At Hero, Farm to Fork diners see none of this. Seldom has an opportunity for a fabulous view been so massively missed. All the restaurant's windows look away from the mountain and onto a vacant lot wedged between uninspiring housing estates. Those seeking a meal with a view should know that the cableway complex also has an open-air pizzeria at the top of the mountain where the food is not nearly as good but the setting is superb.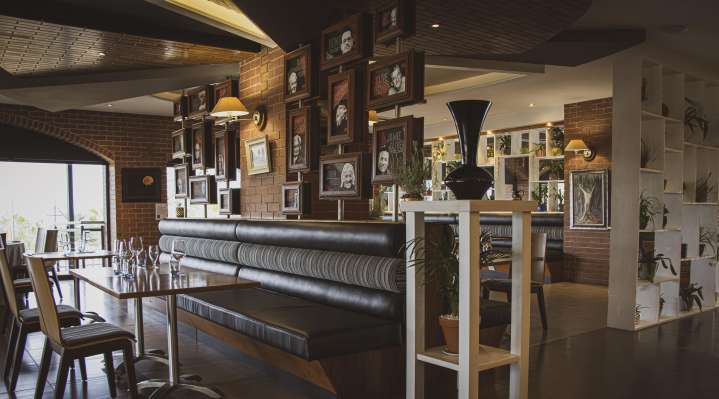 There is no lovely landscape to gaze upon but the restaurant does have high ceilings, low lights and a man playing smooth jazz on the saxophone in the foyer. There are well-spaced, white clothed tables and a handful of booths with dark leather benches. Walls are lined with an oddly idiosyncratic collection of portraits – including one of maverick British MP George Galloway.
Chef Rouje Letswalo's menu begins with a mission statement committing the eatery to leaving "as little footprint on the environment as possible but a lasting imprint in the minds of our patrons." There are promises of "exceptional dining for vegans, vegetarians and foodies alike." Words such as local, farm to fork, free-range, organic and ethical garnish almost every line.
Restaurants and chefs have been through so much in the past year that one hesitates to say anything that is not 100 % positive so I hope it will be taken as constructive criticism for a nascent business in the process of establishing its identity if I observe that of the five starters two starred environmentally problematic beef (the waitress couldn't tell me whether or not the meat was local, organic or free range so let's give them the benefit of the doubt), two were imported seafood (salmon and scallops) and the only vegetarian entrée contained dairy (as did the single non-meat main course and all the desserts) making it unsuitable for vegans.
I am inclined to cut the chef some slack given our current COVID induced ingredient supply chain problems. Besides, I am a language pedant rather than a carbon mile warrior – I noted the unrealized assertions and ordered the scallops anyway. Just because the bivalves didn't entirely meet the mission statement's lofty ideals doesn't mean that they weren't well cooked and delicious. Set atop a creamy pea purée, the scallops were beautifully butter seared and subtly sweet. A smear of salsa verde lent the necessary high acidic notes. At R100 the price was at the reasonable end of average for such stuff.
My partner's beef carpaccio (R75) was elegantly paper thin. The menu promised 'olive foam' which sounded silly but fortunately what actually came was a zig zag drizzle of good quality olive oil and citrus segments with every iota of pith perfectly removed. Supreming citrus while leaving the fruit sacs fully intact is a painstaking process. Many chefs either don't bother or do it badly. As the meal progressed it became clear that attention to detail and mastery of classic Francophone fine dining technique is chef Rouje's specialty.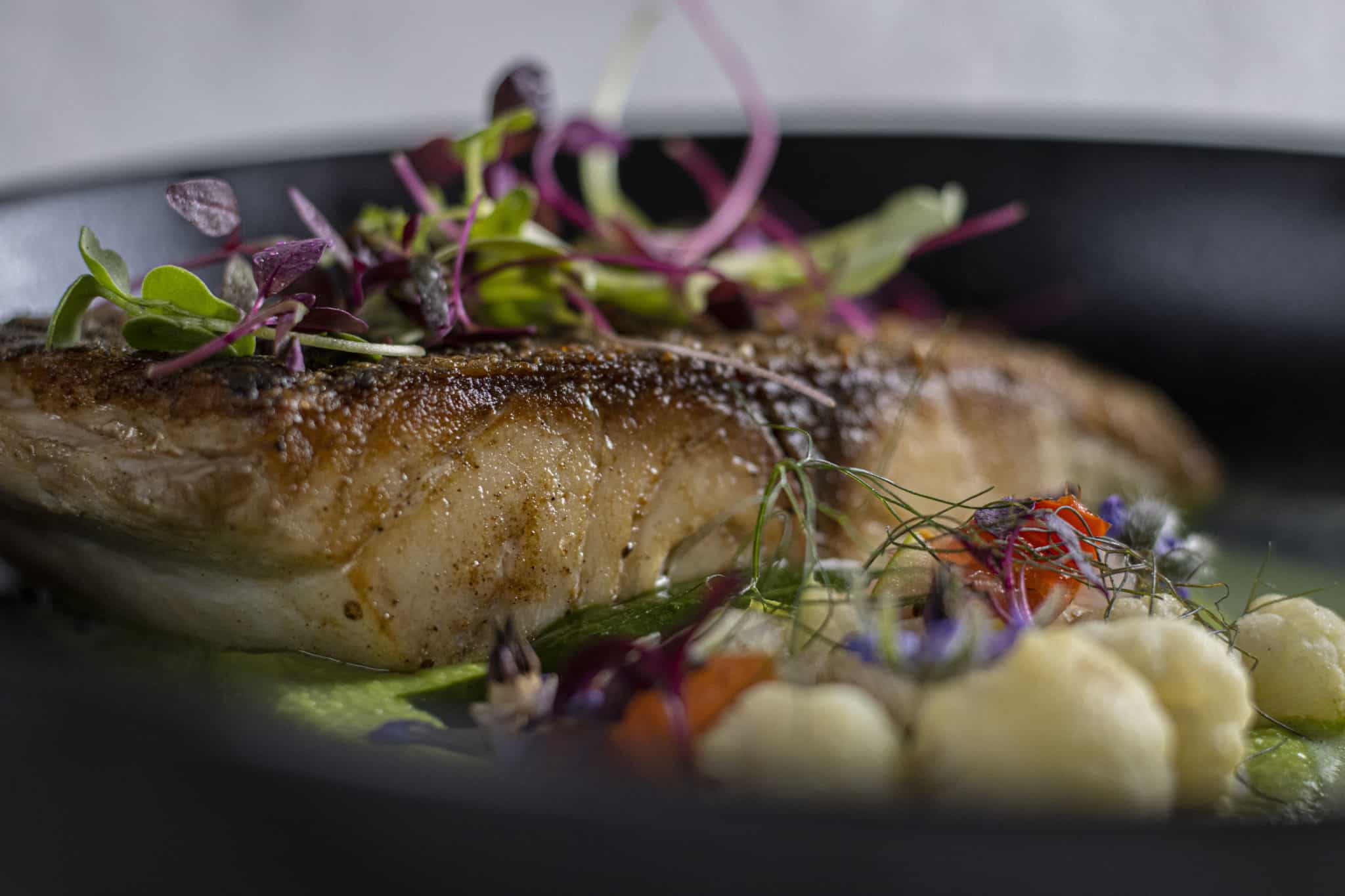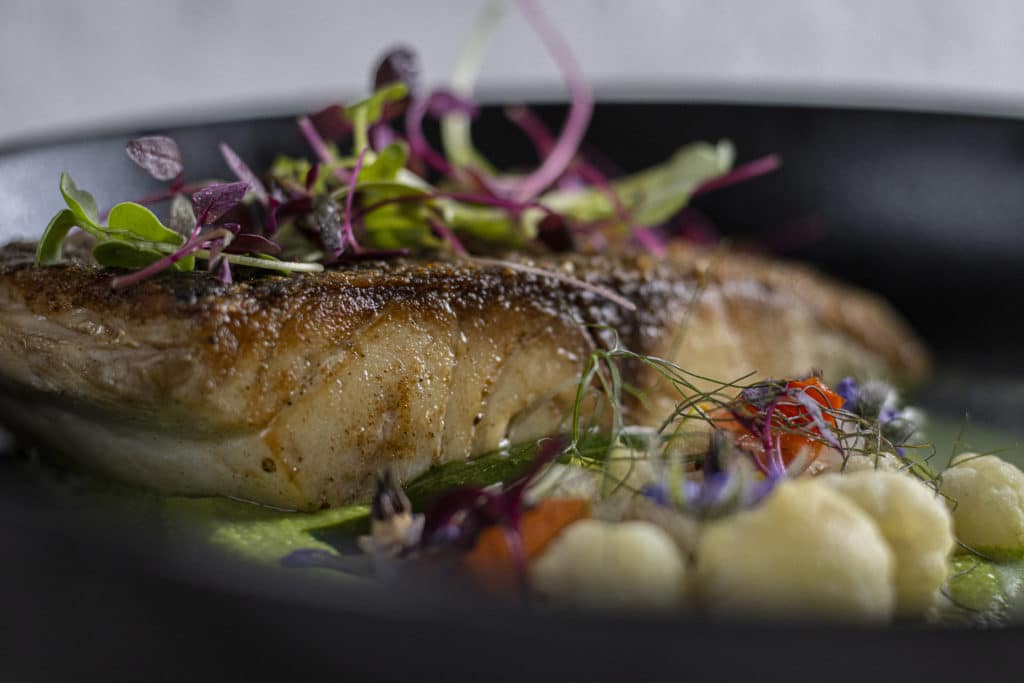 Mains of springbok loin, enrobed in a glistening, chestnut brown, demi-glace sauce (R170) and seabass with fennel salsa and a mellifluous, velouté derived, sauce Bercy (R190) followed. In both cases the sauces stood out. They were serious sauces. Not those silly squeeze-bottle, boiled up balsamic dots or unsightly smudges of blended fruit and vegetable goop that pass for sauce in most modern restaurants but rather proper, complex, time consuming, flavour-rich, strained, silken reductions.
The 50-page wine list was impressive with a broad selection of local wines in every imaginable varietal and style. The by-the-glass selection was extensive. A smattering of big name international sparkling too. Mark ups were reasonable and every kind of palate and wallet was catered for within the constraints of a new restaurant with a very young cellar. The average date on reds was 2015. Service was not perfect but good. The waitress was eager to please and relatively well informed. She told us that she had recently received wine and food pairing training and it showed. She could and did make sensible by-the-glass suggestions for each dish we ordered. When my husband chose a bottle that she was unfamiliar with she came back to check his order – which is infinitely preferable to getting the request wrong.
Our shared, elegantly aromatic lemon verbena panna cotta topped with a ribbon of tuile biscuit (R50) struggled to hold its shape and could probably have done with a little longer in the fridge to set but rather too soft than too firm.
In short, Hero, Farm to Fork offered an excellent evening out. Everything about my meal suggested that the chef and his team are more than capable of correcting the minor mistakes made. Please God, let the restaurant still be in business at the end of the current crisis.
Hero, Farm to Fork: Hartbeespoort Aerial Cableway, Plot 3, Melodie, Agricultural Holdings, Hartbeespoort. Bookings via www.dineplan.com/ restaurants/hero-farm-to-fork
Dr Anna Trapido was trained as an anthropologist at King's College Cambridge and a chef at the Prue Leith College of Food and Wine. She has twice won the World Gourmand Cookbook Award. She has made a birthday cake for Will Smith, a Christmas cake for Nelson Mandela and cranberry scones for Michelle Obama. She is in favour of Champagne socialism and once swallowed a digital watch by mistake.
Attention: Articles like this take time and effort to create. We need your support to make our work possible. To make a financial contribution, click here. Invoice available upon request – contact info@winemag.co.za
Like our content?
Show your support.
Subscribe