Marble, Rosebank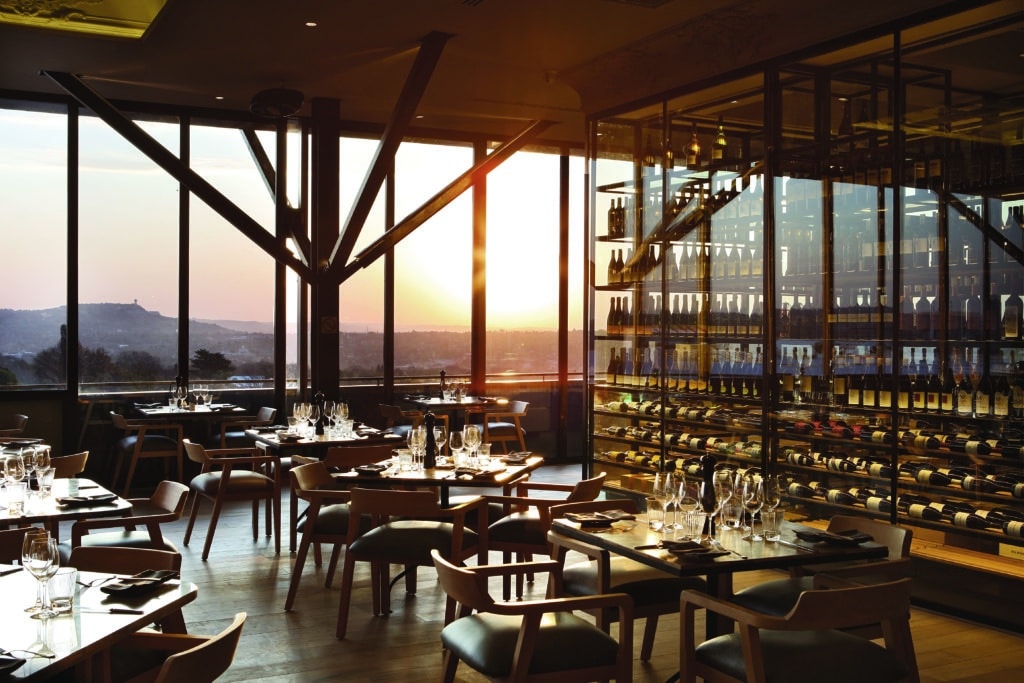 I know the COVID-19 second wave statistics are currently flowing downwards but when in a restaurant, I still want significant space between me and everyone else. More space than the parameters set out in the government guidelines. Which is why lunch is my preferred meal at the moment. The majority of diners eat out at night and, while Johannesburg restaurants are generally complying with the law, most eateries are unable to accommodate my (probably overblown) anxieties in the evening.
All of the above explains why my date and I found ourselves in Marble restaurant at midday. Chef David Higgs's 250-seater epicurean icon offers a reassuringly broad space with high ceilings, soothing turquoise tiles and impressive artwork. All of which allowed me to relax and enjoy an exquisite artichoke, mushroom and lemon crème fraiche risotto (R205). Risotto is one of those seemingly simple recipes that requires great skill and is almost always disappointing. So often restaurants bring out an unpleasant stodgy mush masquerading as risotto. Not so at Marble where my lovely lunch demonstrated the required soft, rippling 'wave effect' – all'onda – slightly runny texture and superb savoury flavours.
All risotto is rich and I wondered as I ordered if the addition of both artichokes and lemon crème fraiche might not be too much of a good thing but the bright boost of zest and citrus oils acted as a perfumed spritz with just enough acidity to balance the edible opulence. The sprinkle of mushroom dust added excellent, umami intensity.
My partner's salmon did all the right things. It had a crisp, crackly skin and tender, moist, flavourful flesh that melted across the tongue like butter. The accompanying roasted, slightly caramelized cauliflower was nothing short of transcendent. Its sweet generosity did all the right compare and contrast things with the salty olive tapenade. At R295 it was at the upper end of average for such stuff but then so was the skill in the kitchen and the taste on the plate. And yet, if ordering well in a restaurant is a competitive sport (and for me it so often is) I definitely won. The salmon was good but my risotto was better. I am already dreaming of ordering it again.
I am no good at daytime drinking but for those with the constitution to booze over lunch or the courage to eat out at night, the wine list is almost overwhelmingly impressive with an extremely broad selection of local and imported wines with every imaginable varietal, style and vintage. I know from previous visits that the well-trained staff are super-knowledgeable and enthusiastic in their pairing advice.
I do however have a word of warning for those dining out during the day. Risotto really ought only to be ordered in the evening when it is possible to fully act upon the ensuing carb-coma. I had drunk only water and yet it still took two, deliciously strong espressos before I was in a fit state to drive home.
Marble Restaurant: 010 594 5550; Keyes Art Mile, Cnr Keyes and Jellicoe Avenue, Rosebank, Johannesburg; Marble.restaurant
Dr Anna Trapido was trained as an anthropologist at King's College Cambridge and a chef at the Prue Leith College of Food and Wine. She has twice won the World Gourmand Cookbook Award. She has made a birthday cake for Will Smith, a Christmas cake for Nelson Mandela and cranberry scones for Michelle Obama. She is in favour of Champagne socialism and once swallowed a digital watch by mistake.
Attention: Articles like this take time and effort to create. We need your support to make our work possible. To make a financial contribution, click here. Invoice available upon request – contact info@winemag.co.za
Like our content?
Show your support.
Subscribe