Mexican Fresh vs Perron – restaurant review
Tex-Mex is a term that was first used in the late 19th century to describe the route of a cross border railway line. It wasn't applied to food until 1918 when Miguel Martinez chef-patron of the Dallas restaurant, El Fenix, created a set of anglo-Mexican fusion recipes in an attempt to appeal to the Texan palate. In so doing, he actively sought customer input. Many of the cheesy, beef-heavy dishes that non-Mexicans tend to think of as Mexican were created in consultation with the customers of El Fenix. It is said that burritos, deep-fried burritos (chimichangas) and nachos are all the result of their suggestions.
Generally Tex-Mex and Mexican ingredients are similar but the ratios in which they are used are different. All food is a reflection of the terroir (geographic, psychological, cultural and economic) from whence it comes and Texas is richer in cash and in cattle than Mexico. The result is considerably more beef in Tex-Mex than Mex proper. Where there are cows aplenty there is milk and grateable, gooey yellow cheese galore and so it is with Tex-Mex. "Real" Mexican food generally offers a relatively modest crumble of ricotta-textured, white goats' cheese called Queso Fresco. Starches are different too. Mexicans make corn tortillas and tacos whereas their cousins across the border generally use wheat. And then of course there is the chilli thing. In Tex-Mex chilli varieties are pretty much interchangeable whereas Mexican food proper has a subtle, layered use of the many, many varieties of their national crop.
There is a lot of snobbery about Tex-Mex. The implication is that it is inferior to its Mexican ancestor – which is unfair and untrue. As with all Diaspora dining the fusion form is not better or worse, it is just different. It is to Mexican food what bunny chow is to South Indian food. It is a relative, separated by time and space. It manifests the evolution of flavour in the face of new and different tastes and circumstances.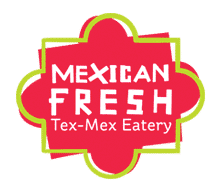 Johannesburg diners in search of Tex-Mex should head for one of the several branches of Mexican Fresh. Despite their name, the company is honest and upfront about the fact that its food is Tex-Mex – the subheading on the logo says Tex-Mex Eatery in big red and yellow letters. The Craighall branch looks like a take-away joint with a few, almost after-thought tables but the food is good. Service is fast and efficient, if somewhat impersonal. The jalapeno chilli poppers are great. The accompanying salsa has just the right ratio of tart: sweet: spicy. Nachos are served with a generous helping of lime-laced guacamole and a voluminous lava layer of melted, day-glow yellow cheese. Tim Noakes fans should look away now because my partner's beef enchiladas came triple starched with hearty portions of refried beans and coriander-laden rice. To drink there is Mexican Corona, SAB, South African box wine and margaritas.
There was a lot of foodie noise that accompanied the opening of Perron in mid-2014. This hipster hangout was widely billed as Johannesburg's first authentic Mexican option. Ja, well, no, fine. A recent evening encounter revealed a restaurant which at best could be said to get it wrong less often than the other restaurants that claim to be real Mexican in Johannesburg.
Décor is not for the faint-hearted – vibrant shades of pink and turquoise abound. My pork scratchings were salty, spicy and cracklingly crisp which is really all one can ask of such a snack. They made for lovely, uncomplicated finger food especially when washed down with beer. My first beer was a Corona – which reminded me why I don't drink Corona very often. It is the top selling beer from Mexico (in fact, it's one of the top five selling beers in the world) but quantity and quality are not necessarily connected. McDonalds make the top-selling hamburger in the world. My second beer was the much better a Naked Mexican – which was described by our charming and attentive waiter as "a Cape Town beer brewed in a Mexican style". It went pretty well with the black bean and banana empanadas. My husband's piquant coriander margarita paired pleasantly with our order of vibrant, lime-and-chilli laden Kabejou ceviche.
The restaurant keeps the best selection of tequila in the city and the tacos are made from corn but most of the food seemed more Tex-Mex than Mex. There were several quesadillas ordered amongst my party and I felt that there was too much cheese and too much cumin on all of them. Surely chilli con carne is Texan cattle man food? My son's helping had a smoky, caramelized beef, rich flavour and came with great dollops of delicious, thick, lush sour cream such as would worry a cardiologist. Why is it that South African restaurants so often try and pass off a watery, fat free yoghurt-like nonsense as sour cream? No matter, at Perron, the sour cream has the perfect acidic twang and the texture of clotted cream. One poor deluded soul at our table ordered chilli con quorn which was not nice but I am of the opinion that quorn has all the culinary character of polystyrene packing material so perhaps it was as good as it could be. Prior to the arrival of her main course, the vegetarian had sampled several of the restaurant's very fine tequilas so she didn't seem to mind.
What we have here are two very nice Tex-Mex restaurants rather than a pigeon pair of Tex and Mex. Does it matter? Yes and no. It probably upsets patriotic Mexicans. It disappoints me in so far as I like restaurants to do what they say they are going to do and Perron sort of doesn't. Ultimately it's as good as any of us can get in Johannesburg right now and the golden bouffant churros are sufficiently distracting to appease me.
Mexican Fresh, Craighall branch 011 326 2276; Shop 4, Riverview Shopping Centre, Corner of Conrad Drive and Hillcrest Street, Craighall; www.mexicanfresh.co.za;
Perron, 011 880 7296, Corner Oxford Road and Corlett Drive, Illovo, Johannesburg: www.perron.co.za
• Dr Anna Trapido was trained as an anthropologist at King's College Cambridge and a chef at the Prue Leith College of Food and Wine. She has twice won the World Gourmand Cookbook Award. She has made a birthday cake for Will Smith, a Christmas cake for Nelson Mandela and cranberry scones for Michelle Obama. She is in favour of Champagne socialism and once swallowed a digital watch by mistake.
Like our content?
Show your support.
Subscribe