Old Ducky French Café, Fourways
Freda Appelbaum is a Johannesburg culinary legend. She spent over three decades serving posh nosh to the great, the good and the not so good as Chef-Patronne at the late and widely lamented Le Canard in Morningside. She is also one of only four women ever to be honoured in France as a Disciple of Escoffier. Given all of the above and, seeing as how she is now 'une femme d'un certain âge', it would be entirely understandable if the chef had decided to rest on her laurels but – insert bay leaf joke here – Freda Appelbaum is still running restaurants. The (relatively) new Old Ducky French Café, at the Pineslopes shopping centre, Fourways, is co-owned with daughter-in-law Marina Appelbaum and opened in late 2019.
The location and décor are much more casual than the chandelier-laden stately setting of her previous epicurean incarnation but the chef's assertive commitment to authentic renditions of French culinary classics is unchanged. The menu at Old Ducky does make a few concessions to Millennial mores – foie gras has been replaced with regular, untortured duck livers and there is even a vegan burger – but most of the bill of fare is exquisitely old-school. As is the service. Throughout the meal at Old Ducky, grownup, career waiters astutely read my table's mood underlining how much an observant, attentive yet unobtrusive waiter with perfect pacing can add to the dining experience.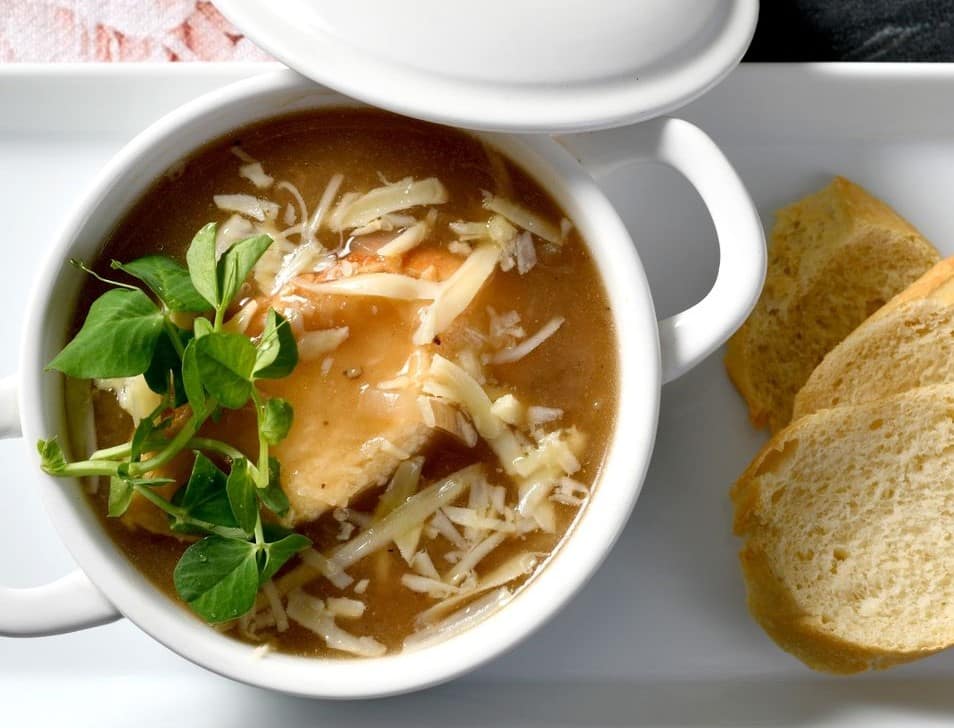 Following his lifelong, extremely tiresome, habit of saving himself for dessert my husband insisted on sharing a starter. My resentment increased exponentially as I realized how good our communal French onion soup was (R95). It had the classic compare and contrast, taste and texture ratio of give, crunch and punch that only come when profoundly nurtured, intense, reduced stock meets gently caramelized onions, proper baguette (as opposed to dodgy 'French stick') and good quality, well-aged Gruyère. The honey-glazed skin on my main course duck breast (R180) was a magnificent, mahogany crisp that led on to a perfectly pink, succulent interior. The meat had just enough fat to deliver generously deep, gamey flavours. Great boozy orange sauce too. It is hard to upstage well-cooked duck but the accompanying stack of Pomme Anna potatoes gave it a good go. Crunchy on the outside, meltingly soft on the inside. Our waiter served my husband's steak tartare (R220) at the table with a masterful union of theatre and cuisine. Knowledge, skill and humour were tossed into the meaty mélange.
The wine list at Old Ducky French Café is well-priced and predominantly South African with a few imported bubbles for celebratory sparkle. Wines by the glass are plentiful and the aforementioned wonderful waiters can and do make sensible food pairing suggestions on request.
Portions are generous and I was too full to contemplate sweet stuff. My husband agonized over whether to pick the crêpes Suzette (which I adore) or the crème brûlée (R60). He ultimately opted for the latter. I suspect he made this choice because he thought that I was less likely to revive and steal his stuff if he went with the set custard. He was probably right. I am a huge fan of tableside pyrotechnics and I am told that the waiters douse, souse and flame up the citrus pancakes while you watch. Apparently, the crème brûlée was silky smooth and deeply delicious – but we will definitely both be back very soon to flambé up a storm with the crêpes Suzette…
Old Ducky French Café: 011 568 5378; Shop GF22 Pineslopes Shopping Centre Corner Straight Avenue and Witkoppen Road, Fourways, Johannesburg; Oldducky.com
Dr Anna Trapido was trained as an anthropologist at King's College Cambridge and a chef at the Prue Leith College of Food and Wine. She has twice won the World Gourmand Cookbook Award. She has made a birthday cake for Will Smith, a Christmas cake for Nelson Mandela and cranberry scones for Michelle Obama. She is in favour of Champagne socialism and once swallowed a digital watch by mistake.
Help us out. If you'd like to show a little love for independent media, we'd greatly appreciate it. To make a financial contribution, click here. Invoice available upon request – contact info@winemag.co.za
Like our content?
Show your support.
Subscribe