Restaurant XIX, Steyn City
Restaurant XIX is inside billionaire Douw Steyn's eponymous, state of the art, super-luxurious life style development. Situated between Fourways and Lanseria (with the slums of Diepsloot in between) this walled city-within-a-city requires visitors to pass through the kind of über-intense security that is usually reserved for boarding El Al flights.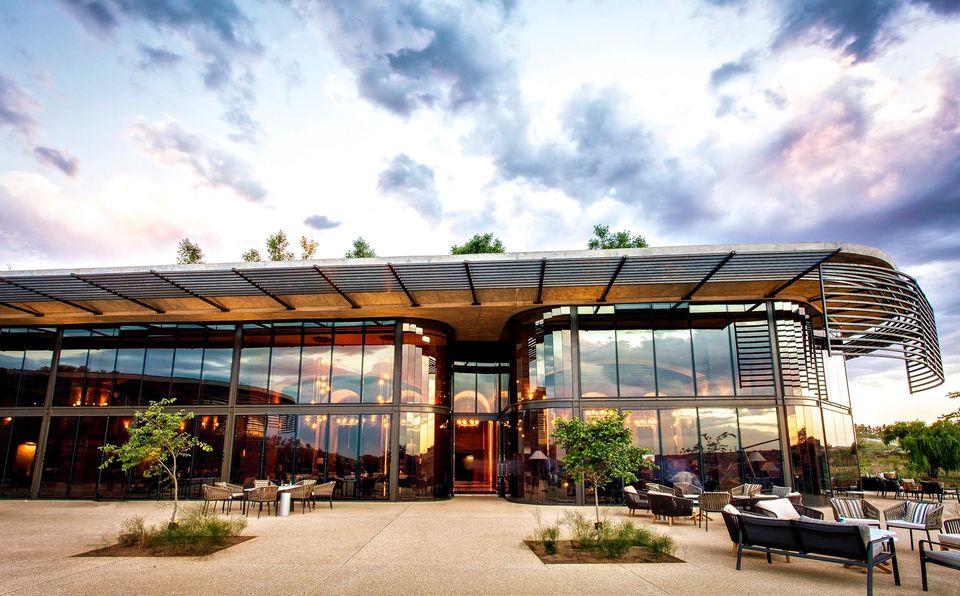 The eatery's interior has a dark wood and aged leather vintage gentleman's club décor vibe. Outside are well-spaced (read socially distanced), terrace tables which look out over a manicured golf course and onto the back of Steyn's massive mansion – for which no stylistic pastiche – including a ye olde ancient Roman aqueduct – has been left unexplored in the attempt to ensure a conspicuous display of wealth. Mission accomplished. The restaurant's vista offers Neverland meets Mar-a-Lago with Diepsloot on the doorstep for that 360 degree compare and contrast epicurean experience.
The restaurant was previously supervised by staff from Douw Steyn's other hospitality venture, the Saxon Hotel, but is now managed by Michel Hollenstein (formerly of multi-award-winning De Hoek Country House in the Magaliesburg).
On a recent visit, my friend and I opted for a selection of starters rather than mains. It was lunchtime and we were aiming to leave sufficient stomach space for dessert – of which we had heard good things. We began with an oddly unseasonal but deeply delicious goulash soup. Cubes of lean beef and sweet potato bobbed about in the pleasantly paprika-laden broth. Warm, crusty, buttery bread was on hand to mop up meat juices (R65). Then came a crisp, cluster of garlicy fried calamari tentacles with an excellent anchovy mayonnaise and a nicely nutty black rice base (R105). My friend chose prawns set atop a tangle of tagliolini strands and tossed in a vodka and cream sauce (R105). I am not normally a fan of vodka in pasta sauce and I wouldn't order it again but it was significantly nicer than I expected it to be. Curiosity and greed led us to also order the Dutch style kroketten with chips (R65) from the kids' menu. The kroketten were crunchy and meaty in all the right ratios and served with magnificent chips. It would be impossible to praise those chips too highly – think gloriously golden, thick-cut batons, crisp on the outside, soft and fluffy on the inside chunks of potato perfection.
Even though we knew it was for the best my friend and I were sorry to miss out on mains when we read menu listings such as seabass with caper butter and braised leeks (R235). I will definitely be back to try the short ribs with soft polenta. I probably won't invite a vegetarian to join me since the only vegetarian listing on the main menu is 'grilled field mushrooms with spicy potato wedges, asparagus and ratatouille' which reminded me of those garlic mushroom, pea-filled gem squash and tomato-rose type plates that the Spur used to send out to vegetarians in the mid '80s.
The wine list is short but discerningly assembled and made up of smaller independent, prestige producers. There are only two options for each major varietal but two is enough when both are well chosen. There are no red blends and very limited wine by the glass. Mark ups are reasonable.
Service is a strong at every level. Hollenstein is as warm as he is thoughtful and well-informed. Waiters are quick, unobtrusive and knowledgeable about both food and wine. They can suggest a sensible wine pairing and astutely judge pace and mood.
Pastry chef Melissa Abrahams did not disappoint. Our orange crème brûlée was aromatic with zest, impeccably silken and quaveringly just set (R80). The grilled pineapple with basil, mint and crushed meringues (R75) was a sweet-sour, perfect palate cleansing end to an excellent meal.
To sum it up Restaurant XIX is safe and socially distanced with good service, food and wine at reasonable prices. It ticks all the boxes. Try it…
Dr Anna Trapido was trained as an anthropologist at King's College Cambridge and a chef at the Prue Leith College of Food and Wine. She has twice won the World Gourmand Cookbook Award. She has made a birthday cake for Will Smith, a Christmas cake for Nelson Mandela and cranberry scones for Michelle Obama. She is in favour of Champagne socialism and once swallowed a digital watch by mistake.
Attention: Articles like this take time and effort to create. We need your support to make our work possible. To make a financial contribution, click here. Invoice available upon request – contact info@winemag.co.za
Like our content?
Show your support.
Subscribe