Sobae, Lorentzville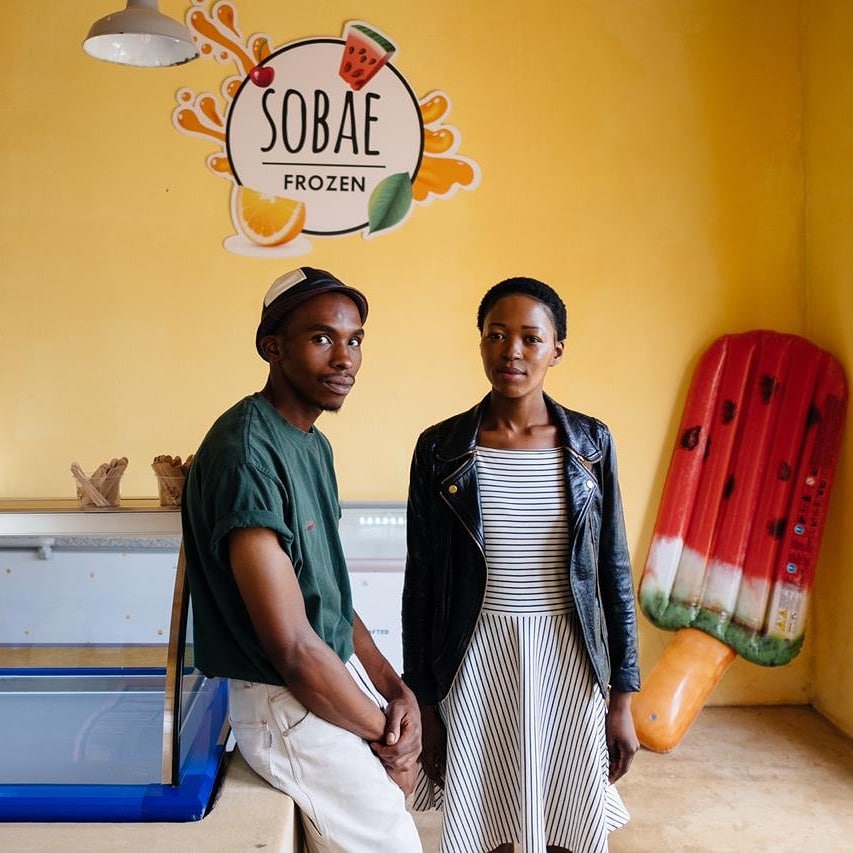 What with the assortment of stressors that COVID-19 has created, I don't have the strength to be cynical. Valentine's Day is almost upon us and, where once I might have mocked, this February 14th I am eager to find cheap, sincere, safe and delicious ways to celebrate the survival of the one I love.
Sobae sorbets offer endless opportunities to do just that. Sobae (at the achingly stylish, restored heritage space/ artisan entrepreneurial incubation centre, Victoria Yards) is the culinary creation of Thula Ndema and Mbongeni Masondo. There is a sweetly romantic back story to their business. The pair are life partners in love as well as in frozen desserts – hence the 'bae' (slangster term of endearment) in the name of their epicurean enterprise.
Even the most jaded palates will taste love when sampling the sorbets at Sobae. The selection is seasonal but there is always an intense, idealistic purity of flavour. Ndema and Masondo have an unerring ability and bring out the best essence of each fruit, herb, spice (and occasionally vegetable) that they turn into sorbet. Last week's selection included vivid scarlet strawberry and ginger, intensely tropical pineapple and basil, zesty, lightly floral lemon, granadilla, watermelon, black pepper and a beautifully balanced, golden mango, chili mélange. All the Sobae sorbets are vegan, made without preservatives or artificial flavourants and are relatively inexpensive (R30 per 180ml tub, R150 per litre).
The nuanced, layered flavours are exquisite as is but they are also ideal partners for other foods. My Valentine's Day plans include oysters on crushed ice topped with the aforementioned mango chili sorbet. Sobae sorbets are also an uncomplicated addition to cocktail hour – on hot and humid summer evenings there is nothing nicer than a scoop of icy loveliness nestled in a Champagne coupe glass topped with a generous slosh of sparkling wine. Serve with a spoon and enjoy as it melts and morphs from dessert into delicious drink.
It is possible to buy Sobae sorbet at Fussy Vegan in Randburg and Brik Café, Rosebank but a visit to the store/ production site is inspiring in ways that pulling the same product out of a suburban deli freezer can never be. Victoria Yards urban farm/artisan community project is a hidden gem in the heart of the inner city. Every time I visit it reminds me why I love Johannesburg so truly, madly and deeply. Currently COVID-19 safety protocols are strictly adhered to but there are still lovely opportunities for pottering along the winding paved pathways and meeting makers. Including Ndema and Masondo.
There is also an admirable eco-epicurean element to the Sobae story. The couple began their business in 2017 because they didn't like seeing/ stepping over the overripe fruit being discarded onto the streets by Johannesburg's downtown fruit vendors. Their desire to combat food waste was the initial impetus for their frozen fruit products. Ndema and Masondo keep their prices low and their tastes high by buying the aforementioned, otherwise abandoned stock. It is too ripe for the hawkers to sell as street food but it is intensely sweet, fragrant and flavoursome – which is ideal for sorbet.
Throwing away less food is one of the most effective ways for individuals to offset the effects of climate change. What could be more adorable on Valentine's Day than a delicacy that doubles up as a good deed?
Sobae: 071 901 52 44; Victoria Yards; Viljoen Street, Lorentzville, Johannesburg; Sobae.co.za; (Also available at Brik Café, Rosebank and The Fussy Vegan, Randburg).
Dr Anna Trapido was trained as an anthropologist at King's College Cambridge and a chef at the Prue Leith College of Food and Wine. She has twice won the World Gourmand Cookbook Award. She has made a birthday cake for Will Smith, a Christmas cake for Nelson Mandela and cranberry scones for Michelle Obama. She is in favour of Champagne socialism and once swallowed a digital watch by mistake.
Attention: Articles like this take time and effort to create. We need your support to make our work possible. To make a financial contribution, click here. Invoice available upon request – contact info@winemag.co.za