Thundergun, Randburg
Thundergun is the Johannesburg steakhouse that time forgot. Founded in 1968, the food, service and décor at this iconic Egoli eatery have remained almost unchanged in more than half a century. The exterior of Thundergun looks like a slightly shady snooker bar. Inside cowboy memorabilia and horse-themed artworks abound. There is a brigade of super skilled, career waiters who ensure that the dining room hums and glows effortlessly through busy nights. And nights are always busy (what impact Coronavirus? – Ed). When I telephoned to make a reservation, I was told that on Friday and Saturday evenings the restaurant doesn't take bookings and that to be guaranteed a table I should arrive no later than 5.30pm. I am an obedient sort so I did just that and was seated right away. Those who arrived at 5.45 waited in a considerable queue.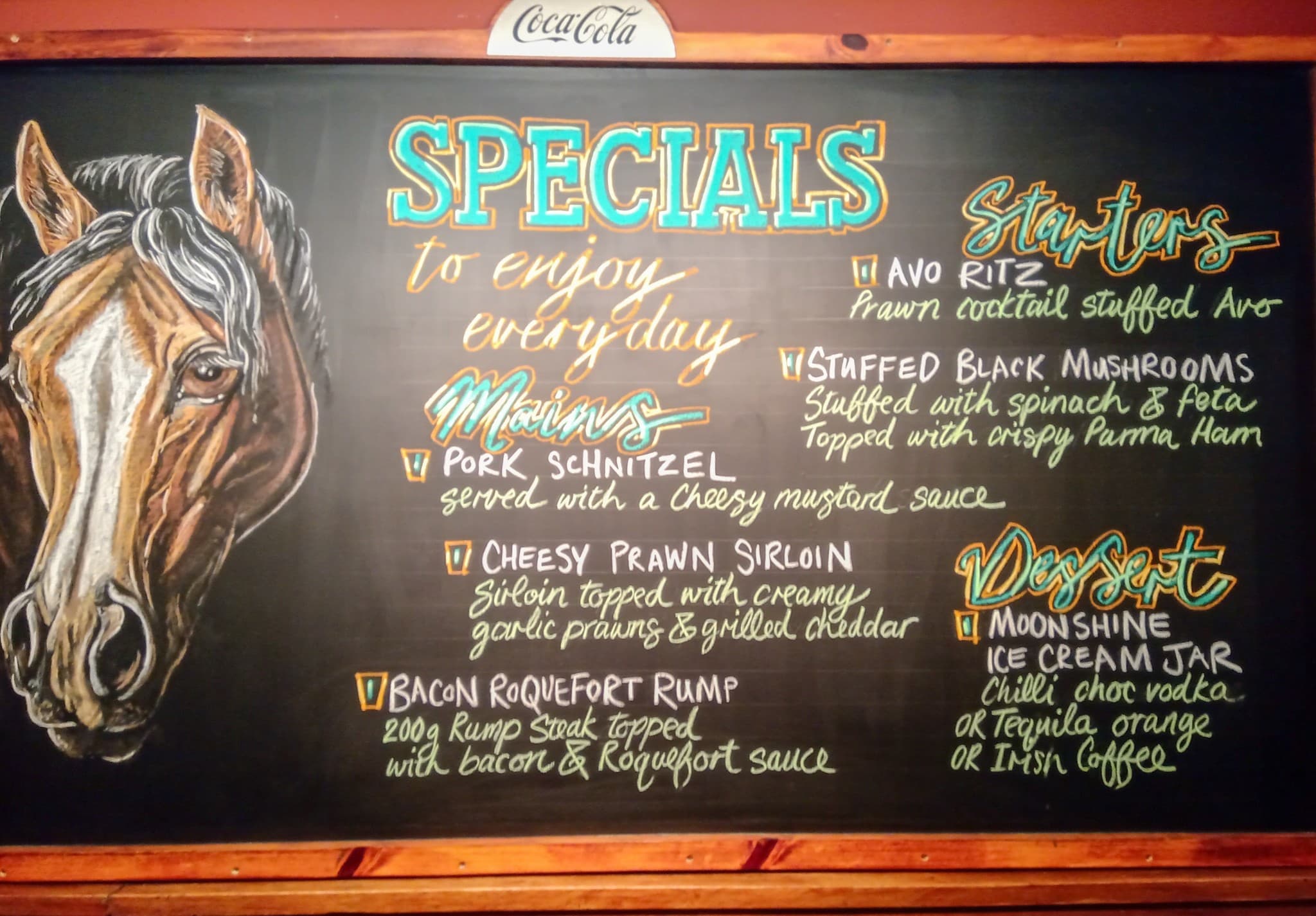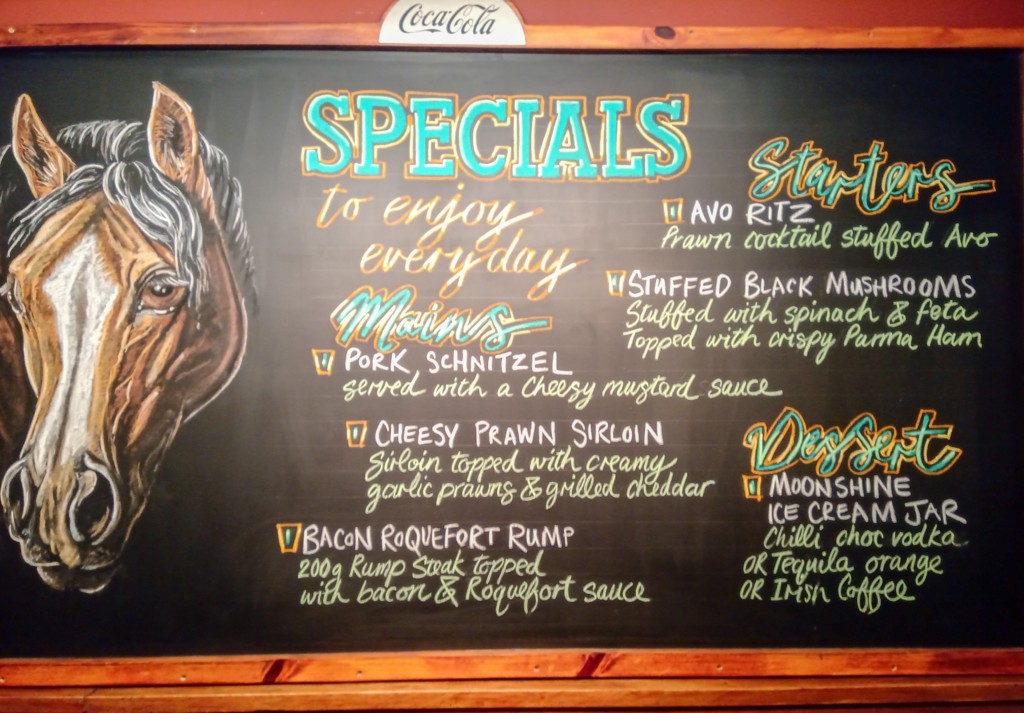 Such is menu continuity that it is possible to use the South African Consumer Price Index (CPI) to compare the relative cost of an evening at Thundergun in 1968 with the same supper in 2020. So, I did. One Rand in 1968 has the buying power of R75.50 today. Using the prices listed on the framed 1968 menu hanging on the foyer wall I linked like with like and then evaluated the consequences for my palate and wallet.
First up was prawn cocktail which was served 1960s style with five fat peeled prawns hanging from the edge of a glass. Inside, layers of crisp lettuce met the generous, sweet, firm flesh of prawn pieces bathed in pretty piquant pink sauce Marie Rose. The 1968 menu lists prawn cocktail as selling for 35 cents which translates into R26.50 in today's money. The R91.95 prawn cocktail I consumed tasted great but the relative price of this dish had significantly risen. In 1968 wild caught 'LM' prawns sourced in the waters of a neighbouring colonial possession were probably used in the cocktail. In the intervening period overfishing in Mozambique has radically reduced local prawn populations and major price increases have occurred. So much so that the prawns used in the current cocktail were not local but rather farmed in Asia. Even with the widespread labour and environmental abuses often involved, farmed prawns require much greater economic input than is the case in unregulated, unsustainable fishing for wild prawns. Hence the increase in prawn cocktail prices.
The story with my steak was much more encouraging. The 300g rump cost R1.65 in 1968. The exact conversion ought to take 2020 consumers to a R123 steak. The actual price of the rump steak I ordered last week was not far off at R169 which represents a reasonably digestible 33% increase. It tasted great too. Caramelised on the outside and quaveringly juicy within, the superb slab of protein had a deep, mineral savouriness. The accompanying sides of foil wrapped, sour cream topped, baked potato and beautifully bouffant, crunchy, golden onion rings were the very best of old-school excellence.
There was no mention of ribs on the 1968 menu so my husband and son shared a 1kg portion (2020 price R295) unbothered by my economic assessments. Steakhouse ribs have a tendency to taste not of meat but rather of overly sweet, sticky barbeque sauce gloop. Not so at Thundergun where the flavour of flesh reigns supreme. These ribs were smokey and slightly spicy with a good balance of meat to fat. Great texture too. With ribs you want the meat to come off the bone easily but not fall off. There should be a small tug of teeth and a little chewiness. And there was.
The wine list is not a list but rather an either/or choice between Rib Shack Red or Brampton unwooded chardonnay. Nederburg Rosé for fence sitters. This is not the sort of restaurant at which you will eat a life changing meal – unless artery clogging levels of cholesterol count as such – or discover a new food trend, but how often is that the case anywhere? Thundergun consistently offers good food and great service. Those who avoid the prawn cocktail will find that prices are pretty much what they were in 1968. Just make sure you get there by 5.30.
Thundergun: 011 67887224; 281 Beyers Naude Drive & Lewisham Rd, Blackheath, Randburg, 2195; Thundergun.co.za
Dr Anna Trapido was trained as an anthropologist at King's College Cambridge and a chef at the Prue Leith College of Food and Wine. She has twice won the World Gourmand Cookbook Award. She has made a birthday cake for Will Smith, a Christmas cake for Nelson Mandela and cranberry scones for Michelle Obama. She is in favour of Champagne socialism and once swallowed a digital watch by mistake.
Attention: Reviews like this take time and effort to create. We need your support to make our work possible. To make a financial contribution, click here. Invoice available upon request – contact info@winemag.co.za
Like our content?
Show your support.
Subscribe