Vela, Hartbeespoort
7
Looking for a comfortable, middle-tier bistro with good food at reasonable prices? Vela in Hartbeespoort is for you. Tucked away at the back of a golf estate-adjacent shopping mall, the unprepossessing location limits achievable elegance but the eatery's interior has been stylishly appointed. Outside tables look directly onto a car park and then part of a supermarket's receiving bay but in the middle distance are the very pretty Magaliesberg mountains.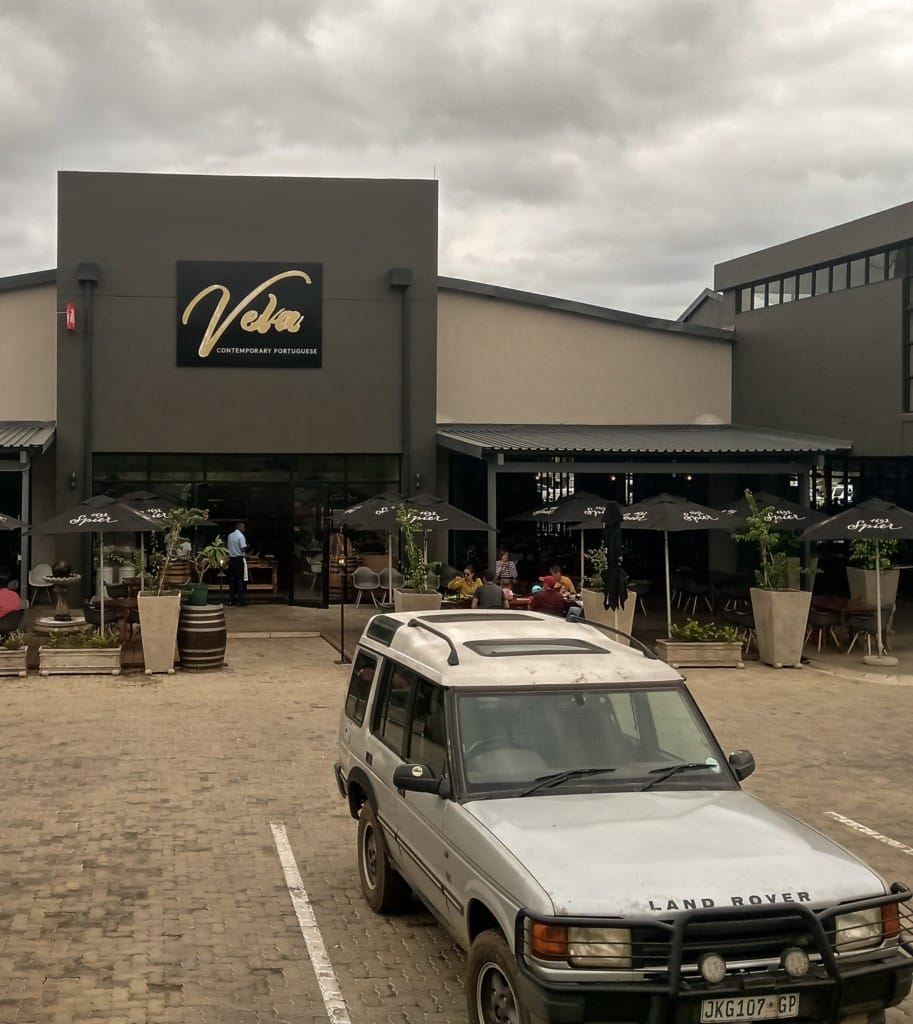 In a world where so many restaurants over-promise and under-deliver, this Afro-Lusitanian venue does the opposite. The eight-page menu offers traditional and modern reinterpretations of Mozambican and Portuguese food. I started my meal with a very pleasant plate of chorizo sausage (R65). There were warm, crisp-crusted, soft-centred papo secos bread rolls with which to mop up moreish oozes of vibrant orange, pig-and-paprika-laden oil. For my main course I had frango piri piri (R130) which was plonked onto a plate that was not quite wide enough to hold the bird's butterflied breadth. What the piri piri chicken's presentation lacked in finesse, it made up for in flavour. Plump and glisteningly succulent. Equal parts spice and smoke.
The waiter tried to offer me a pile of those pre-moistened, plastic wrapped wipes when he brought my lunch but my eco-warrior dining companion gave him a long lecture on their role in the clogging of rivers and sewage pipes so he took them away again. Which was a shame because discarding of cutlery is de rigueur with piri piri chicken and indecorously sticky fingers and faces inevitably follow. The wings were especially satisfying. There is something about the ratio of flesh to skin and bone and also the convoluted topography of wings that makes them an ideal vehicle for the transmission of lip stinging pleasure. The accompanying thinly sliced, rounds of fried potato were crisp, salty and spicy in all the right places. As were the cubes of milho frito herbed and fried pap. There was also a generous ramekin of piri piri relish for delicious dipping.
I know of old that my friend calls herself "a culinary monogamist"- which is fancy speak for she is mean and won't share food – so I didn't even try for a taste of her aromatically enticing amêijoas clam starter (R80). The air around the forbidden plate suggested lemony, garlicy, buttery bliss. The subsequent, seemingly coconut-milk-rich, caril de galhina chicken curry (R130) was similarly fragrant but also out of bounds.
We drank a bottle of bright, grassy, reasonably priced Casal Garcia Vinho Verde which tingled gently against my chili-singed tongue (R200). The food was good. The service was prompt, accurate and unobtrusive. The view was inoffensive in the foreground and beautiful beyond. My face and fingers were badly in need of a Wet Wipe.
Vela: 010 110 0570; Islands Mall. Provincial Road, R512, Hartbeespoort; info@velarestaurant.co.za; velarestaurant.co.za
Dr Anna Trapido was trained as an anthropologist at King's College Cambridge and a chef at the Prue Leith College of Food and Wine. She has twice won the World Gourmand Cookbook Award. She has made a birthday cake for Will Smith, a Christmas cake for Nelson Mandela and cranberry scones for Michelle Obama. She is in favour of Champagne socialism and once swallowed a digital watch by mistake.
Attention: Reviews like this take time and effort to create. We need your support to make our work possible. To make a financial contribution, click here. Invoice available upon request – contact info@winemag.co.za
Like our content?
Show your support.
Subscribe