Zhong Cuisine – restaurant review
2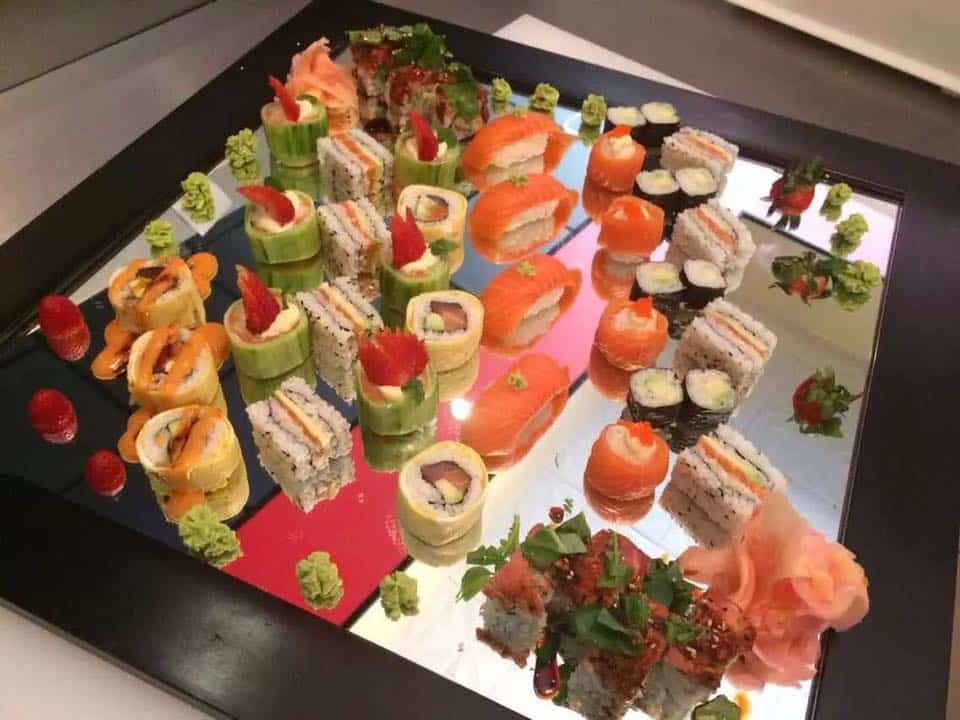 Cheap sushi is a deeply dangerous global abomination. Most of the inexpensive sushi served in South Africa is a rolling insult to Japanese culinary culture. All those subtle, true and clean, complementary flavours that one ought to find are generally replaced with technically clumsy, clangingly unrefined tastes and textures. I have an Italian chef friend who once told me to "beware of Greeks bearing pizza". To this I would add beware of the Chinese bearing sushi. They have no more epicurean affinity for the form than the rest of us and yet, they constitute the majority of South African "sushi chefs".
There was a time, not very long ago, when only the über- adventurous ate sushi outside of Japan. Even the Japanese reserved it for entertaining important guests or celebratory occasions. Now every eight-year-old tells you that sushi is his favourite food and it is sold in almost every supermarket. Kaitenzushi — fast food style sushi that circulates through the restaurant on a conveyor belt – is king. The boom in consumption has caused labyrinthine eco-epicurean concerns. Unsustainable tuna, farmed salmon, those poor hormone-stuffed Thai prawns, the carbon miles incurred in the procurement of all of the above, take your pick.
The review that follows is a confession of sorts. I recently committed a crime against the sea. It was (sort of) a crime of omission. I didn't choose the restaurant but I didn't object to the choice of others. Last Sunday I had lunch at Zhong Cuisine in Menlo Park, Pretoria where R108 buys throngs of eager sushalites an all they can eat offering. When I arrived regulars were complaining about the recent price increase from R99.
Once, long ago, in Sex and the City, Carrie Bradshaw said snobbishly of Staten Island that it was "like a quaint European country. The American music was 20 years behind, and you could smoke wherever you wanted." And so it is in Pretoria. The Carpenters trilled in the background and everyone was smoking everywhere. The air was thick with carcinogens. Zhong Cuisine is in a complex with multiple pizza and pie joints. The pie eaters were smoking just as hard as the sushi crowd. Perhaps that's why they were so enthusiastic about the food.
It was not just the music and the cigarette smoke that was dated. The attitude to fish is was scarily old fashioned too. At Zhong Cuisine customers do read the menu and pick specific items but the plates brought by the sweet, ill-informed waitresses seldom correspond to the initial order. Since it all tastes pretty similar, on one level, this doesn't matter much. On another level, it is hugely important in that it reduces the customer's ability to choose fish that are less threatened. Much of this is moot given that neither waitress nor chef can/will offer any insight into type or provenance of the tuna served. The salmon has that tell-tale greasiness that comes with unhappy, overcrowded lives.
The sushi is bland but generally not unpleasant. At Zhong it is not really about the rice or the fish. It's about the condiments: super-fiery, bright green wasabi, umami-rich soy and vibrant pink pickled ginger. Basically, you are required to build flavour retrospectively. The ginger is supposed to be a palate cleanser but desperate times call for desperate measures. I chucked it all on together and achieved palate tingling results. I know I speak for most of us when I say that there is a perverse pleasure in that snoot-ripping wasabi, ginger combo.
Stick to the classics and you have nothing to fear. It is when the kitchen gets creative that many of the flavours go disastrously off-piste. The sweet chilli and teriyaki sauce drenched wasabi parcels had a disturbing citric edge. The "crazy boy" rolls came with shrimp, chilli mayonnaise and a wasabi peanut garnish. The smoked salmon and cream cheez (sic) futomaki was cloying. Not just any old cream cheese you understand – Mum had definitely remembered Melrose. There were crab (stick) and cream cheez spring rolls too. I am sounding snotty but I ate a lot of sushi that afternoon. I also consumed many, many tempura prawns (also part of the R108) package. They came in a little boat with a ramekin of day-glow orange sweet chilli sauce. They had the texture of well-chewed gum and a soapy flavour but I ate them anyway.
The fact that there is BYO at very low corkage and a Spar Tops bottle store conveniently situated opposite the restaurant partially muted my guilt but really, what is wrong with me, my friends, almost everyone I know? It is not rocket science. The fact that even bad sushi tastes good is no excuse. We need to stop. I expect angry letters and I deserve them but he that is without sushi sin among you, let him first cast a stone.
Zhong Cuisine 082 565 6870; Shop 10, Greenlyn Village Shopping Centre, Corner of Thomas Edison & Mckenzie Street, Menlo Park, Pretoria.
• Dr Anna Trapido was trained as an anthropologist at King's College Cambridge and a chef at the Prue Leith College of Food and Wine. She has twice won the World Gourmand Cookbook Award. She has made a birthday cake for Will Smith, a Christmas cake for Nelson Mandela and cranberry scones for Michelle Obama. She is in favour of Champagne socialism and once swallowed a digital watch by mistake.
Like our content?
Show your support.
Subscribe