Best Value Tastings 2019: Results
5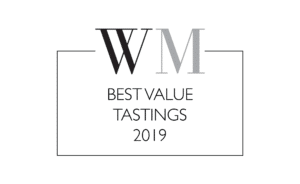 Over the past few months, winemag.co.za has convened a series of tastings aimed at finding the best wines costing between R60 to R120 a bottle.
Our intention was to identify great everyday drinking – wines which offer refreshment and flavour under ordinary circumstances, are widely available and don't cost too much.
Minimum stock requirement that producers had to meet was 300 six-bottle cases or 1800 bottles and wines were be tasted blind by a three-person panel of experienced judges using the 100-point system.
Below are all the wines to rate 88 or more by type/variety:
CHARDONNAY
90
Fat Bastard 2018 – Price: R95
88
Cape Town Wine Co. 2018 – Price: R65
De Krans Wild Ferment Unwooded 2018 – Price: R74
Laibach The Ladybird 2018 (Woolworths) – Price: R90
---
CHENIN BLANC
91
Kleine Zalze Vineyard Selection 2018 – Price: R108
Schultz Family Wines Skeleton Bay 2018 – Price: R120
90
Tierhoek 2017 – Price: R118
89
Alvi's Drift Signature 2019 – Price: R60
Wildeberg & Kompanjie Wild House 2018 – Price: R60
88
Balance Winemakers Selection 2019 – Price: R68
Croyden Title Deed 2018 – Price: R83
Fat Bastard 2018 – Price: R95
Ken Forrester 2018 – Price: R60
Mulderbosch Steen op Hout 2018 – Price: R80
Opstal 2018 – Price: R100
Rietvallei 2018 – Price: R80
---
SAUVIGNON BLANC
90
DeMorgenzon DMZ 2019 – Price: R110
Perdeberg Cellar The Vineyard Collection 2019 – Price: R70
Zevenwacht 7even 2019 – Price: R66
89
Breëland 2019 – Price: R65
Daschbosch 2019 – Price: R90
Ken Forrester Petit 2019 – Price: R60
88
Bruce Jack 2019 – Price: R60
Cape Point Vineyards 2019 – Price: R98
Trizanne Signature Wines TSW 2019 – Price: R88
Strydom Family Wines The Freshman 2019 – Price: R90
---
WHITE BLENDS
91
Lammershoek The Innocent Chenin Blanc Viognier Sauvignon Blanc 2018 – Price: R94
90
Acheron Wines & Spirits Forager White 2019 – Price: R90
89
Vrede en Lust White Mischief 2018 – Price: R89
88
Babylonstoren Candide 2018 – Price: R88
The Drift Bonfire Hill White Blend 2018 – Price: R89
---
CABERNET SAUVIGNON
90
Landskroon 2017 – Price: R80
89
Du Preez Private Cellar 2015 – Price: R63
Nuy Winery Mastery 2017 – Price: R115
88
Ernie Els Big Easy 2018 – Price: R86
Morgenster 2018 – Price: R100
---
MERLOT
89
Le Sueur Wines Wild Card Queen of Hearts 2018 – Price: R72
88
Badsberg 2018 – Price: R60
Leopards Leap Family Vineyards 2018 – Price: R60
Morgenster 2018 – Price: R100
---
PINOTAGE
90
Bader & Walters 2016 – Price: R80
Bloemendal Waterlily 2016 -Price: R95
89
Bonnievale River Collection 2018 – Price: R70
Lammershoek The Innocent 2017 – Price: R94
Slanghoek Private Selection 2017 – Price: R65
88
Silkbush Mountain Vineyards 2017 – Price: R92
---
SHIRAZ
90
Stellenrust 2017 – Price: R74
Lammershoek The Innocent 2017 – Price: R94
89
Bruce Jack 2018 – Price: R60
Guardian Peak 2018 – Price: R95
Robertson 2018 – Price: R72
88
Cavalli Black Beauty 2016 – Price: R100
De Wet 2017 – Price: R60
Ormonde The Old Block 2015 – Price: R95
Simonsig Mr Borio's 2017 – Price: R110
Wildeberg & Kompanjie Wild House 2018 – Price: R70
---
RED BLENDS
90
Mountain Ridge Wines De Liefde Cabernet Sauvignon / Merlot NV – Price: R65
89
Dornier Cocoa Hill Red 2017 – Price: R84
Gabrielskloof The Blend 2017 – Price: R120
Lammershoek The Innocent SMG 2017 – Price: R95
Tierhoek Grenache Syrah MourvEdre 2017 – Price: R117
88
Kaapzicht Bin 3 2016 – Price: R90
The Drift Bonfire Hill Red Blend 2018R69 – Price: R69
For a hard copy of the results, including tasting notes and background information about all the wines rated 89 and above, download and print the following: Best Value Tastings 2019