Topical pic: 5 Star tasting for Platter's 2012 completed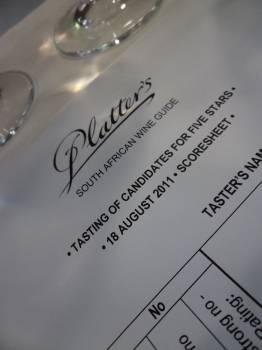 Judging of the wines nominated for 5 Stars to appear in Platter's 2012 was completed yesterday at the Devon Valley hotel in Stellenbosch. There were a total of 140 wines in the running (compared to 150 last year), and tasters were divided into two panels of seven, each panel assessing different categories. This is the only stage of the process were tasting is done blind.
There were 16 examples of Shiraz, 13 Bordeaux-style red blends, 13 other red blends, 11 Sauvignon Blanc-Semillon blends, 10 Chardonnay, 10 Sauvignon Blanc, 10 other white blends, nine Chenin Blanc, eight Pinotage, eight Pinot Noir, seven Noble Late Harvest, six Cabernet Sauvignon, four Merlot, three Cap Classique, three Port, two Natural Sweet, two straw wines, one Cabernet Franc, one Grenache Blanc, one Semillon, one Viognier and one Muscadel.
In addition, the entire body of judges looked at 12 wines for the title of "Superquaffer of the Year", each taster being required to rank the line-up in order of preference. All will be revealed when the guide is launched in November.
Like our content?
Show your support.
Subscribe