User Survey 2019: Most trustworthy source of ratings
14
Trustworthiness of ratings
However controversial wine ratings are, the reason they exist is in order to inform consumer purchase decisions. Given a list of publications and competitions generating such ratings, you were asked to indicate which you considered trustworthy with no limit to how many you could select, the result as follows: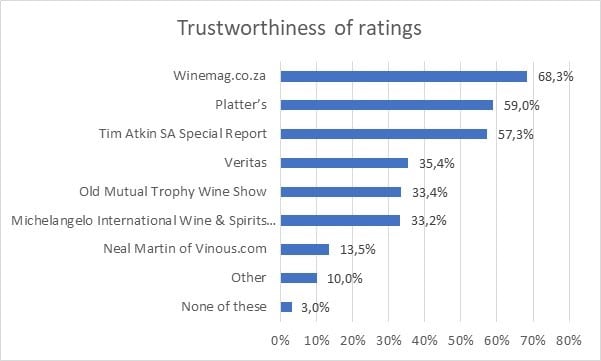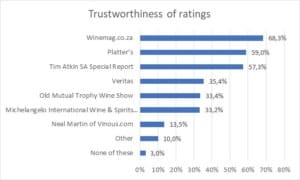 The frequency of wine consumption
Asked how often you drink wine at home, 46% said two or three times a week, 36% every day, 17% once a week and 1% less frequently.
Wine appreciation
The point is often made that most wine is a grape-based alcoholic beverage rather than a product of terroir and hence worthy of contemplation. The users of this site, however, are highly involved with the subject of wine as the following demonstrates:
Asked if you put ice in your wine on a hot day, 39.7% said never, 23.6% rarely, 21.9% occasionally and only 14.8% regularly.
Asked how often do you drink from "designer" wine glasses such as Riedel, 45% said on special occasions, 33% everyday and 22% never.
How soon wine is consumed after purchase
There is a much-repeated quote that "98 percent of consumers open a bottle of wine within 24 hours of purchase" but when we investigated this, the reality appears to be quite different with only seven percent of you admitting that you drink the wine within 24 hours of purchase.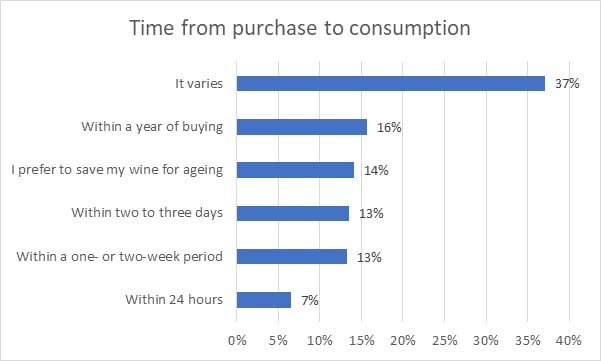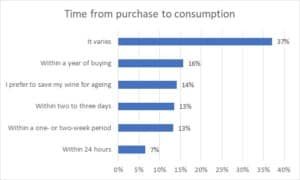 Preferred wine closure
For all the frustration that TCA-tainted wine causes, it would seem natural cork isn't going anywhere. Asked what your preferred closure is, 61% said natural cork, 24% screwcap and 8% Diam (technical cork). Of note, 6% said they had no preference.
SA's signature grape
South Africa has more plantings of Chenin Blanc than any other wine-producing nation in the world while Pinotage, a cross between Cinsault and Pinot Noir, first came into being here. Asked if the country had a signature grape, which of the two would it be, 54% voted for Chenin Blanc and 46% for Pinotage.
Favourite other alcoholic beverage
Beer and gin came out joint tops both getting 41% of the vote, ahead of whisky on 33%, "other" on 8% and vodka on 3% (multiple selections were allowed).
534 responses were received. For user demographics, click here.
Like our content?
Show your support.
Subscribe