De Wet Cellar – Best Value Winery of the Year 2014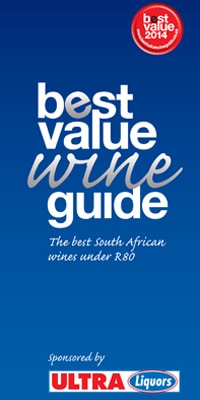 Most of the efforts on this blog are directed at the fine wine end of the market but occasionally it's interesting to examine what's happening at entry level. The 2014 edition of the Best Value Wine Guide sponsored by one of South Africa's major liquor retailers Ultra Liqours has just been launched. Wines have to sell for R80 (equivalent to around ₤5 at the current exchange rate) or under and then rate 2½ Stars or better to be included in the book and 472 out of 931 submitted made the cut.
Best value winery of the year is De Wet Cellar in Worcester – the Chardonnay 2012, Dry Red 2011, Pinotage 2012, White Muscadel 2011, Red Muscadel 2011, Cape Ruby NV, Cape Vintage 2008 and Muscat de Frontignan Petitlant Fronté NV all making it into the guide.
Founded in April 1946 as a cooperative, De Wet is today owned by its nearly 60 members who cultivate some 1 000ha and crush around 15 500 tons a year. It functions first and foremost as a bulk wine exporter (as main shareholder in one of SA's top UK brands FirstCape) but it also produces 15 000 cases of wine under its own label.
Exports as a percentage of South Africa's total wine production were 47.9% in 2012 and the UK remains South Africa's biggest market for packaged wine, Germany the biggest for bulk wine.
It needs to be appreciated that exports in bulk by major New World wine-producing countries have over the last 10 years increased from approximately 20% to nearly 50% of all wine volumes traded which is unfortunate for producers because the margins are less (although you imagine an operation like De Wet has now got its business finely tuned).
Even so, what opportunities for South Africa to grow its packaged wine exports? Those close to the industry are dining out on the observation made by Whitey Basson, CEO of South Africa's largest retailer Shoprite Holdings that the group's seven stores in Nigeria had sold more Moët & Chandon champagne than all the group's liquor stores in South Africa combined in the year to June 2013. The group envisions having 600 to 800 stores in the West African country soon.
As Mark Norrish, general manager of the wine division at Ultra Liquors, says, "The debate is constantly whether South African producers should go east [China] or west [US] but I'd go north. Urbanisation and a growing middle class are fueling a consumer boom in Africa. The golden rule is those with the gold, rule."
Like our content?
Show your support.
Subscribe