Greg Sherwood MW: The merits of keeping a wine cellar
3
"Patience is not the ability to wait, but the ability to keep a good attitude while waiting…" and, boy oh boy, have we all been tested by the waiting shenanigans of lockdown regulations. This week's Covid-19 update in the UK seemed to surprisingly contrast with the unfortunately negative prognosis for South Africa. While Prime Minister Boris Johnson predicted we could all be drinking outside pubs by early May, with the entire 60 million population vaccinated by early July, the KPMG extrapolators in Johannesburg were speculating about a potential return to level 5 lockdown regulations for South Africa if the third Covid-19 wave arrived as winter starts setting in. My first reaction to these pronouncements were… Hey!, February was way too early to be pontificating about another winter lockdown! For heaven's sake, February and March are prime harvest months in the Cape Winelands which also deliver some of the most enchanting and ethereal late summer evenings imaginable. Evenings that are enriched and made even more memorable and magical when delicious mature fine wines are pulled from the cellar and consumed with obliging guests.
Early last year during the onset of lockdown 1.0, I think I might have written, in a modestly animated fashion, about how one of my millionaire London private clients had confided in me sombrely that for all his wealth, the private chauffeurs, the private jets and the private yachts at his disposal, they had all been rendered utterly useless (as well as extremely costly) due to the pandemic. The only redeeming assets he could instantly recall were the luxury of his large, beautifully manicured gardens behind his sizable London family home together with his supremely well-stocked fine wine cellar, much of which I had supplied to him over the years.
What brought this story to mind once again was my past weekend's spring-cleaning endeavors in my own very dusty wine cellar. With another hot UK summer predicted, and a surprisingly early hint of spring in the air, it seemed an opportune moment to squeeze into the 600-bottle upstairs cellar off my kitchen and clean the aircon unit's filters, something I had not done in far too long. Only one snag. The wall of wine outside the cellar door and the corresponding wall of wine boxes inside the cellar door, making entry completely impossible. At this point of the story, high-rise flat dwellers and townhouse renters will be forgiven for wanting to drift off and go and pour themselves a nice large chilled glass of old vine Chenin Blanc or perhaps a spritzy glass of effervescent Cap Classique from the fridge as I fully appreciate that not only in South Africa but all over the world, having a well-stocked wine cellar is definitely considered something of a luxury.
Wine cellars, despite the obvious pleasures they can bring to even the most modest of households, still seem to somehow remain the preserve of either the super-wealthy or the super-obsessed. But before the slightly more precious readers start clicking their tongues at the idea of an average household possessing a fairly well-stocked cellar in South Africa (or London for that matter), I would comment that the only encumbrance or limitation is the lack of desire or inclination, rather than any forbiddingly preventative conditions. Of course, cramped accommodation is a limiting factor for developing a wine cellar immediately at hand, however, that is where super companies likes Great Domaines in Johannesburg or Wine Cellar in Cape Town come into play, facilitating optimal storage for whatever quantity of wine you care to aspire to possess. Easily purchased, stored and equally straightforwardly extracted, this simply is an endeavor that is open to all… an accessible luxury, kind of like fine wine itself!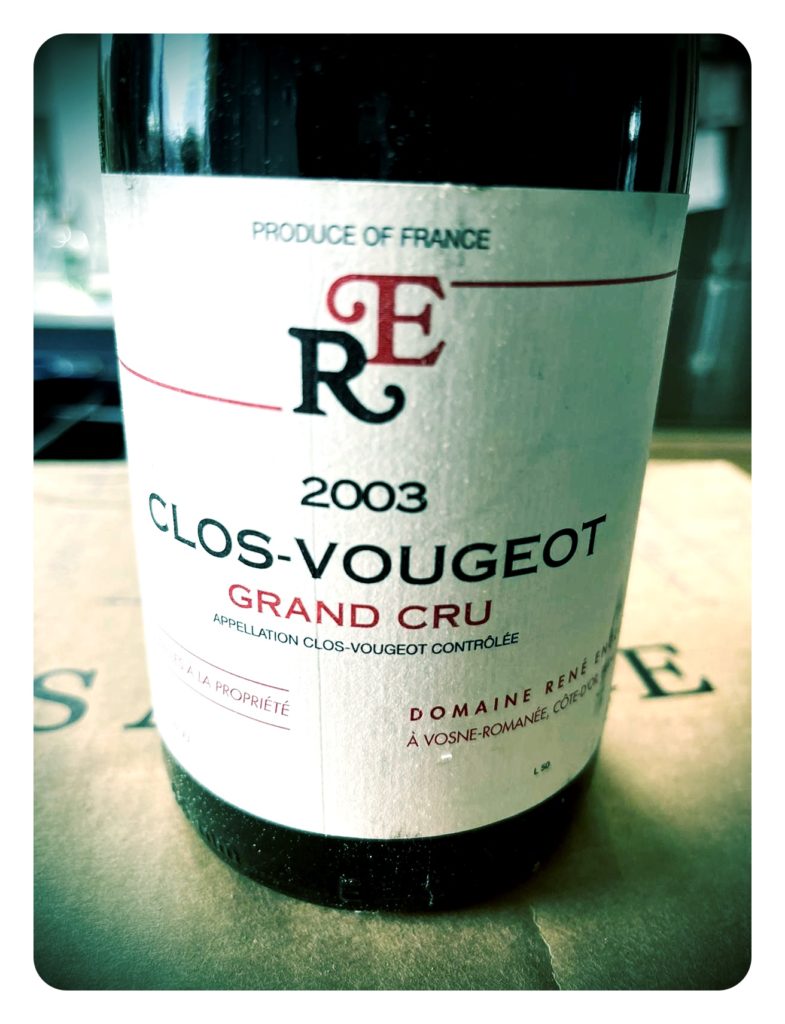 Never has so much heavy lifting of dusty wine cases been enjoyed so much, and of course the prize for the ultimate obsessive wine collector – finding that forgotten bottle or that case of buried wine that you have no recollection of buying all those years ago. In my case, this included some truly astonishing finds that even I am mildly embarrassed to admit that I had no idea I possessed… the first of which was a full six pack of 2012 Eben Sadie OVS Pofadder Cinsault, the second, another full six pack of Eben Sadie OVS 'T Voetpad 2013, and then a few rarefied treasures including a rogue bottle of Coche-Dury Meursault 2008 (£550pb) and a single bottle of Rene Engel Clos de Vougeot Grand Cru 2003 Burgundy, that to my astonishment, now sells for between £1,500 to £1,800 per bottle retail (the equivalent of R31,000 to R37,000). While the temptation to drink these vinous treasures looms large in one's mind, the accomplishment of selling a pristine bottle that was purchased for a mere £45 pounds fifteen years ago or more, for over £1,000 pounds, is a temptation no sound-minded wine collector could ignore. There are always new vintage treasure waiting to be bought in return.
Through-out my 22-plus years working in the fine wine business in London, it never ceases to amaze me how buying certain thoroughly affordable wines on release, and then forgetting about them in your cellar for 10 to 15 years can suddenly yield a genuinely sizable windfall. I suppose its no different to buying premium real estate. As my father always tells me, "They aren't making any more land, it's a finite commodity"… so a well-judged purchase is unlikely to ever decline over the long term. It seems fine wine certainly falls into this category of luxury. But in the event of a market crash, or heaven forbid, a global viral pandemic, well, you can always pull the cork on a rare bottle of wine.
Greg Sherwood was born in Pretoria, South Africa, and as the son of a career diplomat, spent his first 21 years travelling the globe with his parents. With a Business Management and Marketing degree from Webster University, St. Louis, Missouri, USA, Sherwood began his working career as a commodity trader. In 2000, he decided to make more of a long-held interest in wine taking a position at Handford Wines in South Kensington, London and is today Senior Wine Buyer. He became a Master of Wine in 2007.
Attention: Articles like this take time and effort to create. We need your support to make our work possible. To make a financial contribution, click here. Invoice available upon request – contact info@winemag.co.za
Like our content?
Show your support.
Subscribe