Jamie Goode: What do wines need to age well?
3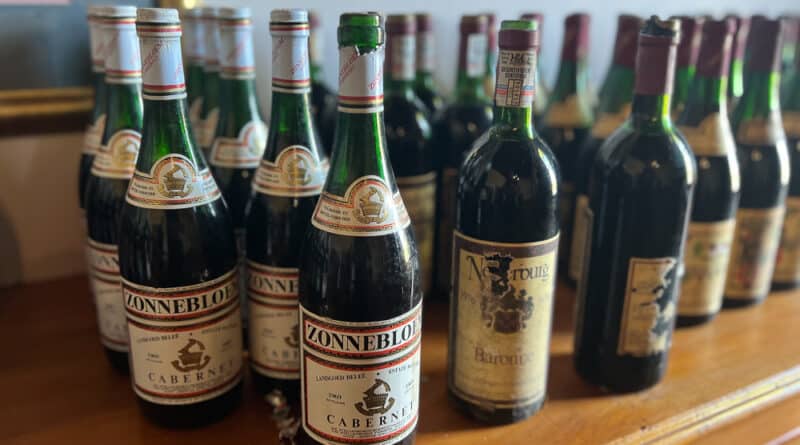 It is a great joy to taste old wines, especially when they have developed beautifully. But sometimes it's fun to taste old wines just because they are old, even if they are only just hanging on, and will soon taste of nothing more than 'old wine', a generic sort of taste that many bottles reach at the end of their life. Then, there's no distinguishing Bordeaux from Burgundy from Barolo from Beaujolais. Most of the time, though, we cellar wines in the hope that they will gain qualities from this ageing process that justifies the effort and expense of keeping them for a long time. We don't just want these wines to survive, we want them to develop – to improve.
When it comes to old South African wines, some of us have been lucky to taste venerable old examples from the 1950s, 1960s and 1970s that have aged beautifully. And not just once or twice, but on numerous occasions. My first real experience was tasting in what was then the Distell Tabernacle, where they had a great stock of old bottles (hopefully new owners Heineken will continue to respect this resource). Then, more recently, I have attended a couple of the Winshaw tastings. Brothers Pierre and JP Winshaw have a wonderful stock of old wines in their family collection that came from their great grandfather Dr Charles William Winshaw. He lived a remarkable life, and he formed the Stellenbosch Farmers Winery (SFW) in 1925. This was a farmer's collective that owned several brands, and made and marketed the wines of their member growers. Winshaw and his son William accumulated more wines than they drank, and as a result they built up a wonderful collection of wines on the farm. Stellenbosch Farmers Winery later became Distell.
There were fewer brands back then. In the 1950s there were as few as 10 bottled wines on the market. And most of the old brands I've tried have been the likes of Lanzerac, Château Libertas and Zonnebloem.  But while many of these wines from before the 1980s aged well, the wines since the 1980s have aged less successfully.
Two exceptions here would be Meerlust and Kanonkop. Why did these wines develop so well when most of their peers didn't? Here we might find some clues. And then we can ask: what was different about the red wines prior to the end of the 1970s that meant they aged well, while more recent bottlings have been less successful in the cellar?
Some clues are in the winemaking. The older wines would have had tartaric acid routinely added, and sulfites would have been added to the grapes, but not to the wines. The presses were of the old archimedes screw type, and multi-vintage blends with as much as 40% of different vintages to that on the label would have been common. Malolactic fermentation wasn't understood then, and some of these reds would have had no malolactic at all, helping keep their acidity. In addition, even those with a varietal designation may have had a substantial dollop of Cinsault added. This workhorse variety was widely planted and it's a grape that deals very well with warm climates, holding its freshness (by way of example, see background on Zonnebloem Cabernet 1965 here).
The 1990s and noughties saw many positive developments in the South African wine scene, but this was also a time when ripeness was cherished. Grapes were picked later, giving riper, more alcoholic wines that flattered in their youth. The thinking of the time was that winemaking was better, and because these wines were ripe and concentrated, they'd age well.
But it seems that freshness (good acidity) and the right sort of tannic structure is needed for wines that will develop positively for a long time in the cellar. Past performance is no guarantee of future performance if things have changed in the vineyard and the cellar, even if they have changed for 'the better'. Later picking results in lower levels of acidity, and also the tannins will be different: as grapes become more mature, their form changes and it seems they are no longer able to support ageing in the same way. There may still be substantial tannin, but it's not the sort of tannin that develops well: soft tannins on release mean the wine has a good chance of going "mushy" with time.
The missing dollop of Cinsault may also be significant, too, and it's interesting to see this coming back into the blend for some serious, potentially age-worthy reds.
I'm not advocating blocking malolactic for reds, or for adding lots of tartaric acid, but I do think that picking earlier and making a wine with moderate alcohol levels, bright acidity and firm tannins is what you need to do to make a 30-year wine. And it's likely that some early drinkability will have to be sacrificed for this goal. Too many of the existing prestige bottlings are flashy red wines with opulent fruit and smooth, luxurious tannins. Rich folk seem to love these wines, but they don't have much of an upside in the cellar, even if you've paid over R1000 a bottle for them and they come wrapped in tissue paper.
Of course, you can have freshness without ageability. There are some really beautiful lighter-style reds being made these days which taste beautiful on release, made in more of an infusion style with modest alcohol levels and massive drinkability. While these wines are good for a few years, they don't generally have too much cellaring potential. That's fine: most of them are going to be drunk on release, and there's more to lose than there is to gain by laying them down for a decade.
But for those who want to red make wines that will develop positively in the cellar, and which will still be around in 50 years' time, then a back to the future approach will be needed: varieties that are flavour ripe while retaining good acidity, the right sort of tannic structure, appropriate ageing in the cellar, and then the willingness to sacrifice early drinkability for long ageing.
Jamie Goode is a London-based wine writer, lecturer, wine judge and book author. With a PhD in plant biology, he worked as a science editor, before starting wineanorak.com, one of the world's most popular wine websites.
Like our content?
Show your support.
Subscribe