Tim James: Great food and overpriced wine at Fyn
By Tim James, 30 September 2019
9
I've rather lost patience with (and anyway can't regularly afford) tasting-menu fine dining – the sort that involves peering into the depths of a large bowl to find a minuscule, artful arrangement of about 24 ingredients, while the server comes every ten minutes or so to interrupt the conversation with another exquisitely prepared morsel and expect praise for the previous one.
But I was feeling that life is short and I needed a fine-dining shot, and I'd heard good things about Fyn, Peter Tempelhof & co's Japanese-local fusion restaurant in Cape Town, so I and a foodie friend who fine-dines around the world trotted along there (well, Ubered along there) last Saturday night. And had a wonderful time. Much more so, I think, than Daisy Jones did, going by her rather underwhelmed report of a lunch there last January. Also, Daisy had little to say about the wine list beyond its being "proudly, knowledgeably local", and I have something to add to that. Or subtract from it, perhaps.
The first thing to express is relief that the set menu (R1075 per person; also available with wine pairings) was both long and substantial. Plenty of food came in eight beautifully presented but not too precious, well paced and expertly delivered waves, each consisting of one to four components – for the more complex ones we were gently instructed on the best order of eating them. I can't do much analysis of the food, but it was exciting, revelatory (the quintessence of smoked snoek for example!), and above all marvellously delicious. The only little grumble we could come up with between us was that the rice in the one piece of sushi (also delicious) was too soft, lacking texture. What a perverse pleasure it was to find something to criticise!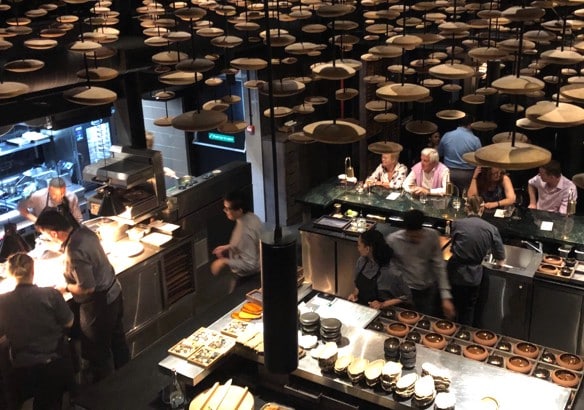 The photo, by the way, shows the view from our table on the small mezzanine level (I wouldn't have really wanted to be at any of the other tables on this floor, but ours at the edge was great), looking down to the kitchen, preparation area and a seating counter, through the innumerable discs of the hanging ceiling that delightfully suggest pebbles in water.
As to the wine: Fyn allowed me, with no apparent resentment, to bring a few special bottles at R150 corkage each. That's generous these days, as the privilege of BYO seems to be increasingly slipping away. (It would be a useful project to start a list of restaurants that allow BYO at a reasonable corkage charge.) Especially generous when one realises the profit that Fyn is making from its wine mark-ups. I'll come back to that after lovingly recalling the wines I took.
The first, and extremely successful as partner to most of the food we had with it, was Sadie 'T Voedpad 2009 – sadly, nearly my last bottle of this maiden release, the one with the Kentridge drawing on the label. Drinking beautifully, with that surprising refinement off a notably hot northern Swartland vineyard (then very neglected; an old, mixed one, you'll remember, with chenin, semillon, palomino and a bit of muscat). Interestingly, my dining partner, John, had had a bottle of the current 2018 at a restaurant just a week or so back, and confirmed the advantage of a decade of bottle age. A brilliant wine which would have had many years ahead of it if it hadn't been sacrificed to our great pleasure that night….
Then a fine red burgundy, two years older: Méo-Camuzet Vosne Romanée Premier Cru les Chaumes 2007. Also surprisingly young, an excellent wine from a mixed vintage – fresh, graceful and lovely, with subtle depths and power revealing themselves increasingly with air, but almost too youthfully fruity for a perfect dinner companion.
I asked to see the Fyn wine list. It's impressive in quality and breadth, largely local (though with a French handful), with many of the grandest Cape names represented. A smallish number are available by the glass. Most of the wines are from the current or last vintage, though there are a few mature ones – like Vilafonté Series C 2006 (R6000), Kanonkop Pinotage 2009 (R1800). It's on the whole very expensive, with a 300% or more mark-up not unusual: Alheit Cartology 2018 for R950 is pretty outrageous, as is Sadie Columella 2016 at R2600 – trade price must have been around R600. Incidentally, the 2018 vintage of 'T Voetpad is R1100 – and I noted that the winelist wrongly gives it as from Piketberg (it's WO Swartland) and describes Kokerboom as a white blend (it's semillon). Simple mistakes like that shouldn't happen at a fine, serious restaurant, whatever the wine price. I don't think there's a sommelier, incidentally, to help sort out things like this and help justify the mark-up.
Fortunately, I didn't have to get grumpy about paying that sort of price – and was content with the corkage – but I would have been. Dinner at Fyn costs a lot of money (they automatically add on 12.5% service charge, by the way, which is about as ungraceful as the R800 deposit demanded when booking) and I am happy to pay well for the brilliant, elaborate dinner and the good service and the place. But to charge massive markups for current-release wine is wrong. If the profit margin on the food is insufficient to be sustainable, by all means charge more for that and let us choose – but when you add scarcely any value to the wine, don't make winedrinkers subsidise other diners.
I was pleased to see that Fyn was full, and reportedly always is. If you're a visitor to Cape Town during the tourist season and want to eat at what is undoubtedly one of its most exciting restaurants (which is saying a lot), I think you might need to book well in advance. Grit your teeth about overpaying for the wine at Fyn, but the food and experience are worth every cent.
Tim James is one of South Africa's leading wine commentators, contributing to various local and international wine publications. He is a taster (and associate editor) for Platter's. His book Wines of South Africa – Tradition and Revolution appeared in 2013.
Like our content?
Show your support.
Subscribe