SA wine history: Behind every great winemaker at Zonnebloem was Marie Furter
5
'South Africa cannot afford to lose men like John de Villiers,' is what the Sunday Times wrote about the owner of Zonnebloem wine farm in Simondium following his death in a car crash on 7 July 1948. 'Politicians may come and go, and millionaires may make their millions, but those who produce perfection from our own soil are of rarity beyond price. [De Villiers] sought no great wealth; he loved the age-old art of wine-making and strove to make it even better. His great ambition was to make a wine typical of South Africa and distinct from any made overseas.'
There are a couple of very noteworthy things about the loss of John de Villiers at the age of 32 in 1948, when the car in which he was travelling was hit by a train at a railway crossing near De Doorns.
Firstly, this so-called 'Wine King of South Africa' was also a politician – he was a member of the Herenigde Nasionale Party in the Paarl district council – and with him in the car that fateful day, heading to a party congress in Beaufort West, was none other than the HNP representative for George, PW Botha, who escaped with minor injuries and eventually went on to become Prime Minister and then State President of South Africa – yes, Apartheid's 'ou krokodil' of the 1980s.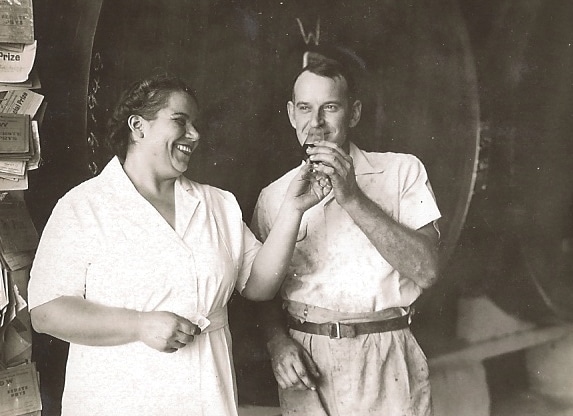 Secondly, no matter how 'perfect' the produce of his soil may have been, or how 'great' his ambition, De Villiers did not leave as gaping a hole in the industry as might have been expected. His young widow, Francina, immediately rented out Zonnebloem to her sister and brother-in-law, Marie and Maurice Crouse. And not only did Marie Crouse, nee Furter, know a thing or two about winemaking, it seems she had taught De Villiers everything he knew in the first place!
Eight years previously, at the age of 21, Marie Furter had stepped into the shoes of her father, Willem Daniel Furter, after his sudden death on 7 January 1940. Originally a producer of distilling wine, Furter had started replanting his vineyards and improving his cellar in the early 1920s, when British firm Burgoyne's expressed interest in importing quality wine from South Africa. Before long, his friend and mentor Frank Myburgh, the KWV's wine expert, was able to say the following about the Zonnebloem cellar: 'By reason both of excellent fustage and the manner in which it is arranged and maintained, I consider it second to only one other in the country.' [That was Alto.]
Furter exported his wine via Burgoyne's and in 1930 also reached an agreement to sell wine locally to Stellenbosch Farmers' Winery (SFW) – mostly white wine, but some Zonnebloem Cabernet Sauvignon must have made its way into SFW's new flagship, launched in 1932: Chateau Libertas.
Furter's wines regularly won awards, and it seems his daughter, Marie, took a keen interest in everything he did – enough of an interest to be able to handle the 1940 harvest on her own. And she didn't merely cope; her maiden vintage earned three trophies at the 1940 Paarl Wine Show, where she also racked up the highest total score of any winemaker in the competition – a feat she repeated in 1942, modestly attributing her successes to the quality of her father's grapes.
In the meantime, however, her younger sister Francina had married John de Villiers – a man with no knowledge of winegrowing, having worked for the South African Iron and Steel Industrial Corp (Iskor). But being a man clearly counted more than Marie's experience and accomplishments. She showed him the ropes, then married a bank clerk named Maurice Crouse and moved to Paarl.
De Villiers bought Zonnebloem from his mother-in-law in 1943 and evidently acquitted himself very well over the next five years, occasionally seeking advice from Frank Myburgh (KWV) and Bill Winshaw (SFW), if not also his sister-in-law. SFW continued to buy, bottle, label and market Zonnebloem's wines, which now sported the De Villiers family crest and motto: La Main à l'œvre, meaning 'the hand that works'. In 1946 Zonnebloem's wines won 10 trophies, earning De Villiers the title of South African champion winegrower, a title he retained the following year.
He was said to be 'gifted', a 'natural'. And yet, when he died in 1948, things didn't exactly fall apart. Marie once again stepped in as winemaker, and Zonnebloem's wines once again scored the highest points at the 1949 Wine Show. And then – surprise, surprise – she once again took a backseat and taught her bank clerk husband how to make wine. In 1951 Maurice Crouse was declared the 'new wine king' after Zonnebloem's wines won 11 first prizes and nine trophies, the first of many that would follow over the coming decade. In 1956, he also became the new owner of Zonnebloem…using his wife's inheritance money.
I would like to think that the South African wine industry has come a long way since then. There are now several highly regarded winemakers who just so happen to be women. But what got me writing about Marie Furter Crouse in the first place was hearing from Andrea Mullineux, arguably our most celebrated winemaker at the moment (irrespective of gender), Wine Enthusiast's 2016 International Winemaker of the Year (among countless other claims to fame), that reps trying to sell winemaking products still walk straight past her in the cellar to speak to the nearest male, regardless of job title…
In these theoretically more progressive times, Distell (the result of SFW's merger with Distillers Corporation in 2000) seems to find marketing value in the Marie Furter Crouse story. It ties in very nicely with the fact that its Zonnebloem brand now boasts an all-women team: cellar 'master' Elize Coetzee, red winemaker Bonny van Niekerk, white winemaker Kelly-Marie Jacobs and viticulturist Elizabeth Habets. But the Zonnebloem brand has had nothing to do with the original Zonnebloem farm for a very long time. In fact, it's hard not to be a little cynical about the fact that SFW applied to register Zonnebloem as a trademark on 12 August 1948 – a mere 36 days after the death of John de Villiers. Zonnebloem was duly registered as a SFW trademark on 8 June 1949, by all accounts without the knowledge of De Villiers' widow or the Crouses.
Until 1963, Zonnebloem's wines were delivered to SFW, yet even as Maurice Crouse was receiving awards for them, he was being taken down a notch or three by SFW. In 1954, for example, he received no fewer than six trophies for his Cabernet (including, it should be noted, the Stellenbosch Farmers Winery Floating Trophy for the best Dry Red Wine, not to mention the General Smuts Floating Trophy for the most outstanding wine). Yet in the SFW Blending Books for 1954, Bill Winshaw noted: 'This [Cabernet] is not made to specification and is becoming an ordinary wine. Should Mr. Crouse not be able to follow instructions he should contact the winery and not remain negative to a procedure which will make or break his wine.'
A great deal happened in the 1950s, most notably the advent of cold fermentation and the explosive success of SFW's semi-sweet white blend, Lieberstein. Realising that they would need to modernise their cellar, especially for white wine production, the Crouses asked SFW for a written contract undertaking to continue buying their wines if they made the considerable investment in refrigeration and stainless steel tanks. No such contract was forthcoming.
The Crouses delivered their last wines to SFW in 1963, having taken the decision to stop production and focus only on growing grapes. In 1965 they even stopped selling their grapes to SFW, switching instead to the local Drakensteinse Koöperatiewe Wynkelder. As far as I can tell, that's where any connection between farm and brand ended.
Marie Crouse died in 1988, followed by her husband in 1991. Their son, Furter, continued selling grapes to the Drakenstein co-op and eventually sold Zonnebloem farm in 2003.
It's a story (told in much more detail by Chris Venter in Historia, see Bibliography) that leaves me feeling somewhat frustrated – the only consolation, I guess, being that the Zonnebloem wines produced by SFW during the 1960s and 1970s have stood the test of time (see here, for example). And Marie Furter Crouse is remembered.
Bibliography
Venter, Chris: Die wynmakerfamilie van Zonnebloem, Simondium, 1915-1963, published in Historia, Volume 57, Issue 2, November 2012
Joanne Gibson has been a journalist, specialising in wine, for over two decades. She holds a Level 4 Diploma from the Wine & Spirit Education Trust and has won both the Du Toitskloof and Franschhoek Literary Festival Wine Writer of the Year awards, not to mention being shortlisted four times in the Louis Roederer International Wine Writers' Awards. As a sought-after freelance writer and copy editor, her passion is digging up nuggets of SA wine history.
Attention: Articles like this take time and effort to create. We need your support to make our work possible. To make a financial contribution, click here. Invoice available upon request – contact info@winemag.co.za
Like our content?
Show your support.
Subscribe