SA Wine History: On South Africa's wine lake (and how it was drained)
"In the early days South Africa actually had too much wine. Sources mention there was even a wine lake."
So wrote Mark Stock in his Quick and Easy Guide to South African Wine, published by The Manuel last month.
Was this true, asked Bubbles Hyland of Well Red Wine Magazine via Twitter, to which my answer was in the affirmative, based on my general awareness that the Koöperatieve Wijnbouwers Vereniging van Suid-Afrika (KWV) had been formed to deal with a wine surplus.
It got me wondering, though. How big was this wine lake, exactly?
That's what I was trying to research earlier this month, consulting my trusty copy of 300 Years of Cape Wine as a starting point, when C Louis Leipoldt surprised and distracted me with his very topical thoughts on prohibition (see here). Now that domestic alcohol sales are resuming under Level 3 lockdown, I find myself able to focus on the historic 'problem' of having had too much wine available, rather than the recent reality of having too little…
As mentioned in passing in my last column, South Africa's first co-operative cellars were established during the 'period of great hardship and much distress' that followed the Anglo-Boer War. World War I then brought further hardships, leaving wine farmers with wine they simply could not sell, and this was ultimately what led to the establishment of the KWV in 1918.
In short, the KWV was established in order to secure 'bona fide wine farmers a continuously adequate return for their produce'. It would buy from the farmers, sell to the merchants (with whom it would not compete on the local market) and then dispose of all production that was surplus to local demand.
As it happened, surplus wine was hardly an issue during the economic upturn immediately after the war, but according to DJ van Zyl's KWV 1918-1993, published on the occasion of the KWV's 75th anniversary, a bumper harvest in 1921 meant that 67 443 hectolitres had to be destroyed, followed by 228 742hl in 1922 and 227 628hl in 1923 (about a quarter of total production during that period).
So, yes, 'wine lake' is hardly an exaggeration.
From raisins to moskonfyt, from ethyl alcohol to Eau de Cologne, from gin to Van der Hum liqueur, the KWV had to get creative in finding outlets (preferably profitable ones) for this surplus production.
Most notable was the development of its fine brandies (to which end AI Perold was appointed chief wine scientist in 1927) and fortified wines (with Perold's eventual successor, Charles Niehaus, being appointed in 1937 to make 'sherries' using the flor yeast strains he had managed to cultivate locally).
The KWV's other obvious outlet was wine exports, which amounted to just 1 175hl in 1926 but had increased to 15 525hl in 1929 – largely thanks to a contract to supply the British firm Vine Products Limited with 45 000hl of fortified wines (mostly 'port', muskadel and hermitage/cinsault) over six years, a deal which no doubt helped the South African wine industry ride out the Great Depression.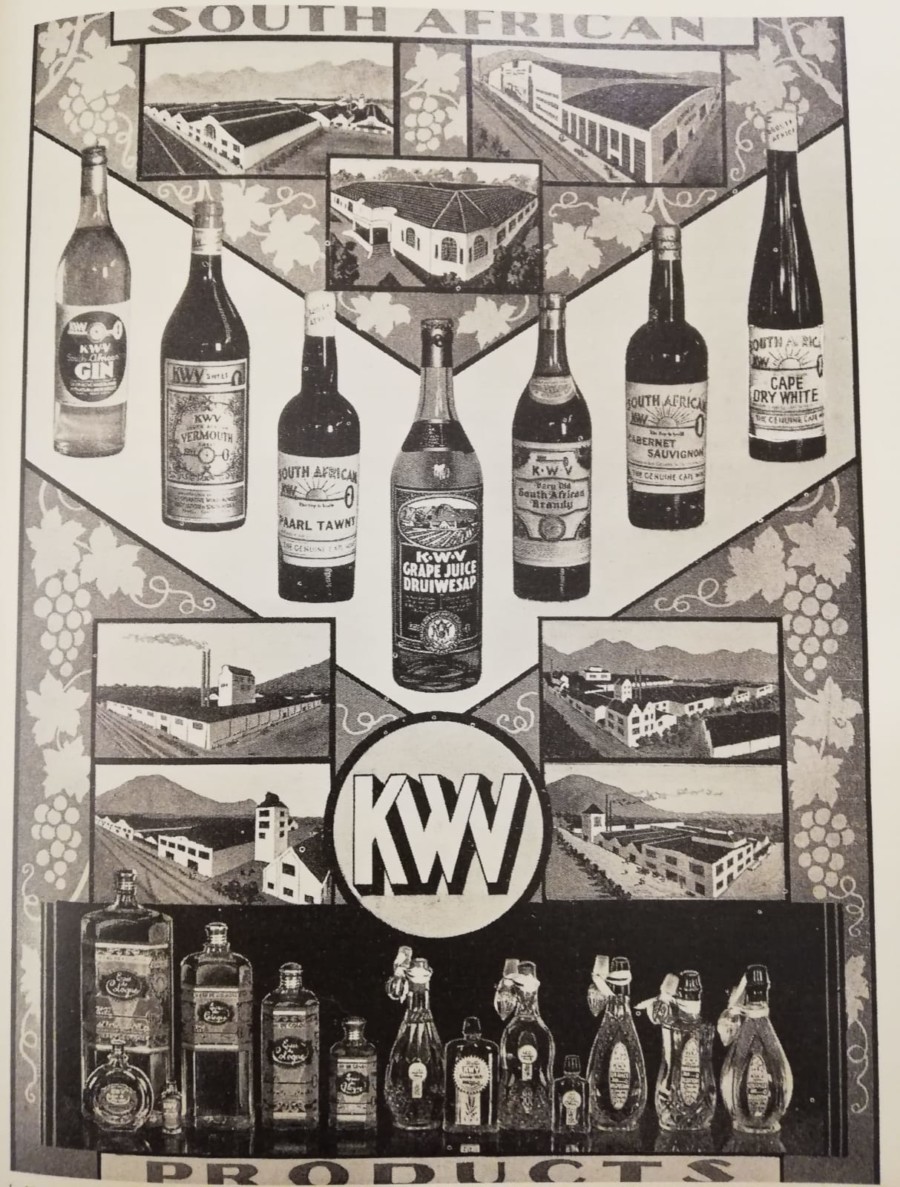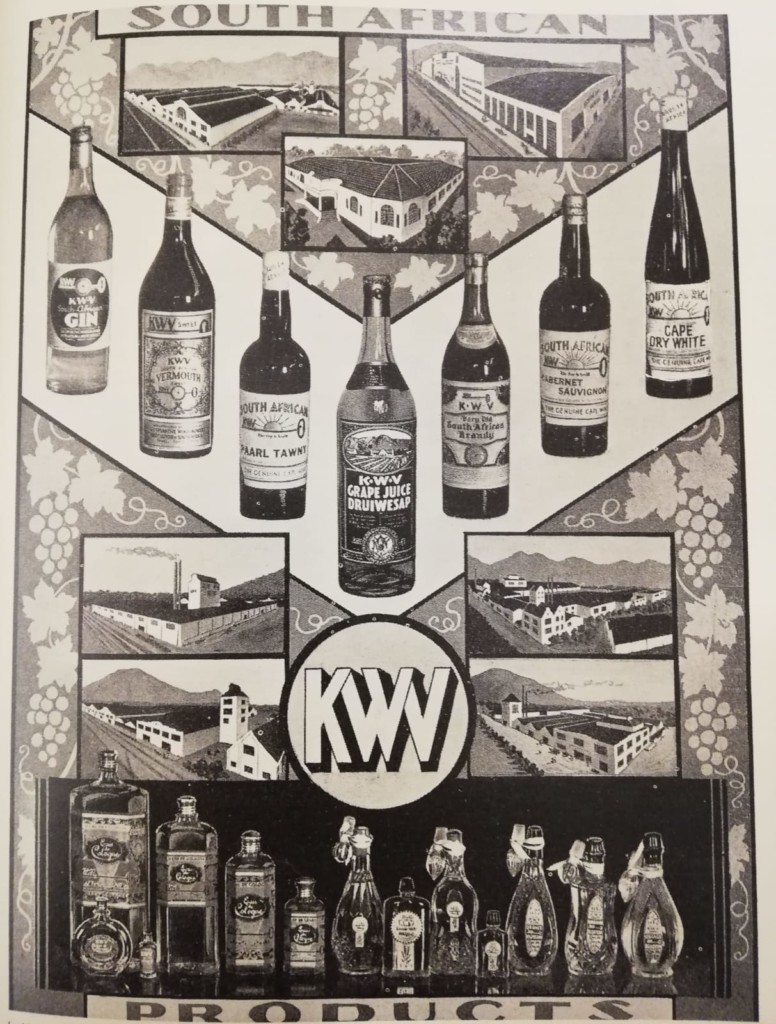 Apart from a small percentage of wines sold under the Springbok brand, most of the KWV's exports were blended away once they reached Britain. The initials KWV weren't even marked on the barrels in which the wines were shipped until 1930, and only from 1935 were any wines sold under the KWV brand, starting with the Paarl Special Tawny Port and Paarl Super Tawny Port.
The KWV didn't have much luck elsewhere in Europe, apart from some sales to Sweden, and it was Canada that emerged as its second biggest export market in the years leading up to World War II.
As for the post-war years, C de Bosdari wrote as follows about the KWV in Wines of the Cape (1954): 'This is a super-Co-operative, not to be confused with the many local co-operative wineries. [It] holds powers from the Government designed to enable it to deal with over-production: it was founded nearly 40 years ago during a severe crisis of this kind […] and until quite recently it had regularly to handle as surplus to the home market as much as half the distilling-wine produced. But it has not now been reduced to destroying wine for very many years; and its efforts to find outlets overseas have raised exports from 25 000 gallons all told in 1926 to 2½ million of wine and half a million of brandy to-day, spread over more than 50 countries.'
And the rest, as they say, is history – but you can read Tim James' thoughts on the KWV's ever-increasing quasi-statal powers (until the 1990s) and its legacy (good and bad) here.
BIBLIOGRAPHY
De Bosdari, C: Wines of the Cape (Second Edition), AA Balkema, Cape Town, 1955
Leipoldt, C Louis: 300 Years of Cape Wine (Second Edition), Tafelberg, 1974
Van Zyl, DJ: KWV 1918-1993, Human & Rousseau, Cape Town, 1993
Joanne Gibson has been a journalist, specialising in wine, for over two decades. She holds a Level 4 Diploma from the Wine & Spirit Education Trust and has won both the Du Toitskloof and Franschhoek Literary Festival Wine Writer of the Year awards, not to mention being shortlisted four times in the Louis Roederer International Wine Writers' Awards. As a sought-after freelance writer and copy editor, her passion is digging up nuggets of SA wine history.
Attention: Articles like this take time and effort to create. We need your support to make our work possible. To make a financial contribution, click here. Invoice available upon request – contact info@winemag.co.za
Like our content?
Show your support.
Subscribe