Tim James: An old friend sadly past, and old wines happily still present
By Tim James, 18 October 2021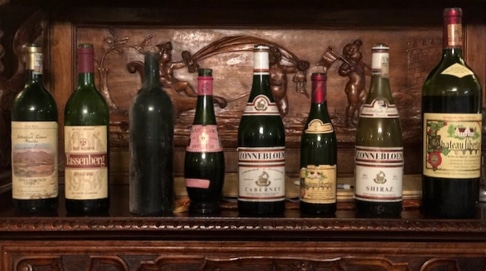 What better wat to celebrate the life of a giant of the South African wine industry than to toast him in some great old wines on his birthday? And, it must be admitted, what pleasanter way for those doing the celebrating and remembering? Duimpie Bayly died, regretted by all who knew him, in August, and would have been 82 last Thursday. In his honour, a group of people (necessarily few, given the plague times and the venue) gathered around a table and a lot of wineglasses in Distell's Tabernacle, at the instance of an old friend and colleague of Duimpie's (and himself a stalwart of the industry), Bennie Howard, with the Tabernacle's current custodian, Michael van Deventer.
The Tabernacle, in the heart of the huge Distell complex on the edge of Stellenbosch, is, for those who don't know, the underground repository of undoubtedly the greatest assembly of fine old Cape wines – mostly dating from the middle decades of the last century, but going back even to old Constantia. There are some very smart foreign wines there too, donated by eminent visitors to South Africa. The collection arose, as I understand it, from the laudable wish to offer Stellenbosch Farmers' Winery staff a perspective on their work – and in the last decade or two it has helped many of the Cape wine revolutionaries to gain an understanding of the excellence (largely forgotten, especially in a time of cultural cringe) that is to be found in local tradition.
Tabernacle wines frequently, though always with due consideration, get an outing. And there are enough of them to continue to inspire for many years. I didn't count the number of Chateau Libertas 1940 bottles – one of which I was lucky enough to share in at one of the old wine tastings presented by Michael Fridjhon to visiting foreign judges at his Trophy Wine show; those tastings themselves did immeasurable good to the international reputation of Cape wine, partly through the splendid background they presented to their currently competing descendants. There are many thousands of older wines there – though I wish they were kept at a much lower temperature than they are at present, in order to keep them cruising for as long as possible. (I always recall reading about some of the great London auctions of wines kept superbly in virtual suspension in the coldness of the deep cellars of Scottish castles.) The Tabernacle's temperature is not prohibitive of comfortable tastings – unfortunately, I think, despite the pleasure of the experience.
We began our Duimpie tasting with three cinsauts. From the famous year of 1974, SFW Stellenbosch Cinsaut was still doing very well, its appearance brilliant with good colour and mahogany rim. Certainly the nose was well developed, with toffee notes, but the palate notably fresh and lively, with a perhaps too noticeable acidity and the expected modest tannic grip. Not lingering, but eminently drinkable.
There were two Tassenbergs – back then always from cinsaut. The 1986 celebrated 50 years by being available under cork as well as screwcap, and we had one of those. Rather too far past its best, but still some prettiness there. Also experimentally corked but unreleased, Tassenberg 1969 was showing much better, though still with plenty of toffee-ish development. Lovely silkiness of texture, a hint of richness to the sweet fruit, firmly balanced tannic structure – a delicious treat.
Pinotage was represented by a half-bottle of Lanzerac 1964 (from Stellenbosch grapes). Not noticeably pinotage really, except perhaps for the power of the tannins and a touch of obvious sweetness to the fruit – just a fine, fully mature wine, with a really wonderful bouquet, that would grace any table.
The variety was more obvious on Zonnebloem Cabernet 1965 (by this stage the name was that of a brand rather than a specific estate origin) and it was showing its age more than the slightly older pinotage had, though still alive – with its tannic bones somewhat peeking through the diminished flesh. A touch rustic, I thought – less refined and elegant than the pinotage, strangely enough.
Chateau Libertas 1968 was another wine that provided evidence that half-bottles do not necessarily age poorly. The beautiful bouquet would have given pleasure enough, but it was altogether drinking splendidly – more than well balanced, age had given it a silken harmony, with the structure fully resolved and integrated. No-one is sure exactly what the blends were of these wines – certainly there was much more to it than cabernet – perhaps, we wondered, the dusty note could have come from an element of tinta barocca? At the end of the tasting, we leapt ahead to a Chateau Lib 1982 that, although it was a far, far cry from the 68, was better than I'd expected – aromas promising some sweetness, still with decent fruit.
Competing, for me, with the Chateau Libertas 68 as the star of the line-up was Zonnebloem Shiraz from its maiden vintage, 1974. Notes of leather and floral charm, with sweet, full fruit but a properly dry finish to an elegantly light palate. A very complete and satisfying wine.
What a privilege, as always, to drink these fine old wines. Duimpie Bayly, who'd been here in the Tabernacle so often, would have enjoyed them, but this time we could only remember and honour him while enjoying their excellence.
* A short WineLand video about the Duimpie Bayly Tribute Tasting is available on YouTube.