Tim James: Drinking wine from cans
By Tim James, 23 August 2021
8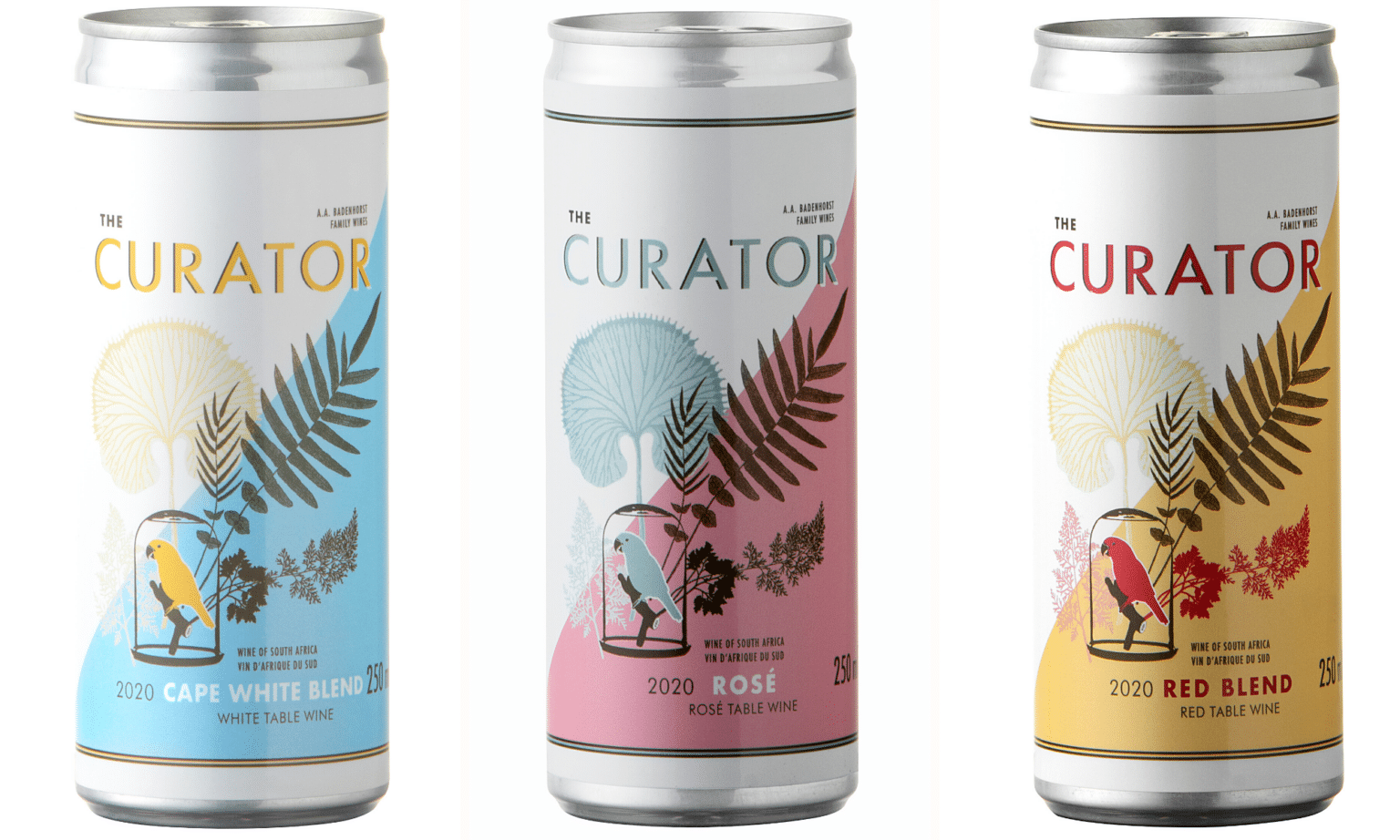 If you're a regular visitor to this website, as a wine-drinker you are pretty certainly in a tiny bubble in the froth of wine consumption. You'd know that syrah is the same as shiraz and that rosé isn't a grape variety but petit verdot is; realise that sniffing a wine gives a lot of its inherent pleasure; could possibly conceive of not laughing at the idea of a group of people sitting around a table, sniffing a glassful of expensive wine, taking a sip and then spitting it out. You don't mostly drink the sweet rosé that's the best-selling wine in South Africa – and would probably be surprised to learn that the official definition of a high-priced wine in South Africa, as opposed to standard or medium, is R35 for 750ml (NB – not R350!). Etc.
Probably you also mostly (I don't quite dare assume "only") buy wine in glass bottles rather than plastic ones, or bag-in-box, or foil bags, or tetra-packs. But what I'm wondering is whether you might buy wine in aluminium cans. Because I can conceive of doing so myself.
Wine in cans has been a growing international trend for a good few years now, but it's only since 2019 that they've been produced here, after the Wine and Spirits Board authorised them and laid down some technical rules. But the production – and presumably the market – has been growing apace. Jaap Pijl of Renegade Wines (whose Cancan range, made by Francois Haasbroek, was a pioneer) estimates that there are now 30+ brands. In its 2021 Statistics booklet, Sawis for the first time listed cans among the types of container it recorded. It states that, in 2020, 346 900 litres of wine were sold in cans. Which sounds a lot, but in the whole scale of things, not really – about a tenth of one percent of the total. Interestingly, that year (beset by lockdowns and bans), bag-in-box for the first time became the biggest category by volume sold, with 44.2% of the market, overtaking glass with 42.6. (Plastic had 10%, tetra packs 3%, and foil bags a bit less than cans.
It's clear that, while it was innovative small producers that started things going here, making use of a specialist mobile canner that also serves craft brewers, and more small specialists have followed, the big players have started moving in – Spier, Perdeberg, Robertson and the like. Some other well-known brands too (Cloof, Bruce Jack), and there are even a few dealcoholized wines and a few sparklers – with big JC le Roux getting involved with the latter category. The most surprising name I've come across (one more widely invoked among Winemag's readership I suppose) is that of AA Badenhorst, the great Swartland revolutionary. Of course, Adi has never been one to sneer at lower market levels (the success of Secateurs threatened at one stage to topple his image, I think), and he has a brand, seemingly for export, called The Curator, which has now got a trio in cans. The Badenhorst style of slightly whacky design is happily present, though the Badenhorst name is kept pretty small – but it is emphatically there.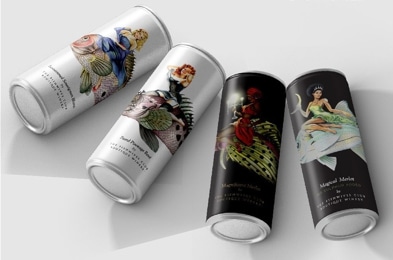 As to the wines available in can – going by my small experience, there's the usual lower-end range. Certainly some very decent examples (on this website, Christian Eedes gave Cancan's chenin blanc a score of 92, which I thought excessive, though not outrageously so), and certainly some pretty dreadful ones. The packaging is generally pretty marvellous (I could mention, for just one example, the sexy attractiveness of The Fishwives Club, without endorsing the wines), and the slimline cans (250 ml is overwhelmingly standard) are nice too.
Perhaps the image will settle down into cheap wines only, perhaps there'll remain some room for the likes of us (ie, fancy wine drinkers), especially those wanting to take wine (surreptitiously) to the beach or picnics or to lug it up the mountain, like Christian – where you're probably not wanting your Crystallum or FMC anyway. It also occurs to me how useful it could be to keep a few cans in the kitchen for cooking.
There's a lot more to be said for wine in cans, of course, beyond the convenience in many circumstances, especially ecologically. Canned wine can be packed and transported more efficiently than bottles (especially those abominable overweight bottles), and the cans are much more recyclable – and more likely to be recycled in South Africa, where about 70% of beverage cans get recycled, as opposed to 43% of glass packaging.
Incidentally, cans are not the only ecologically sound challenge to standard glass bottles for wines not needing long-term maturation. I wrote last year about the emergence of flat PET bottles, designed so that one can fit through a letterbox and ten can be packed into the space occupied by four standard glass bottles. I recently heard from the manufacturer, Garçon Wines, that they're looking "into the appetite for the packaging for local consumption and exports" in South Africa (with the ubiquitous Mike Ratcliffe engaged to do the looking). They're "aiming to become the dominant primary packaging in wine", but I guess the canners might say the same thing, and I doubt if the glass and cork and screwcap manufacturers are immediately worried.
But certainly, one way and another, the wine-shelves are not going to look the same in a few years' time.
Tim James is one of South Africa's leading wine commentators, contributing to various local and international wine publications. He is a taster (and associate editor) for Platter's. His book Wines of South Africa – Tradition and Revolution appeared in 2013
Help us out. If you'd like to show a little love for independent media, we'd greatly appreciate it. To make a financial contribution, click here. Invoice available upon request – contact info@winemag.co.za
Like our content?
Show your support.
Subscribe