Tim James: Ethereal wines in featherlight glasses
The debate around wine glasses usually centres on their ability to bring out aroma, flavour and structure, and for the more shallow of us, there's also the simple matter of perceived handsomeness to take into account. But I realised at the launch of the 2018 David and Nadia wines that there can be a deeper aesthetic element to glass-and-wine-pairing.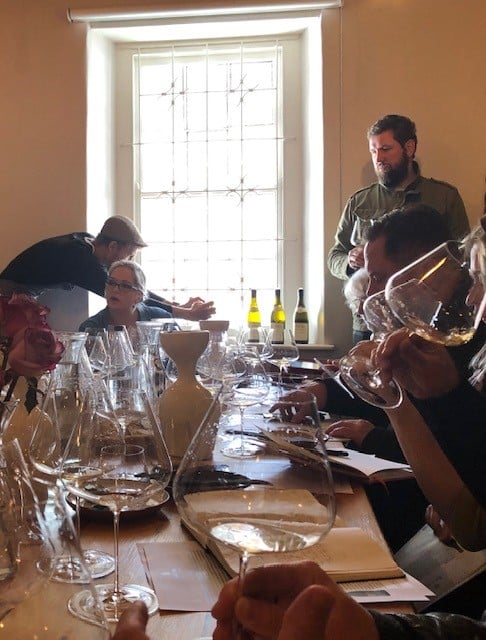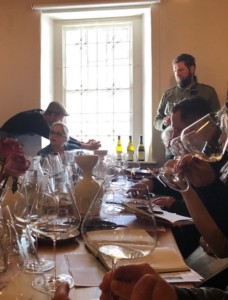 The wines were all served in Zalto Burgundy glasses – airily, scarily thin and light, almost swaying on their fragile stems. (The photo gives some idea, for those who haven't seen and experienced the glasses.) And whether or not the glass shape was most suited to all the wines (and I'm not saying it wasn't), the airiness certainly was – for this is undoubtedly the lightest, most marvellously ethereal range of wines that the Cape produces. Thanks to the wines' Johannesburg distributor for the glasses (Great Domaines also brings in Zalto, you see), and thanks to David and Nadia Sadie for the wines. Nadia takes prime responsibility for the vineyards and David for the wines; she is petite enough, but there's something a touch bizarre about how such a substantial, rugby-styled man can have this remarkably light touch.
In the eight so-far-released vintages from this brilliant pair, I haven't invariably (though I have usually) thought that there was quite sufficient ripe vinosity in the wines, especially the reds. On rare occasions (vintage is relevant) the early picking and modesty of alcohol has made for a little too much overall lightness, I've felt. But that is not in question this vintage, where the balance comes close to perfection, the more exquisite by being fragile (as with the glasses…).
Vineyard and cellar show together very effectively in all the 2018s, particularly the whites (though the Grenache is very precisely and lightly poised too, to the extent that the prospect of a single vineyard version, which we're promised and tantalised with, is extremely exciting. (For me, the Elpidios blend, fine as it is, never quite reaches the level of thrill of the varietal wine.) But vineyard and cellar come together most perfectly in the single-vineyard chenins – which Christian has already reviewed on this website and given deservedly high scores. There are three of them now, with Hoë-Steen and Skaliekop joined by Plat'bos, a wine off a decomposed granite vineyard on the home farm on the Paardeberg, the granite giving an extra nervy, edgy touch of bright energy.
It would be misleading of me to say that I definitively preferred one or other of these excellent wines, and I wouldn't presume to rate them differently. On the day of tasting (at Bill & Co, the attractive wine bar/bistro/wine-shop/deli in Malmesbury owned jointly with David's Brother Johann, where we guests also ate a delicious lunch) I perhaps most admired the stoney Skaliekop. But it's not hard to imagine being more in the mood for the more pure-fruited, obviously charming Hoë-Steen, or that energetic Plat'bos. And I couldn't make my preference equate to a difference in quality in this case.
But, talking whites, please don't ignore the mainstream Chenin Blanc, which is a superb wine, as are – almost – the Aristargos blend and Semillon. The Chenin is going to be quite a bit cheaper than the small-volume single-vineyard wines. Because they're not cheap, these single-vineyard wines, though, in comparison with the wines that internationally compare with them in quality and approximately style (and I'd include many burgundies, for example, especially Chablis, and great Australian chardonnays and fine Austrian grüner veltliners), they are fine bargains at around (as far as I know) R600.
But, like the beautiful glasses, a lot more money than most serious winelovers can, or will, easily afford. Incidentally, you can locally get the fairly similar Gabriel glass for a few hundred rands less than the Zalto. Sorry to end up talking about cost like this. But brilliantly ethereal is not cheap. If you can afford it, however, it beats that overpriced pair of shoes or whatever. Just think how many marvellous wines you could get for that absurdly expensive car.
Tim James is one of South Africa's leading wine commentators, contributing to various local and international wine publications. He is a taster (and associate editor) for Platter's. His book Wines of South Africa – Tradition and Revolution appeared in 2013.
Like our content?
Show your support.
Subscribe