Tim James: Food, mood and orange wine
The intricate game of pairing food and wine has never much appealed to me, let alone convinced me of its necessity. I have, however, appreciated the gustatory conclusions drawn by such masters of the art as Harald Bresselschmidt of Aubergine restaurant in Cape Town. And I have a few personally achieved realisations of particularly happy matches: smoked fish and riesling, for example – and also rich blue cheese and riesling, I suddenly remember, so perhaps it's that riesling is a particularly good food wine (or just a grape of which I'm particularly fond).
Somewhere I saw a suggestion from that eminent English wine writer Stephen Spurrier that mood-matching is rather more important than food-matching, and I'd concur. When I'm pondering what to open with my dinner, it certainly tends to be my mood that more imperiously demands to be consulted.
Wider matters of compatibility are undoubtedly valid (personalised versions of red-with-meat-and white-with fish conventionalities). I've found over the years that all cheese seems to me to go better with white wine than red, for example. And I also go with the idea that simple foods are finer foils for complex wines, and that if the dish is particularly the focus of flavours then a simpler wine is preferable. I tend to be a bit wary, though, of what tends to come across as a warning that a particular wine "really needs food". In my experience, this is a despairing judgement, much like finding nothing to say in favour of a wine other than that it is "interesting".
The general food-compatibility of a whole category of wine has recently become apparent to me, however. Good "orange" wine, white wine fermented and perhaps matured on its skins, does serve brilliantly as a companion to a whole range of food – the dryness, firmly fresh acidity, lack of obvious fruitiness, and modest alcohol levels generally associated with it being no doubt the vital contributors.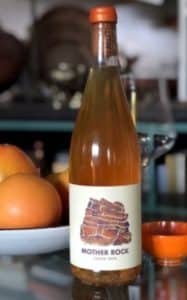 I realised this fully fairly recently when I started plundering the case I'd bought of Mother Rock Liquid Skin 2017 (you really have to search for the vintage and origin – Swartland – on the label). Mother Rock is the brand of the generally first-rate but occasionally dubious "natural" wines made by JH "Stompie" Meyer in collaboration with his British importer. Liquid Skin (a slightly creepy name, surely!) is from Chenin, wholebunch-fermented and left on the grapeskins for nine weeks. It's a bit murky, amber and opaque, with plenty of floating stuff…
It's undoubtedly "interesting" wine, to the level of fascinating, and including a serious measure of tastiness, but on the evening in question when I was both in the mood for it and it seemed a likely companion for a Balti butter chicken curry, my first glass of it, while I was cooking, didn't exactly demand gulping down with sheer delight. But next thing, the bottle was just about empty and a very good meal was finished. I won't say that the wine needed food any more than the food needed it, but they truly enhanced one another in a totally non-competitive way.
Over the next few days, I tried Liquid Skin with whatever came to hand (or mouth) and it always seemed to work just fine. And then I found that Tamlyn Currin (an excellent writer on the JancisRobinson.com team) had almost simultaneously been doing something rather similar – though approaching the matter rather more adventurously and definitively than I. She tried her orange wine example (Vine Revival Muscat) with a wide range of more-or-less unlikely partners, from almonds to wasabi peas. All of the pairings were reported as being at least "good", some "amazingly good" – only hot, sweet peppadews seem to have come close to defeating the wine. (Tam's report is freely available here.)
So, it seems, there is an answer to just about every challenge thrown at the food-and-wine-pairers – if nothing else works, there's a good chance that orange wine will.
Tim James is one of South Africa's leading wine commentators, contributing to various local and international wine publications. He is a taster (and associate editor) for Platter's. His book Wines of South Africa – Tradition and Revolution appeared in 2013.