Tim James: Forty, fifty and a hundred years on – some Cape wine anniversaries
By Tim James, 16 January 2023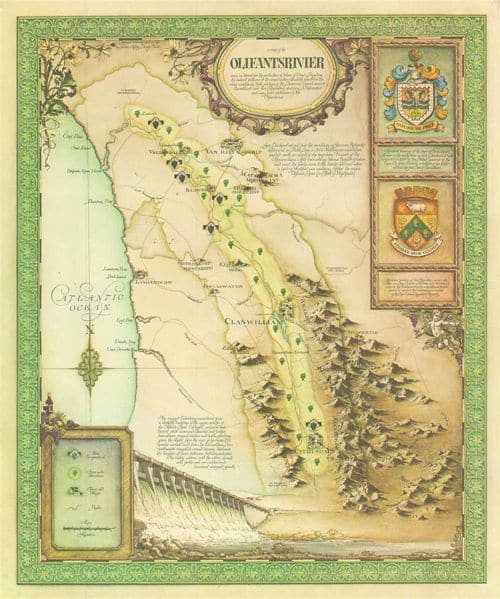 I celebrated the advent of the new year with a bottle of Kanonkop Cabernet Sauvignon 2000. It was always a lesser vintage of this great wine, notably tannic, but it had developed nicely and performed grandly for the occasion. It seemed the right choice, as the first wines bottled under Kanonkop's own label were the Cabernet Sauvignon and Pinotage 1973 (the farm itself got this name in 1930). Exactly fifty years ago, the grapes that Jan Boland Coetzee was to usher into those auspicious bottlings were ripening on the vine.
Middelvlei, too, put its name on a bottle for the first time in 1973, with its Pinotage; De Wetshof did likewise with a Dry Steen – and Danie De Wet was connected to another 1973 innovation, as this was the year that (as the Klopper Commission of Inquiry later declared), the illegal importation of vine propagating material into South Africa began. But the only winery that I know of as being formally established in 1973 was Cederberg, to, inititally, market a "boerewyn" from barlinka table grapes. A decade later, 1983, however, was to provide a richer crop of winery foundations for us to note 40 years on, including Delaire, Graham Beck, Môreson, Thelema and Villiera. JC le Roux and Graça appeared, and the first own-label vintages of Warwick and Zevenwacht. In the same year, the Cape Independent Winemakers Guild was founded (it was later to drop the by then unnecessary stress on "independence").
Back to ten years earlier: Closely connected with Kanonkop et al's assertions of estatehood in 1973 was a larger, hugely important development in South African wine, one worth recalling on its 50th anniversary: the official institution of the Wine of Origin certification scheme. Among other things, it brought into being the legal category of the estate as the smallest area of origin (wines had to be grown, vinified and bottled on one property), and this concept lasted way, way beyond its usefulness, until 2004, when the "single vineyard" became the smallest unit.
I myself was pretty certainly not aware of such developments in the Cape wine industry back then. This, 1973, was the year that I started at Wits University – and learnt to drink brandy more than wine, as I recall, and an occasional beer. Always that much more sophisticated than me, Michael Fridjhon was a few years ahead of me and already involved in wine, and he would undoubtedly have been fully aware. Of deeper real significance, though, were some of the political developments of that year, with the apartheid regime rampant and aggressive, John Vorster at its head: the banning of eight leaders of the National Union of South African Students in February was obviously important to me, and Steve Biko was banned in March as part of a crackdown on Black Consciousness. Destined to prove more crucial to history were the worker strikes in Durban, signalling the resurgence of the country's labour movement.
As for the nascent WO System. It had its origins both in the struggles of smaller producers (those estates) against the power of the large merchants and in the need for a wider system of control, including demarcating areas of production, to meet the needs of the country's most important market – Great Britain, which was to become a member of the European Economic Community. Legal prescriptions and regulations started being prepared in 1972 and the WO System came into effect in 1973. Grand and beautiful maps of the important areas were commissioned, and a handsome pamphlet distributed to give information about the new legislation. (It didn't reach me at the time, and I had to buy a copy, at some cost, 30 or so years later when at last I was sufficiently interested.)
So regions, districts, wards and estates were legislated for, in a system that has been greatly developed, with numerous additions and subtractions, since then. And for the first time, controls over what might appear on labels, and be certified there, were introduced. Suddenly, a wine calling itself Cabernet Sauvignon was obliged to prove that it had at least some cab in it – only 30% in the earliest versions of the law, but progressively more until the international standard of 85% was eventually reached. Vintage was the third item that could be certified, along with origin and variety. A "Superior" designation, the only element related to actual wine quality, was used with some controversy until it was discontinued in 1990.
It's hard now, only 50 years later, to imagine our world of wine without such legal prescriptions and consumer protections. It means a lot of paperwork for wine-producers, but most of them will at least grudgingly admit their respect for at least most aspects of one of the world's more rigorous control systems over wine, in the context of an appellation system that led the way in the so-called New World.
Incidentally, as the all-powerful KWV was inevitably involved in the development and working of wine legislation, and its bureaucracy arguably vital to its successful, rapid implementation, it's worth noting another significant anniverary this year. In fact, a centenary. Although the KWV was founded in 1918, that was as an ordinary limited company. It was only in 1923 that the KWV registered under the government provisions to become a "mutual cooperative society". The organisation was at that point floundering badly, but it could now approach the government to be given sufficient powers through legislation to control the industry effectively. This was to happen the next year with the Wine and Spirit Control Act of 1924. For better and for worse – perhaps we can argue next year about the positive and negative results of the quasi-state powers increasingly accorded to the KWV in the 20th century.
Tim James is one of South Africa's leading wine commentators, contributing to various local and international wine publications. He is a taster (and associate editor) for Platter's. His book Wines of South Africa – Tradition and Revolution appeared in 2013.
Like our content?
Show your support.
Subscribe