Tim James: Wine, art and money – considering Kentridge and Sadie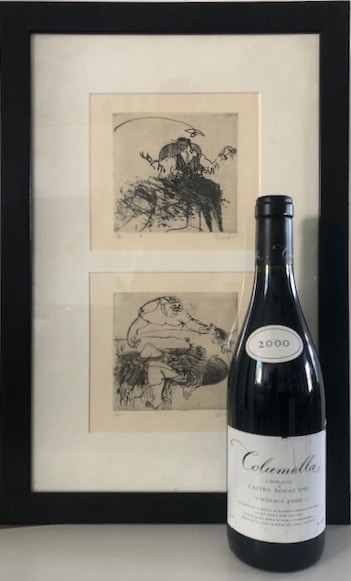 I have on my wall two small etchings from a very early (1980) William Kentridge series and exhibition, Domestic Scenes. One can't tell because of the framing, but both of them are printed on irregularly shaped and sized pieces of paper not all that much larger than the images – a presentation far from the way such works would now come from the Kentridge studio: on luxuriously large uniform sheets with wide margins, stamped with the paper-maker's mark. But etching paper was expensive for the youthful artist, and 40 years ago William didn't have money to spend lavishly on such things (though he was by no means starving in a garret). I was a close friend of his at the time, and he gave me some of the etchings – probably those on the (comparatively) scrappiest pieces of paper.
This came to my mind last week when I was visiting Eben Sadie's Swartland farm, Rotsvas, and thinking how far he'd come in the last 20 years. Also going back in Eben's case, I am pleased to still have a bottle of the maiden vintage, 2000, of Columella. In this case, there was no variation in presentation: all the bottles were identical. But Eben was also comparatively hard up. By the time he released Columella 2000 he was renting the "little shack" on Lammershoek, on the Paardeberg, which remains the Columella barrel cellar and the spiritual centre of the farm he now owns. His UK importer was a vital help, generously paying in advance for the first imports. (I remember another instance of early hard-upness of another great Swartland success-story: when I asked Chris Mullineux at the time why they'd released the first vintage of their Syrah desperately too early, he told me simply that if they hadn't there'd have been no money to buy corks and bottles for the second vintage.)
So there one can see a vital, if banal, connection between wine and art: the need for money. In fact, most art (unless you've making large bronze sculptures, say) requires less capital injection than winemaking does. And it's also worth noting that, although Kentridge and Sadie are both at the heads of their professions/metiers/arts (whatever!) in South Africa, there's absolutely no comparison in terms of the financial implications of that. Really successful artists will become rich far beyond the dreams of the most successful winemaker – although, conversely, there are vastly more struggling, impecunious artists than winemakers.
But what has long intrigued me is how the possession of what one might call excess money is, or can be, a wonderfully enabling thing for artists and winemakers. Certainly it has been so for William Kentridge and Eben Sadie. The artist has been able, for example, to experiment with expensive forms (huge sculptures) and with valuable time spent on all sort of artistic experiments and partnerships, when it wasn't crucial that there'd be a quick (or even any) financial return on them. We know about the ones that have paid off (in artistic terms, of course, but also financial ones), but perhaps there were some that didn't (no matter!).
Except, I suppose, for the ultra-rich, a wine-grower who loves farming can never have enough money while there are intriguing vineyards to rent or buy or establish. Sadie Family Wines has grown spectacularly over the past two decades (there are few if any equivalent stories in South African wine, I think, where such a significant landholding and brand has been built out of literally nothing except hard work and talent – no meaningful outside investment, I mean). But it's not that sort of obvious growth that I'm thinking of as crucially enabled by having spare cash. It's more a question of, for example, being able to employ a winemaker and a viticulturist (not to mention the office workers), which enable the visionary to have the time to undertake all sort of large and tiny adjustments and experiments in cellar and vineyard – which, when they work, can lead to significant successes in the wine.
There is also (seeing I'm bringing in art) a less tangible kind of bonus, which for someone like Sadie is, I genuinely believe, of great significance: a bonus in the aesthetic dimension – for beauty generally costs money. Eben's cellar and farm might be, I'd guess, something of a problem for an accountant: it's clearly over-capitalised, and a lot of the expense goes into things that seem, on the face of it, "merely" aesthetic. Those beautiful wineglass-shaped cement tanks in the cellar, for instance, brought in at immense expense from Italy to replace the rectangular ones that Adi Badenhorst was then only to happy to take over. But Eben needed the more beautiful ones – and could probably justify the acquisition in vinous terms without quite convincing me that their effect on the eyes, and therefore soul, was not more important.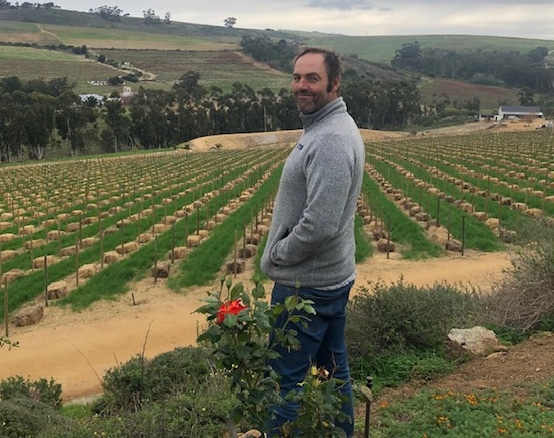 But let me give one rather different instance of the kind of thing I mean. On my visit to Rotsvas last week, apart from my seeing with pleasure the new vineyard which is shortly to be planted (after all the preliminary work), Eben also opened three vintages of wine (2015 to 2017) he'd made from experimental plantings – in a friendly farmer's vineyard – of the Greek variety agiorgitiko, which Eben is convinced is going to be an important variety in a Swartland made even hotter and drier by climate change. They'd planted the badly virused stocks with a permit to do so only on an experimental basis – and indeed the 500 vines have been subsequently ripped out. In fact the three wines (perfumed, fresh and beautifully structured) all justified Eben's hunch – if wines of this quality could be made from infant virused wines, then clearly this is a variety with a great future here. Incidentally, this lengthy and effortful experiment was repeated with other Mediterranean varieties: assyrtiko, negro amaro, aglianico, grillo, cattaratto, xinimavro, yamma semillon, graciano and albanello.
There's quite a bit of talk about wine-as-art, but I myself don't see winegrowing/making as an art. To me it is the quintessence of great agriculture, which is enough. But art and wine at their best both need profound commitment, sensitivity, hard work and imagination – and the space and time that money can buy, and which can prove so hugely rewarding when well used by the great practitioners of art and agriculture.
Seeing I have brought together Kentridge and Sadie in these ramblings, I should remind you that the two came together for the first vintage of the Ou Wingerdreeks – which featured artworks made by William after a tour of the vineyards with Eben. The visit was later reciprocated, when I took Eben to visit the Kentridge studio in Johannesburg.
I will return, perhaps next week, to my visit to Rotsvas – there are always plenty of developments to report on.
Tim James is one of South Africa's leading wine commentators, contributing to various local and international wine publications. He is a taster (and associate editor) for Platter's. His book Wines of South Africa – Tradition and Revolution appeared in 2013
Help us out. If you'd like to show a little love for independent media, we'd greatly appreciate it. To make a financial contribution, click here. Invoice available upon request – contact info@winemag.co.za
Like our content?
Show your support.
Subscribe