Tim James: Losing the wine industry's past
By Tim James, 17 August 2021
4
I heard this past week about the loss of a particular man, and learnt details about a recent loss of books and records. With both diminishments, any attempt to understand the history of South African wine is further impoverished.
The wine industry this past week lost Duimpie Bailey. He was a charming man as well as an important one. I knew him best when he supervised the dissertation I wrote about the failures of the old wine estate legislation. I'm not at all sure he agreed with my conclusions, but his advice was directed at helping me to advance my argument cogently and based on facts. Others will have had deeper personal connections with Duimpie – but the point I want to push here is that the whole industry has now lost, with him, information and an important viewpoint on events in the industry going back many decades, into the murky reaches of the 20th century about which there is remarkably little written down. That is, unless by some chance he prepared a substantial memoir that will emerge. I'm pretty sure that no one bothered to conduct and record a series of interviews with him about his life and times in the South African wine industry. There is stuff gone with Duimpie that, when anyone bothers to look for it in the future, we shall never know.
Late last year, another senior industry figure died: Allan Mullins. With that sad loss, too, important access to the modern history of Cape wine disappeared. There's a whole generation of such people (winemakers, viticulturists, commentators, bureaucrats, etc) who are now elderly or very old, and more history will disappear when they go.
It happens all the time, you might well say. But the wine industry has been – for better and worse, perhaps – an important element in the country's history, especially the now frequently reviled pre-1994 period, and we who care about it should make more of an effort. We need to understand the bad as well as the good of our past. One of the central motifs of the last 20 years of wine revolution here has been the rediscovery of elements of the vinous past, ignored for a few generations. The great red blends of the mid 20th century, for example, about which frustratingly little is known for certain and will probably never be known. The fascination with old vineyards, about whose planting we would like to know more than the vague memories of a subsequent generation (and even that generation is now the fading one).
We have, perhaps, better printed and other media records in recent decades than previous ones, though I am fully aware of their inadequacy. Digital information can theoretically live for ever – but already everyone knows the frustrations of trying to find what we want. Not enough is being done to record important news and views on South African wine – and for earlier decades the chance of doing so is slipping away fast.
As to the perishability of written records, I had a salutary lesson in that when I had the great privilege a few years back of looking through some Constantia material from the latter 19th century, in the possession of Peter Bairnsfather Cloete, a descendant of one of the great Constantia families. For example, in a minute book of the Constantia Fruit Growers Association I found a record of the first documented import (and quarantining) of shiraz into South Africa, from Australia.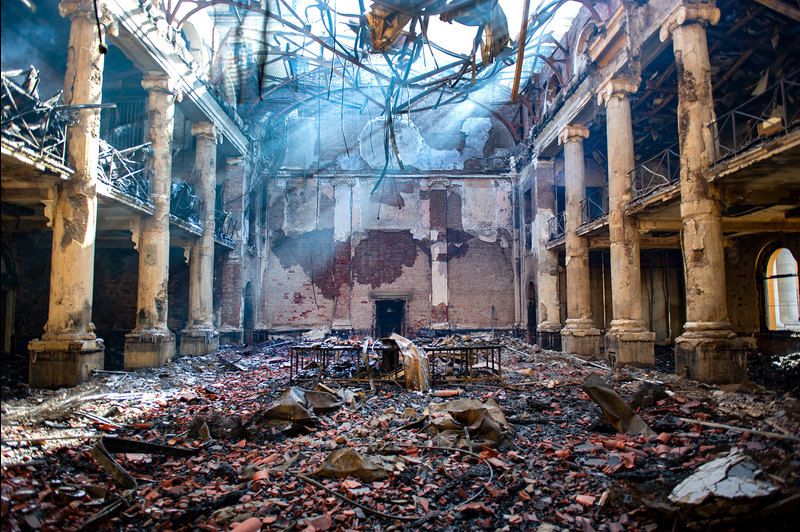 There had been many other important records in the family's possession, but they had mostly been destroyed in the flooding of Morgenster manor house in the early 1980s. That was a lesson, it seemed to me, that documents of national importance should not be in private hands, especially when the private hands are incapable of ensuring their survival, or insufficiently interested in doing so. However, there is no guarantee that state institutions or the great libraries of universities are always going to do better. That was sadly proved earlier this year by the fire at the library of the University of Cape Town. A natural tragedy, perhaps – but it is clear that the University had been negligent in various ways in safeguarding their irreplaceable holdings.
I learnt very recently from an academic historian that a victim of the devastation was the library's Government Publications collection – a possibly (I'm not sure) unique repository of the official publications of the Cape Colonial and Union and Republic of South Africa governments. This centre had been crucial for me in piecing together, for my book on South African wine, some crucial elements of the industry's 19th century history – mostly from parliamentary commissions into wine industry problems and from annual reports of state viticulturists; and, after the state's purchase of Groot Constantia, from the annual reports from the government farm there.
It would be nearly impossible, in fact, to write a comprehensive history of such important matters as phylloxera in the Cape without access to these government records. And it seems they no longer exist. I could no longer write an important section of my brief history of the industry, because those records have been destroyed by flames or by the water used to douse them.
But surely, you will say, such unique and crucial records (important for more important aspects of history than that of Cape wine) would long since have been digitised. Especially as many of the physical publications were fragile, even crumbling. No. Neither the state nor Cape Town University deemed them of sufficient importance to provide the necessary funds at the work.
It's all about money, in fact, as well as sufficient interest. Including the lack of recording of more modern moments of the history of South African wine. Distell, for long Duimpie Bayly's employer, issued a pious lament at his death, including pointing out that "he was directly involved in some of the sector's most important technical and eco-advances". If Distell had sponsored some historical research at University of Stellenbosch (and that's the way academic history works these days), then someone could have plumbed Duimpie's long involvement in South African wine.
Virtually no work is carried out in the Western Cape's academic institutions into this vital aspect of Western Cape history – because no historian can afford to do it without research funds; postgraduate students need bursaries. There are three old and out of date senior research dissertations from University of Stellenbosch into the history of South African wine, one of them (by DJ van Zyl) excellent and easily available in Afrikaans, and vital to other historians – and to anyone interested in the past which has so significantly shaped the present. Almost nothing of this nature, as far as I'm aware, is being done now.
The past is slipping away. And one day we'll realise our culpability in letting it go so easily, so irretrievably, thus also diminishing the present and the future.
Tim James is one of South Africa's leading wine commentators, contributing to various local and international wine publications. He is a taster (and associate editor) for Platter's. His book Wines of South Africa – Tradition and Revolution appeared in 2013
Help us out. If you'd like to show a little love for independent media, we'd greatly appreciate it. To make a financial contribution, click here. Invoice available upon request – contact info@winemag.co.za
Like our content?
Show your support.
Subscribe