Tim James: Lowerland's rockstar wines
I don't know if Bertie Coetzee plays Afrikaans rock to his vines like they do Vivaldi and Bach at DeMorgenzon, but he might well, and sing along too. He was, after all the lead singer for a band called Zinkplaat for ten years before returning, in 2013, to his roots (and those of his vines) on the family farm on the hot, well-irrigated banks of the Orange River. Urged on by his wife Alette he wanted to practise organic farming and eventually his dad Hennie gave in and handed over the farming to him.
Hennie had planted vines in 2000, and there are now nine registered organic hectares (cab, merlot, petit verdot, syrah, tannat, chardonnay, colombard, viognier) thriving in the Prieska, Northern Cape sun. Most of the crop is sold to the local co-op, but about a tenth of the grapes get trucked far south to Stellenbosch where they are vinified in appropriate hands-off fashion by Lukas van Loggerenberg and JD Pretorius (formerly of Steenberg, now Warwick).
Bertie Coetzee is ambitious, you see, and thinks his grapes deserve it, and he's right. Better not go deep into his relationship with the co-op, who pay him a minuscule amount for the organic grapes he offers them – though they'd pay a little more if he didn't pick them so ridiculously early by the established standards of the region. Bertie came down to Cape Town to launch his 2018 wines (they're distributed by Publik and should sell well at the Publik wine bar), and told amusingly how the co-op wanted to entirely reject his 2015 cabernet sauvignon, but were persuaded to bottle it separately and the Landzicht Winemaker's Reserve Cabernet Sauvignon went on to win a trophy at the Trophy Wine Show. They don't squabble about the quality any more, and willingly hand over the pittance…
Cab appears in the Lowerland range only in the blend called Die Verlore Bokooi. All the Lowerland names are Afrikaans and reflect the land and landscape they come from – they're proudly (and uniquely) given as Wine of Origin Prieska. "Prieska" derives from the local Koranna language and means "place of the lost she-goat" – "plek van die verlore bokooi". The 2018 is unpretentious and simply delicious wine (made by JD Pretorius), mostly from syrah and merlot, with a little cab and petit verdot. Juicy, fresh and pleasingly dry; light-feeling at well under 13% alcohol. It should retail at something like R140. Screwcapped this year, as JD apparently didn't have time to do the corking and waxing Bertie prefers. When you're an ex-rockstar getting a current wine rockstar to make your wine for you, it seems you regard it as a favour.
The other Lowerland red is the Tolbos Tannat, named for the tumbleweed shown on the label. The backlabel (as with the other wines) has a charming little poem written by Bertie – I suspect he thinks of it as a song. This one starts: "Sonder wortels sonder blare / in die droogste warm jare / wals jy met die westerwind". The wine is made by Lukas van Loggerenberg, who's managed to tame tannat's usually powerful tannins in a fairly soft, dry, silky package. The half-wholebunch pressing promotes the fresh, bright red fruit element, which confronts (I choose the word carefully) the riper fruitier element. I'm not entirely convinced by the wine, but I know many people perennially are. About R325.
My enthusiasm for the whites is unreserved, however. There's a bubbly from columbard, but no new release, and I haven't had the current one. A Pretorius-made viognier 2018 there is, for R180, called Witgat after a characteristic tree of this semi-arid area ("O witgat boom, jou bleek fantoom…"). Wholebunch-pressed, left on its lees in old oak for a year. As far as you can get from oily, opulent, overripe and OTT viognier, it's lightly aromatic, perhaps more spicy than floral and fruity, though apricots are wafted around. Dry, well-textured, with a serious balanced acid making for finesse, and pleasing if not hugely intense flavour, that lingers happily.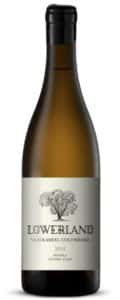 The Vaalkameel Columbard is named for the Grey Camelthorn (which grows "Waar die sand bloedrooi is en die water brak / en die somerson die aardkors verbete bak"), and is a totally lovely wine. There are a few stunning table wines now made from this co-op workhorse variety (though let's remember that it's also responsible for some excellent brandies) – surely enough that there should be more; some of those ambitious young winemakers flooding the market with expensive, not-so-different chenins should perhaps consider colombard. The great acidity on this wine is beautifully counterpointed by 4.5 g/l of residual sugar – it's usually a trifle leaner, but Lukas tells me the greater fructose component of this vintage happily insisted on leaving this bit of sweetness, making for a full roundness without compromising the elegance. Lots of ripe apple and stonefruit character, silky, sensual and long. I defy anyone to not enjoy this wine. It's priced around R325, in line with Lukas's own wines – and to make the statement that WO Prieska on the label is no reason to discount.
These latest releases are available direct from Lowerland, but still not listed on the Publik website shop (come on guys, if you have a public launch, at least have the wines available!), and Wine Cellar as yet only has a few bottles from the previous release. But look out for them – and treat the name Prieska with respect.
Tim James is one of South Africa's leading wine commentators, contributing to various local and international wine publications. He is a taster (and associate editor) for Platter's. His book Wines of South Africa – Tradition and Revolution appeared in 2013.
Like our content?
Show your support.
Subscribe