Tim James: Meerlust, brandy, preserved lemons, Lebowitz and surliness
6
Forgive this diversion from reporting on wine life. I'd had in mind a serious and hopefully controversial piece about the Great Shrinking South African Vineyard, but that is pushed aside by important trivia. The only thing about this column that is to do with wine is that I'm just a little drunk as I write it.
I should mention what I've been drinking before saying what's diverted me from the path of duty. Firstly, the recently released Meerlust Red 2019, which Christian has already described – just a touch more generously than I would have, as I found it a bit too sweetly easy-going and soft; though I did finish the bottle over two nights, which is by no means an inevitable thing (plenty goes into the cooking-wine store, or down the drain); but surely Meerlust, having decided there'd be no Rubicon 2019, didn't really need to dumb things down? Secondly, my beloved and perhaps most faithful companion over the years, KWV 10-Year-Old brandy – accompanied tonight, as a dessert treat, by an unfortunately slightly too warm and soft KitKat.
It's been quite a good, satisfying day, which is the context. I didn't get round to washing my filthy car, as I'd yet again resolved to do, but did buckle down to preparing more jars of the preserved lemons that Ottolenghi keeps on demanding in his recipes – with total justification (how did I live so long without preserved lemons, and without Ottolenghi for that matter, I now wonder; though I am determined I shall never bother trying to locate rose harissa). That was enjoyable and a source of virtuous satisfaction, in the way that washing the car could never have been – I really don't mind my car being dirty, but having a short row of bottles of preserved lemons is a thing of joy, and invokes the future in a more satisfying way than respectable temporary cleanliness ever could.
And then, to accompany my Meerlust (and a fairly unexciting dish of caramelised onions, bacon, lentils and non-rose harissa) and the aforementioned brandy and chocolate, I watched an episode of my latest find on Netflix. Actually, discovering anything really watchable on Netflix is an achievement for me. Netflix has never got over my once confiding that I greatly liked Breaking Bad – it convinced their algorithm that I am deeply attached to "Award-winning US TV dramas", so they keep on thrusting rubbish at me. Every month or so I swear I'll give it up, and then something watchable, and very occasionally something even better than that, is swept in with the tide of trash to justify my subscription. The current pleasure is a series called "Pretend It's a City", the city being New York and the focus, and source of my pleasure, being the writer and sardonic humourist and raconteur Fran Lebowitz.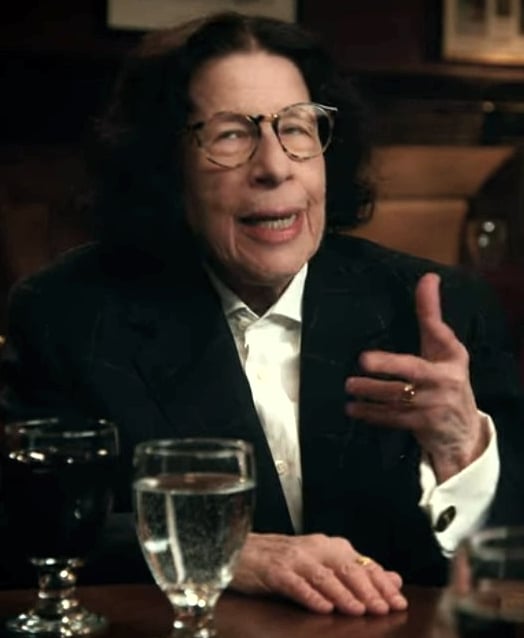 Most of what Lebowitz says is quotable (her job is basically, after all, to be quotable), but you should watch it yourself if you can. Though it must be admitted that you won't find much nice being said about our favorite tipple and the concern of this website. In fact, one of her well-known lines (not repeated on this series, at least not yet) puts us in our (tiny) place pretty deftly: "Great people talk about ideas, average people talk about things, and small people talk about wine." Yes, well. But maybe it's because she overdid it in her youth. Another easily findable quote has her admitting that "I drank my lifetime supply of alcohol and I took my lifetime supply of drugs between the ages of 15 and 19…. I hit my limit at 19, and I haven't had any since." So we can assume that what's in the glasses at hand in the screengrab above is innocuous.
Ex-alcohol abuser and present-day abstainer though she is, I can forgive her, for her general approach to life and way of expressing it. She takes the curmudgeonliness of an amateur like me and raises it to the level of witty art. Take this: "I think one manifestation of integrity is holding a grudge…. Holding a grudge is the modern equivalent of having standards. Because if people don't hold grudges, it means they just don't care what people do." Seems an unassailable truth to me.
But my favourite words about her appearance in the relevant Wikipedia entry (which I suspect she may have had a hand in). In Lebowitz's splendidly non-achieving school career she was, Wikipedia says, "eventually expelled for 'nonspecific surliness'". Even for a small person that tends to talk quite often about wine, that's a condition it's possible to aspire to.
Tim James is one of South Africa's leading wine commentators, contributing to various local and international wine publications. He is a taster (and associate editor) for Platter's. His book Wines of South Africa – Tradition and Revolution appeared in 2013
Attention: Articles like this take time and effort to create. We need your support to make our work possible. To make a financial contribution, click here. Invoice available upon request – contact info@winemag.co.za
Like our content?
Show your support.
Subscribe