Tim James: More wines from qvevri
By Tim James, 27 September 2019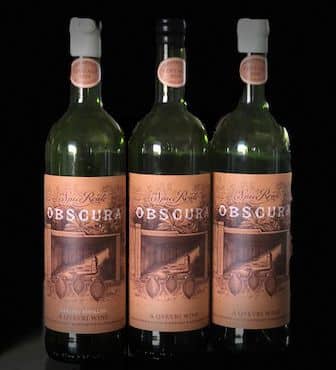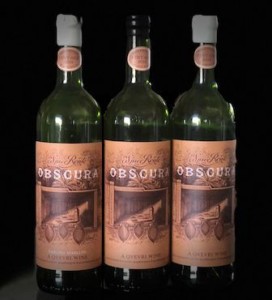 June saw Avondale release the first Cape wines made in qvevri – those onion-shaped, Georgian clay pots buried up to their necks in earth. In my article about them, I suggested that "it'll be a long time, I suspect before there'll be others". But I was wrong (sadly not for the first or last time) and the dynamics of the adventurous Cape wine revolution have now brought forth more wines subterraneously made and matured. This time, three from Spice Route under the Obscura label – all 2019s, so they spent about half as much time in qvevri and bottle as the Avondales. which perhaps helps account for them seeming just a little more raw – but fascinating and appealing nonetheless.
Charles Back, owner of Spice Route and Fairview, has always had an innovative, experimental streak, and he tells a relevant story about his father, Cyril, which suggests that it might be inherited. In 1978, it seems, Cyril made a skin-fermented white wine to be labelled Charles Gerard, but it was – unsurprisingly – rejected by the Wine and Spirit Board. That was the end of orange wines in South Africa for another two to three decades.
Anyway, Charles was prompted by tales and tastings of traditional Georgian wine to visit the country, was deeply interested, and visited what sounds like an alarmingly (or do I mean reassuringly?) primitive workshop where qvevris were made. He ordered ten of them; they turned out to average approximately 800 litres each. A complicated process saw them delivered around a year later, to be buried in earth at Spice Route's Malabar cellar in Malmesbury. Meanwhile, winemaker Charl du Plessis had also been to Georgia, for a crash course in qvevri winemaking (not to mention induction into the joys of the local version of grappa). Qvevri experiments in the Swartland, says Charles, have so far been made with grenache (blanc and noir), chenin, sauvignon, petit manseng, semillon, shiraz and souzão.
The three Obscura wines recently released are a White blend, a Darling Semillon, and a Red. My favourite is the White – which seems a slightly ironic name for this mid-gold wine, its light cloudiness testament to the naturalness of the process. Gingery-spicy, earthy, stoney notes dominate but there are hints of dried peach and oxidative notes of bruised apple, and a definite core of sweet peach on the beautifully dry and stony palate, with a modest grip of tannin. Not to everyone's taste – but certainly to mine, and geeks everywhere will applaud.
The Semillon is also spicy and earthy, a little less expressive and more austere, with a vibrant grippy freshness and a herbaceous touch. The alcohol is notably lower (12.7% vs 13.5% on the blend), and there's a touch less vinosity, but it's also a successful wine – and a very good food partner I found, something that tends to be generally true of skin contact wines in my experience.
I'm a bit less sure about the satisfactoriness of the Red. It's less unusual than the whites, apart from the dry stony grip that is always accentuated by any maturation in clay. But I found that grip and the bright acidity a little at odds with the rather simple, sweet & bright fruitiness and very soft texture. In fact, I much preferred the wine when I came back to it after it had been open a few days and the fruitiness was muted. It's a bit odd to me that it was also the red from Avondale that was fruitier than the whites – though I'd found that wine more harmonious than the Obscura, underlining my suspicion that the very early release of the Obscura wines hasn't done them a favour.
But they must count as experimental after all – and the experiment as we have it is successful and well worth making. I don't know what Spice Route's intentions are for the future – if the wines will be primarily for blending as with Avondale's or remain full-on qvevri wines; nor are we told if there was experimentation with lengths of skin contact, etc – but I guess that Charl du Plessis's trials will continue.
I asked Charles Back about the name, assuming that the Latin word for dark, obscura, was used to convey the secretive, underground, buried nature of vinification in qvevri. He confirmed that, adding that the commonest English use of the word is in the phrase camera obscura (dark room) referring to the "pinhole effect" (which is hard to explain in a few words, but see what Wikipedia has to say about it, if you're interested). "If you look at the label", says Charles, "you can see the light come in through the window and illuminating the winemaker". It is a lovely evocative drawing on the label, in fact – though with the overall brownness it comes across as somewhat too gloomy, I think, and is also too detailed for its present purpose. The identities of the wines are rather obscure too, as all the display labels are identical (the capsule changes colour for the red), just with the Semillon name overprinted pretty faintly.
"An amazing journey", is how Charles Back describes the coming into being of these wines, and it's one that's well worth being a fellow-traveller on. The wines, made in very small quantities, are at present available largely through the Spice Route website: R200 for the White, R225 for the Semillon, and R275 for the Red – that is in reverse order of price from my own drinking preference. Which is, somehow, perversely comforting.
Tim James is one of South Africa's leading wine commentators, contributing to various local and international wine publications. He is a taster (and associate editor) for Platter's. His book Wines of South Africa – Tradition and Revolution appeared in 2013.
Like our content?
Show your support.
Subscribe