Tim James: On the Story of Cape Chardonnay and a Few Less Expensive Examples
By Tim James, 25 February 2019
6
On reflection, I find myself a little shocked at how small a role chardonnay plays in my drinking life – more say than sauvignon blanc, but still very little. Tasting and appreciating chardonnay is different from drinking it, of course: it is a variety capable of great wines and there are many that I greatly admire, both foreign and local (many of the latter numbering amongst the Cape's best white wines). But, to put it crudely, I don't enjoy the stuff quite enough to buy it and drink it.
I did buy three bottles this week, however, in my quest to find not merely value but something approaching excellence under R100 in the supermarkets. The shelves at Pick n Pay in Constantia certainly had more chardonnays over my limit than under it, and quite a number over R200, but it wasn't difficult to find a few promising ones. I was intrigued to see that Alvi's Drift offered two within my range, so I went for both of them seeing it's quite a trendy producer and another from Spier.
The Cape wine revolution is not just about chenin and syrah and cinsaut from the Swartland – it's also about classic, prestigious varieties like Chardonnay, and what's been done to them. Twenty to 25 years ago, just about all New World chardonnay was in the American-inspired grip of sweetish buttery extraction and ripeness and toasty oaking. It was a greatly fashionable variety – more of a brand than a variety, even – no less in South Africa than elsewhere. Platter 1994, 25 years old, has a pretty substantial list of chards, but nearly a third of them are noted as new labels, which is remarkable. The list was to grow a good deal over the next five to ten years. As were plantings of the grape. In 1990, chardonnay occupied just 1.5% of the national vineyard (less than half as much as sauvignon blanc); in 1995 it was at 4%; in 2000 at 6.5%; and at 8.2% in 2010. That's just 1.3% behind Sauvignon, although since then sauvignon has continued to increase its popularity (9.8% pf total hectarage in 2017, while chardonnay has slumped to 7.1%.
The general style of chardonnay has also changed over the last decade, to be much less excessive. In fact, the best Cape chardonnays have always had more of a classic tendency than other New World versions. At a little "international test match" held in 2010 between Cape and Australian chardonnays (probably won by the Cape), I noted "more over-oaking and excrescent sweetness on the Australian wines" – but Australia has since then had an even more extreme revulsion against that style than South Africa has, and my limited experience and all reports indicate that their best chardonnays are truly excellent. Just as we believe, with much international critical corroboration, that so are the best of the Cape.
The rise of the category of unoaked chardonnay has also been marked. I had it in my mind that the first local unwooded version was DeWetshof Bon Vallon. Some laborious tracking through old Platters suggests that, in fact, the 1990 vintage produced not only the maiden Bon Vallon (under the Danie de Wet label then) but three others too: Bovlei, Jacobs Country Cellars and Rooiberg.
But if the best local chards are excellent (Michael Fridjhon last week somewhat hesitantly agreed, even if they're not comparable to the very best from Burgundy), they are unquestionably costly – Leeu Passant is perhaps the priciest at about R650, but there are others not far behind. What about my three more modest, screwcapped ones?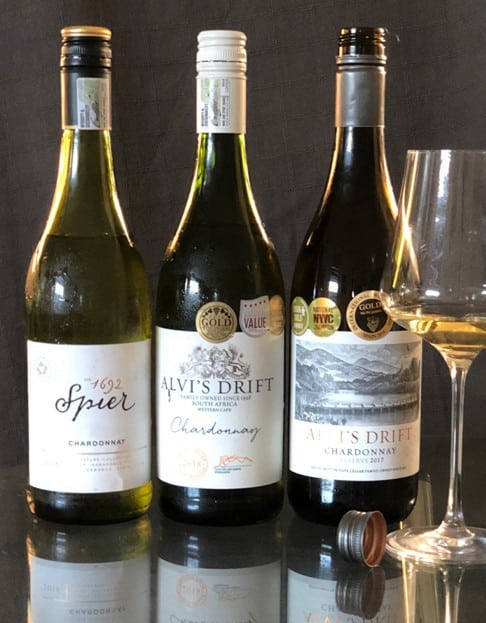 The cheapest, at R55, is the minimally oaked Spier 2018 (W.O. Western Cape). I preferred the fresh fruity aromas – pretty typical chard – to the corresponding palate, which was sweetly fruity with a bit of a rather harsh acid rushing in to offer what is called balance (but certainly not harmony). OK, but not great, and you can get many more interesting chenins for the price. Maybe I was being too mean with my price point if I expected something better.
Alvi's Drift Signature (R65), also 2018, and also "very lightly oaked" was a little less fruity (and stressing the stonefruit rather than the citrus side of chardonnay), and a bit drier, so I preferred it. But it's not a serious candidate for the "wow – great value!" stakes. The Alvi's Drift Reserve Chardonnay 2017, W.O. Worcester (which is the appellation of the huge home farm) participates in the huge enthusiasm with which the Platter taster welcomes the Alvi's Drift range. It's a very decent wine, with the same flavour tendencies as the junior version, but less simply fruity, more characterful and interesting, and adding some biscuity length and depth. Pretty good value at R95, yes, and very drinkable – especially with food, as my mushroom omelette for supper confirmed. But not going to convert me.
I confess that I felt a touch prejudiced against the Alvi's Drift wines, by the same factor that is probably going to get many hesitant supermarket customers' hands reaching for the bottles. As you can see from the photo, both bottles are resplendent in essentially meaningless gold stickers with no prestige at all behind them. To me, they tend to suggest a crudely commercial orientation of the cellar, one that doesn't appeal to me. But the chardonnays are at least ok for the price, and if I adored chardonnay I'd be more grateful than I am.
Tim James is one of South Africa's leading wine commentators, contributing to various local and international wine publications. He is a taster (and associate editor) for Platter's. His book Wines of South Africa – Tradition and Revolution appeared in 2013.
Like our content?
Show your support.
Subscribe