Tim James: Pinot noir, present and past
6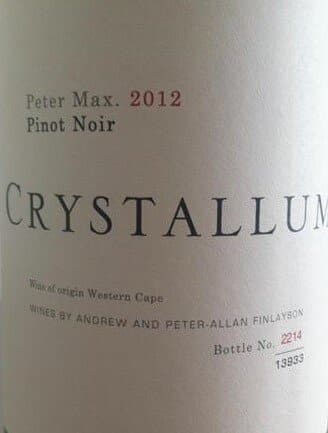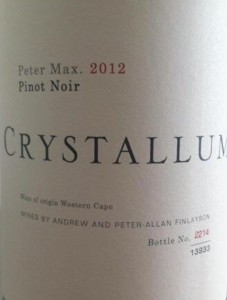 Pinot noir was on my mind this evening. I looked at what I had available and thought that the bottle of Crystallum Peter Max 2012 looked more ready than most to be exsanguinated. (Inebriated digression: that magnificent verb, meaning "let forth blood" suddenly came to me while writing this. I understand why. I recently finished reading The Mirror & the Light, the third and final volume of Hilary Mantel's justly celebrated novel about Thomas Cromwell, the great minister of England's Henry VIII. That volume ends with his decapitation, but the memorable verb comes from the end of volume 2, and the beheading of Anne Boleyn, Henry's second wife. The culminating scene is described in the present tense, so: "The body exsanguinates."
It's a shuddering literary moment and the lingering Latinate word somehow adds to the awefulness.
Totally inappropriate, really, to describing pouring Peter-Allan Finlayson's second-label pinot. Though less dense in colour, it is as rich and full as blood, I suppose. No, forget Anne Boleyn. It's delicious, mature wine, remarkably youthful still (great colour, with nice mahogany on the rim), more robust than elegantly delicate. Quite a bit of precipitated muck in the bottom of the glass is testimony to the restrained hand of the winemaker. It didn't occur to me to do, but I'd advise anyone lucky to have some of this wine left to decant it – though don't necessarily be in a hurry to do so.
Incidentally, while I'm here, I should mention that this evening I still had a glassful of an even superior wine that I opened the previous day, one that I've glowed about before: Reyneke Reserve Red 2010, the last one made with cabernet as well as syrah. A superb wine of international standing. At ten years old I reckon it's at it's best, though no hurry to drink up.
Back to pinot. I've been thinking of the grape, as I was contacted by someone who's researching the history of the variety in South Africa for the Pinot Noir Association intro. (I'm delighted about that, and hope some real effort goes into it; I continually find it depressing how little interest the varietal associations and most of the established estates show in the past and how they got to the present.)
It's not a topic I was able to help greatly with, but I could at least point out that, contrary to general understanding, Muratie was not, apparently, the first estate in the Cape to plant pinot noir – though it certainly was the first to produce a pinot wine. Muratie's plantings (though, typically, one looks in vain to the estate's website for information, despite a self-proclaimed "passion for preserving our rich heritage") date from the latter 1920s, after George Canitz bought the farm in 1925. His good friend Professor Perold was much involved, and introduced pinot noir – presumably from the Stellenbosch University Farm. (In Perold's Treatise on Viticulture of 1926-27, he cites only these University plantings.)
However, by this time Perold had already helped another Stellenbosch estate to plant pinot: Alto ( I described recently how Alto had been one of the earliest Cape farms to plant syrah). The sources I have for this are possibly contradictory, up to a point. Graham Knox's indispensable Estate Wines of South Africa (second edition, 1982), says that "during 1920 Hennie Malan planted Cabernet Sauvignon, Shiraz, Pinot noir, Gamay and Cinsaut". However, Fanie de Jongh's Encyclopedia of South African Wine (second edition, 1981) seems to suggest that it was cinsaut that was first planted there, and  that "In consultation with Prof. Perold, the noble varieties Cabernet, Pinot Noir and Shiraz were selected for new plantings on Alto during the 1924 and 1925 planting seasons".
Probably these two accounts differ because of faulty recollections (always a problem for historians). But, whichever version is correct, pinot noir was planted on Alto before it was planted on Muratie. Though, unlike on Muratie, it came to  nothing on Alto. It seems pinot was too early a ripener to be a useful partner to the varieties (notably cab, syrah and cinsaut) that went into the blend that was to become famous as Alto Rouge.
De Jongh's Encyclopedia also has a statistic that is interesting for the growth of the pinot noir vineyard in the Cape: "The enormous popularity achieved by this variety in recent years is reflected by the total of 268 870 vines counted in local vineyards as against the 30 159 of 1973. Exactly 85% of the total are to be found in the Paarl and Stellenbosch Districts".
The first edition of Platter, in 1980, also notes the burgeoning of pinot plantings in the 1970s, and reports  "several new vineyards in South Africa … making clean, lively 'lean' lightish wines, introducing new flavours to our red range". The estates were becoming more significant at this time, following their protection by the Win of Origin legislation of 1973, and presumably this is what's behind the new interest in pinot noir. By my count, there are seven pinots listed in that 1980 Platter: from Blaauwklippen, Delheim, Groot Constantia, Kanonkop ("very young vineyards"), Landskroon, Muratie, and Rustenberg. Consider the reputation of pinot from most of those estates now, and realise how much more portentous was the almost contemporary (1981) maiden pinot from Hamilton Russell Vineyards in the Hemel-en-Aarde – it was called Grand Vin Noir, for reasons that constitute quite another story, featuring the overlord KWV as joint hero….
My Hemel-en-Aarde pinot of this evening, Crystallum Peter Max 2012, is depressingly, alarmingly, nearly done. Worth noting, is that it is emphatically not from the BK5 clone that went into that significantly pioneering Hamilton Russell wine.
Tim James is one of South Africa's leading wine commentators, contributing to various local and international wine publications. He is a taster (and associate editor) for Platter's. His book Wines of South Africa – Tradition and Revolution appeared in 2013
Attention: Articles like this take time and effort to create. We need your support to make our work possible. To make a financial contribution, click here. Invoice available upon request – contact info@winemag.co.za
Like our content?
Show your support.
Subscribe