Tim James: Pontac new and reborn, and Pontac old
By Tim James, 2 October 2023
2
There's a uniquely mythic element to the place of pontac in Cape wine. No other grape variety has quite its aura amongst those (ok, not so many) who know about it, despite the minuscule role it has played in the lifetimes of most of us today. I suppose it is, in fact, partly that very absence, working with a vague idea of its supposed one-time greatness. But, like some of the best mythic creatures, pontac is reborn – if not yet resurgent – and coming back to be among us. Whether the reality will match the hype, who knows.
I'm not going to tell the story of pontac in South Africa. Joanne Gibson did that excellently back in a 2019, in a piece entitled "That beautiful vine, that remarkable grape, Pontac", which I urge you to read if you're interested in the history of South African wine. Just a few basic points: Pontac is a synonym (no one is sure howcome) of the red-fleshed French variety teinturier – Perold made the identification here, when the grape was already disappearing, after a long history here, including as a major component of some old Constantias and other sweet wines. It was associated with fine wine, but its modest crops, at a time when the KWV was driving South Africa implacably towards quantity rather than quality, were leading to its decline.
That decline approached finality this century, with vineyards terribly virused and no new, clean planting material available. Hartenberg, the final great champion of pontac table wine, produced their last in 2000 (off a vineyard planted in 1960). Carl Schultz had made ten such bottlings; before then, there had been a blend called Paragon, with up to 50% pontac. As Joanne Gibson described, it was Hartenberg, which played a crucial role in getting the authorities to undertake the long task of "cleaning up" the stock, that was to get the first of the newly propagated material.
And this year, 2023, Hartenberg took their first small crop of the two new clones that they planted in 2019 (bush vine and echalas – 'stok-by-paaltjie'). And next year Sadie should get some grapes from their planting in a mixed vineyard on Paardeberg home-farm Rotsvas. Cape-wide plantings remain very small – a mere 4.34 hectares as at the end of 2022, but there's surely no doubt that, given the new-wave interest in building on authentic and valuable tradition, more adventurous winegrowers will take stock that becomes available. I'd guess that Sadie's wines, vinified separately to assess how the grape is performing, will end up in blends – at least initially in the new wine being made for Berry Bros. & Rudd in England. But Carl Schultz is keen to have a varietal pontac bottled again. "The plan", he says, "is definitely to resurrect the grape as a single variety".
Hartenberg and Sadie, were, however, beaten to having pontac in a bottle by winemaker Stephanie Wiid and viticulturist Etienne Terblanche of Thistle and Weed. Strangely to me, neither they nor any or the few comments about their Nastergal 2021 blend made any special mention of the pontac component. It was only 8%, admittedly – but this was the first time the new, cleaned-up grape had appeared in a bottle of serious wine! Probably the only drops of pontac wine in the whole world!
It's a lovely wine. The dark, dark velvety colour is predictably gorgeous, given the red juice of pontac and of alicante bouschet (24%), which is a French crossing that has teinturier, the tinting grape, in its pedigree. There's a velvet texture too, a light perfumed charm, moderate intensity and depth, with wonderful tannins that are pervasive but melting.
The pioneering pontac comes from the Stellenbosch "mother block" of Vititec vine improvement nurseries, where the new, cleaned-up material was grafted onto established vines. "We barely get about one ton of fruit from the vines", says Etienne Terblanche. They are amassing some viticultural knowledge about the grape, he says. "At this early stage what we can say for Stellenbosch: it ripens relatively early, small compact bunches (susceptible to rot in wet years). Less prolific bearer compared to cinsault for exaple. With regards to drought resistance we are still in the dark."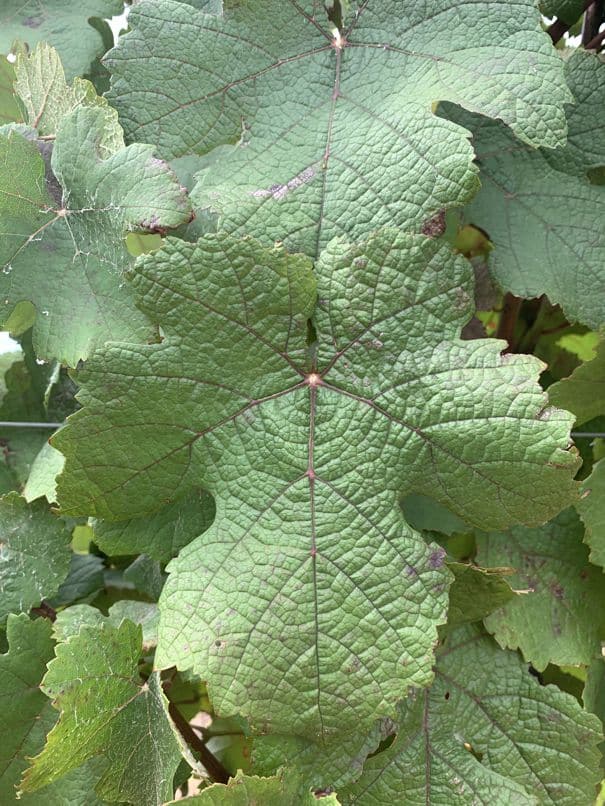 Etienne sent me the photograph showing how the high anthocyanin content (that red colour that pervades the flesh of pontac) even bursts out into the veins of the leaves. It's mostly that high concentration of anthocyanins that made Stephanie find the grape "really interesting to work with" in the cellar. She suggests that "it can be like a cinsault with more layers/depth of fruit". Etienne agrees, adding that "a kind-of rooibos tea character is quite prominent" in the wines they've made from pontac. But, of course, he adds, it is "still a bit early to tell. To my mind it's an interesting and important component wine. Looking forward to how it will turn out once the vines have matured."
And we must look forward to seeing what will be coming off the youthful Hartenberg wines, when that maiden all-pontac wine (the first for 25-odd years) emerges. A resurrection to be keenly awaited.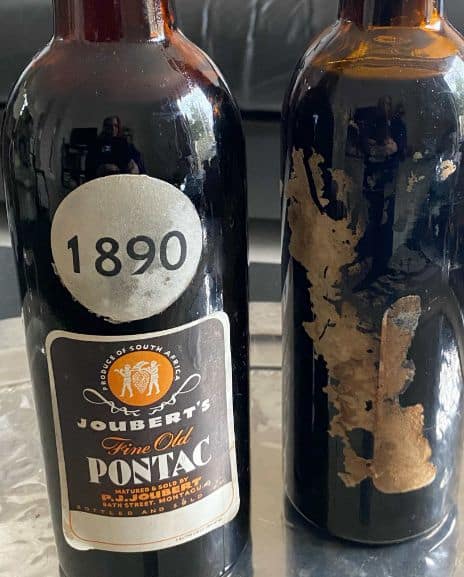 As to old pontac, something interesting came my way this week too. Strauss & Co have a client with some interesting bottles for auction, and they asked me if I knew anything about them. I don't, but I thought some reader might be able to help. Joubert's Fine Old Pontac, the label says, with a huge additional label proclaiming a vintage date: 1890. PJ Joubert was a dealer in Montagu, and probably bottled this wine himself at some stage. It must have been after 1910 – or at least labelled then – as the label refers to "Produce of South Africa", a country that didn't exist before that year. One guesses that this is a sweet, "port" style, possibly blended with muscadel. There was no law demanding that the alcohol level be given back then – or indeed that the vintage date is accurate, of course. But it looks intriguing and wonderful. Any information would be gratefully received.
Tim James is one of South Africa's leading wine commentators, contributing to various local and international wine publications. He is a taster (and associate editor) for Platter's. His book Wines of South Africa – Tradition and Revolution appeared in 2013.
Like our content?
Show your support.
Subscribe