Tim James: Some of the other wines available from Mullineux
1
Given the glamour, it's easy to overlook just how much sheer hard work lies behind the most successful of the new wave of ardent young winemakers in the last decade or two. In the dry Swartland, nearly as much sweat as water has flowed. It's not just a feel for winemaking, intelligence and an understanding of the nexus of vineyard and cellar: labour power and youthful energy have been a major quantum of capital invested.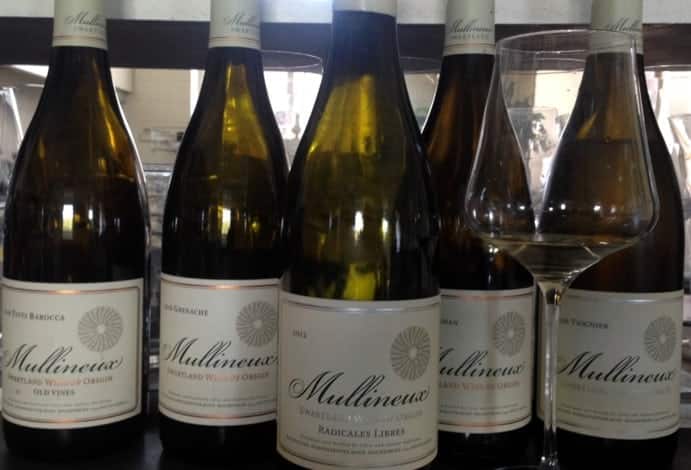 Admittedly, I've never managed to catch impeccable Andrea Mullineux looking flustered or exhausted or even grubby, but such things must happen sometimes even to her; Chris, yes, just a bit. I recalled again just recently just how hard that pair have worked and continue to work, with two wineries, numerous vineyards and two highly successful brands to manage. Andrea has just been on a marketing trip overseas (they seem to take that frequent duty by turn, and occasionally together), and I met up with Chris, who kindly brought along for my pleasure (incidentally reminding me of the extent of their efforts) some of the "other" wines they make under the Mullineux label, wines which go almost exclusively to the members of their club.
As they're not generally available, there's little point in saying much about them here – apart from one, which in fact was made in large enough quantities for there to be a few hundred bottles on general offer, and I'll come to that amazing wine shortly. The others I've been drinking over the past week were all 2016s. I was a touch impolite about viognier recently, but the Mullineux version undoubtedly takes a place at the restrained end of the viognier spectrum: a declared alcohol of 13%, reined-in aromas and flavours but plenty of flavour, and a great acidity. The reds I had were the Carignan, Grenache and Tinta Barocca. Good stuff, and what I really appreciated about them was that, reminiscent of many Italians, they have a savoury quality, allied with lithe, lean tannins and genuine dryness, that makes them drinkable young without too much intrusiveness of primary fruit – unwanted by me at least in serious wines. The Tinta is the most powerfully flavoured, tannin-powered and gorgeous of the three, and, though I am not usually a great admirer of this variety flying solo, I probably smacked my lips most over this one.
The other white wine of these new releases is, as I said, not a 2016. Would you believe 2012? It's a splendidly successful experiment. Five years ago, Andrea and Chris set aside some barrels of their 2012 White Blend (chenin, with clairette and viognier). Inspired by the marvels of traditional, long-oak-matured white Rioja, they left the barrels for five years – though topping them up regularly, as evaporation took its share.
In fact, I rather suspect they topped them up more frequently than happens with traditional white Rioja (an increasingly rare beast in a world in love with fruitiness and chary of oxidative character), so there's less deepness of colour and less overt oxidativeness than generally in Riojas of that style, and nothing even approaching funkiness (I don't think funkiness and Andrea Mullineux could happily co-exist, actually). But the long elevage has concentrated all the wine's constituent elements, as well as allowing the evolution of tertiary characters. The bruised apple note that oxidatively treated chenin often develops is scarcely discernible. I suspect that if I'd been given this wine blind, I might have thought it a particularly fine skin-contact chenin, mostly because of the suppression of typical aromas and flavours (and despite the lack of tannin).
The new wine is called Radicales Libres – Spanish for "free radicals", a phrase which has some pertinent Swartland wine-history significance of course, but as a technical term also appropriately relates to the chemistry of oxidation (in a way that is beyond me). The translation also no doubt softens the blow for timid customers who might find radicalism not to their taste, but is also a tribute to the wine that served as inspiration.
It's a fascinating, deliciously drinkable wine (as I said, a little is still available from the producer, for the same price as the Syrah – something over R300). Will there be more from later vintages? Yes and no. There are barrels maturing happily, but of Stellenbosch chardonnay, rather than chenin et al. The Mullineux pair believe that chard will work even better. If so, lucky us. A problem arises, however, that will need to be solved by this time next year: The Mullineux label is only for Swartland wines, and they don't want more wines appearing as Leeu Passant. A bit of hard work, of the mental kind, should find a satisfactory answer.
Tim James is one of South Africa's leading wine commentators, contributing to various local and international wine publications. He is a taster (and associate editor) for Platter's. His book Wines of South Africa – Tradition and Revolution appeared in 2013.
Like our content?
Show your support.
Subscribe