Tim James: The Cape Winemakers Guild in pandemic mode
By Tim James, 7 September 2020
1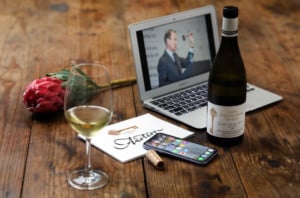 There are only 28 wines on this year's Cape Winemakers Guild (online-only) auction, compared with 45 last year. Given the (ok, arguably) absurdly high prices that wine has been getting at the Strauss auctions during the Covid-19 months, I suspect that those winemakers who chose not to enter a wine this year might regret holding back. But logistics etc are too complicated right now for some, it seems, so we have this reduced entry.
Happily for keen auction wine-buyers, however, there is also a Vinotheque Auction (I pedantically note that it's the CWG, not me, that doesn't like to include the usual accent on "vinothèque" any more than the apostrophe that should be there in its name; though if they don't want to do the French properly, why not just be less pretentious and use "wine library"?). This sale should be interesting and worthwhile all round for wine lovers, with a number of six-bottles lots – including some vertical selections, such as one of Paul Sauer which will no doubt do astronomically well – from past auctions. You can find the whole list on the CWG website here. The proceedings of this section of the auction will go to help CWG members needing help to support their employees in this challenging year.
As for the 28 CWG Auction wines, the standard is up to that higher one (in my opinion) we've been seeing in recent years. I tasted them blind this past week, following respectable pandemic protocols, along with some other critics and judges. Christian Eedes (CE) and Angela Lloyd (AL) have already published their views, in their very different styles, and in my remarks, I'll refer to some of their judgements, as they inevitably differ from mine in some significant instances, as well as agree in others. I don't aim to mention all the wines, but will include those that I most enjoyed and some that I most didn't. I did score them and will mention scores when useful. I won't aim to give full wine names, as these can be cumbersome, but identities will be clear.
The whites
Both bubblies on offer were admirable, showing some rich development. I'm with AL in just preferring the Silverthorn 2015 – I liked the greater freshness and incisiveness, But I'd rate both of them a little higher than CE did (and he preferred the Graham Beck 2009).
Christian rated the Bartho Eksteen Vloekskoot 2019 highly (93), but I found the oak and bit of residual sugar intrusive and the latter element tussling unhappily with the greenness on the finish. On the other hand, I liked the Miles Mossop Saskia-Jo blend a little more than he did: an interesting blend (chenin, clairette, grenache), with plenty of flavour and freshness and a lovely balance. At 95 points, that just pipped the Raats Chenin for me.
Of the three chardonnays, my favourite was – just – Ataraxia. Clearly the other tasters I'm referring to here and I all agree on the excellence of this category this year (two of CE's three top-scorers). Ataraxia, Paul Cluver and Leeu Passant are all eminently buyable wines for the long term – the Leeu Passant Radicales Libres 2015 deserving special mention as being a fairly rare example of the experimental/different winemaking that the CWG should be encouraging.
The reds
If the chardonnays were the strongest white category, I was much impressed this year by the red Bordeaux-style wines – blended or varietal. (More evidence for me of Stellenbosch coming right!) As a category, syrah was less appealing, to my taste at least, and although I always respect Saronsberg wines, I find its Shiraz just too sweet and rich and oaky to cope with (I must say that sweetness is a general problem I still find on too many Cape reds, including even some that I rather liked on this tasting). Same goes, as always, for the Cederberg Shiraz. But not for the perfumed, more elegant and fresh Boschkloof Epilogue, which I'd eagerly score 95, at least. The Neil Ellis Tempranillo is ok but did little to change my conviction that this great producer of cab-based wines shouldn't venture towards the Mediterranean.
Back to the cabs etc. Interestingly, CE's lowest score overall was for the Spier Frans K Smit, which was among my favourites. I've always admired Frans K's winemaking, generally without caring for the style – but he's nowdays making more elegant, lighter, understated wines. This blend, for example, is not only (and irrelevantly in this context!) the Auction's first certified organic red and spontaneously fermented, but declares just 13.5% alcohol. I also highly rated the Kanonkop, Delaire and Strydom blends, and the Edgebaston and Hartenberg straight cabs. In fact, the only one in this category I didn't care for, really, was the Groot Constantia blend – ripe, big and oaky, but undeniably impressive (towards the lowest end of my ratings, around the middle of CE's, and unmentioned by AL).
Ernie Els is another producer which (via its winemaker, Louis Strydom) has grown fresher and easier in recent years, and the Ernie Els 2017 is a brilliantly drinkable wine. We three all at least quite liked it. And it's rather innovative, too, in exploring the great blending tradition of the old Alto Rouge: cab, shiraz, cinsault – which I discussed not long ago, looking at the history of red blends in the Cape.
You will, of course, find on the CWG website all the details of the 3 October Auction, including full info about the wines. If you are in the market for older stuff, make sure you look at the list of Vinotheque wines. And if you're also a pedant, try to be a realistic one and forget that lack of an accent grave. Wine is probably more important.
Tim James is one of South Africa's leading wine commentators, contributing to various local and international wine publications. He is a taster (and associate editor) for Platter's. His book Wines of South Africa – Tradition and Revolution appeared in 2013
Attention: Articles like this take time and effort to create. We need your support to make our work possible. To make a financial contribution, click here. Invoice available upon request – contact info@winemag.co.za
Like our content?
Show your support.
Subscribe