Tim James: The wines and story of the lily of Saron
By Tim James, 27 September 2021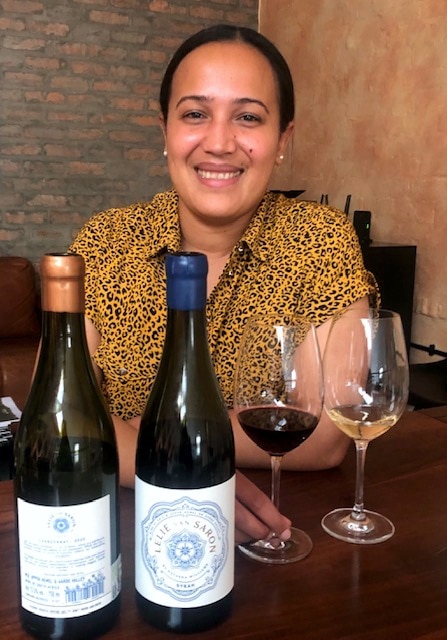 The path a person may take to loving wine – and to excellently making it – is not always ordained or even straight and clear. For a long time, Natasha Williams seemed to avoid the path altogether. Talking to her recently at the new Cultivate centre in Cape Town I wrote about recently, I found myself asking her repeatedly: "And still you were not really interested in wine?" Even, it must be said, once she had started studying oenology at Stellenbosch University. ("What about socialising with the other students?", I asked incredulously. "No," she said, "I was a brandy and Coke girl….).
Natasha came to wine largely through her scientific focus, and she came to loving and understanding the stuff once she actually started making it.
Her background certainly indicated no clear path in that direction. "I had no reason to become a winemaker", she insists. She grew up in the village of Saron, a former mission station named for the Biblical plain (Sharon in English). Most of the working inhabitants laboured in the vineyards – but table grapes predominate on this side of the Saronsberg that rose behind the village, though on the other side of the mountain are the wine vineyards of Tulbagh. Endemic alcohol abuse gave no attraction to liquor either – there was none in her family, but she lived opposite a shebeen. She did get to feel in touch with nature, through long rambles in the mountain fynbos with her father. Mostly, though, "I was technical and practical".
Natasha's parents were clearly ambitious for their clever daughter, and wanted the education for her that they did not have. But they also imbued her with the understanding that "you had to work for what you wanted – that helped me." The village culture, though, did not prepare her for understanding the mechanics of getting into further education and, though she'd obviously done well at school, she didn't know about bursaries and turned up at Stellenbosch University too late to get anything more than a loan. She began to study molecular biology. "Science was my thing!"
A drift to oenology began, however, partly stimulated by a residence friendship with Charla Haasbroek (now winemaker at Sijnn), and she shifted her studies in that direction the next year. Still not drinking wine – "I was only in love with the science of wine!'. Natasha passes over the difficulties inherent in a situation in which students of colour were very much in a minority (she graduated in 2013), but clearly problems there were. She tends, however, to be much quicker in expressing gratitude to those who have helped her than in any complaining. "I've had good people on my journey", she says.
A prime help – and influence – turned out to be Corlea Fourie at Bosman Family Vineyards, who accepted her application for the junior winemaking position (she took over senior responsibility for the 2019 vintage). This was Natasha's first full-time work in making wine and, stimulated by her final year of study and an internship at Jordan, she was at last learning to live fully in a world of wine that marked her way of life. "You have to embrace the lifestyle", she realised. Corlea, she says, "gave her the space to develop and learn'. A first visit to California in 2016 helped Natasha to realise the value of expressing single vineyards, she says; subsequent travelling in classic Europe (with boyfriend and fellow winemaker, Wade Sander of Brunia) nurtured her understanding that wine can be – should be – vitally part of a wider culture, especially in its relationship with traditional food. This is of obvious relevance to racially-riven South Africa, and is clearly a matter of concern to this thoughtful (and perhaps wise beyond her years) winemaker, who has come to straddle diverse cultures herself.
Her sympathetic employers at Bosman allowed, even encouraged, Natasha to start her own wine brand from the 2017 vintage, making use of grapes from the Bosman vineyards in the Upper Hemel-en-Aarde. It's worth noting the details on the attractive label. The name of the brand is "Lelie van Saron" – something of a play on the biblical "rose of Sharon" while being a tribute to her roots, but with the lily bringing in associations "of purity and humility", fitting in with a wine philosophy centred on natural processes. The design of the label is based on the beautiful crochet doileys Natasha's mother had made (since childhood) as a way of earning a little money. Again, Natasha tells me of the value of a "culture of working hard". That, and modesty, and a connection to her origins, are perhaps the leitmotifs of a winemaking career that is still only really at its start.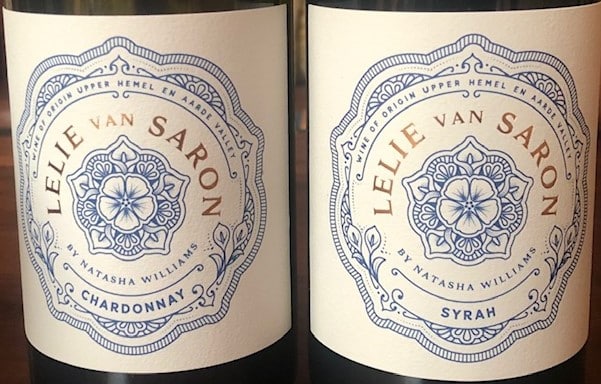 New vintages of the two Lelie van Saron wines have recently been launched. Although the majority of her wine gets exported (see the comments to my Cultivate article for some possible perspective on this), they will be available here and there locally, most notably via the Cultivate shop and website (where I see it is still the previous vintages advertised). Both are characteristically understated but confident and convincing expressions of their cooler Hemel-en-Aarde origin. The Syrah 2019 (about R260) has the fullness of a long ripening and the dry lightness and elegance of just 13% alcohol; it's flavourful, pure and fresh; still a touch raw, perhaps, and will undoubtedly benefit from a few years in bottle (and develop for more).
Lelie van Saron Chardonnay 2020 (approaching R300), from a single dryland vineyard, is already a total delight, however. The wholebunch, hands-off, oxidative winemaking – with maturation in a mix of concrete and mostly older oak – has left a pretty yet confident charm, with subtle citrus aromas and flavours, and a stony element that shades into a salt-touched finish. All in all a wine with something of the apparent serenity of its vinifier; lovely wine for now and years to come – Natasha tells me the 2017 is drinking well.
Coincidentally, within half a day of my writing above about Natasha's elusive path to wine, I read this bit of reflection about such things in Richard Dawkins's autobiographical An Appetite for Wonder: "But perhaps life has a tendency to converge on a pathway, something like a magnetic pull that draws it back despite temporary deviation." That seems to fit Natasha Williams's experience.
And her path seems to have led her some distance from her childhood home, via science to a winemaking that is aesthetically and sensually as well as scientifically based. But Saron is still there, as symbolised by that crochet doily on her label, and as evidenced by her hope to, one day, plant a wine vineyard near her home village. She understands that – certainly in South Africa – wine can push people apart (religion, culture, violence); but she's equally convinced that it has also "brought people together across barriers – even cultures", and sees no reason for that to not happen here.
Tim James is one of South Africa's leading wine commentators, contributing to various local and international wine publications. He is a taster (and associate editor) for Platter's. His book Wines of South Africa – Tradition and Revolution appeared in 2013
Help us out. If you'd like to show a little love for independent media, we'd greatly appreciate it. To make a financial contribution, click here. Invoice available upon request – contact info@winemag.co.za
Like our content?
Show your support.
Subscribe