Tim James: Twenty years of The Chocolate Block
1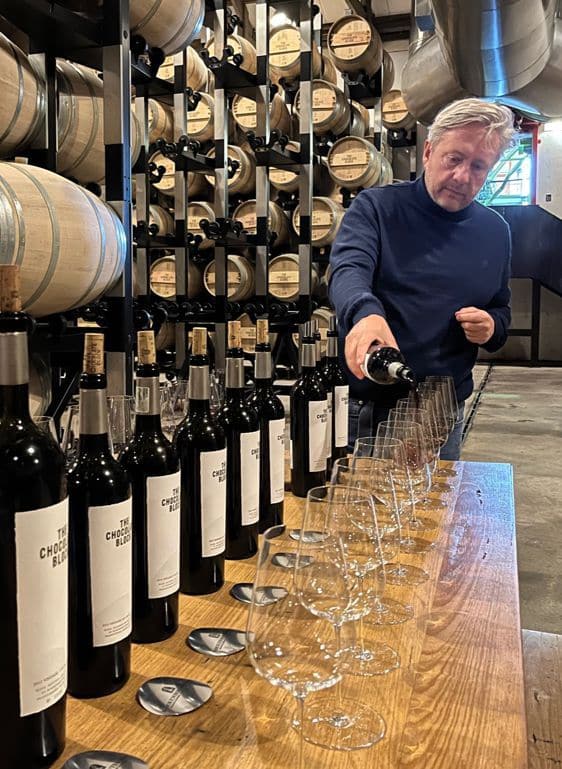 At the turn of the century, at a big 2000 WOSA tasting in London, Boekenhoutskloof's Marc Kent (winemaker and already more than that) was chatting with Tony Allen of retailer Oddbins. Allen suggested Marc should make an Oddbins own-label brand to be called The Chocolate Block. That project wasn't in Boekenhoutskloof's line, but the name stuck in Marc's mind. A year later it joined to a wine concept when he and his then assistant winemaker, Rudiger Gretschel, were travelling and tasting in Roussillon in the south of France and being impressed by the use of cabernet in blends with syrah and grenache.
A new wine was born in Franschhoek in 2002 from widely sourced grapes – with cinsault and a drop of viognier joining cab, syrah and grenache, to establish the basic components of a blend that, in changing proportions, was to survive and thrive. Tony Allen was willing for Boekenhoutskloof to take the name, in exchange for Oddbins having UK exclusivity for that first vintage. Anthony Lane, always the designer of Boekenhoutskloof labels (and more recently the creator of the large and bright sculpture atop the new underground barrel cellar at the home farm) came up with the minimalist label.
Nowadays there's sometimes more than a shade of condescension when the snifferati mention The Chocolate Block. It doesn't take long before the word "commercial" gets tossed around, as though it answers all questions. South African wine geeks seem to have a basic mistrust of wine produced in larger volumes (except perhaps fancy Bordeaux), even though, on reflection, they can see that a combination of quality and volume in serious wines is exactly what the Cape wine industry needs and – largely – lacks.
I can't help recalling a sort of counter-jibe that Marc Kent, the visionary and detail-obsessive behind Boekenhoutskloof's and Chocolate Block's success, made to me many years ago when I was asking him about his slow move away from cellar work (though even now he remains in ultimate control, especially involved in blending, and not a single Boekenhoutskloof-owned wine is bottled without his signing off on it). He said something to the effect that if a winemaker can't produce a first-rate wine when there are just a few barrels of the stuff, then it's a poor show; the real challenge (and clearly for him the real delight) is to make a few dozen barrels – or a few hundred or more – of good wine.
Certainly, by local standards for a pretty expensive wine (at home, anything from R260 up to R305 at Woolworths and R319 at one of the pricier Cape Town independents), a lot of Chocolate Block is made and sold – over a million bottles of the current 2021. It goes to 65 markets world-wide – with the UK taking about 25% of total production. It used to be at least closely matched in the stakes for the Cape's most lucrative bottling by Rupert & Rothschild's Classique, but word has it that Classique's volume is probably down to little more than Chocolate Block's, and its price is at least R50 lower. Meerlust Rubicon would also be significant in this game, but at an arguably more ambitious level of winemaking and certainly of price (about R500), while volumes are generally less than a third. And then there's Kanonkop Kadette – very substantial volumes, and a much more modest price, but immensely lucrative.
The steady volume increase in Chocolate Block means 3349 barrels of 2021, as per the measure declared on the label. There had been a mere 15 barrels of the maiden vintage, 2002. However, having just tasted my way through all of the released 20 vintages (surrounded by vast rackfuls of 2022 in barrel, in the old Helderberg winery that is Chocolate Block's home), I can tell you two things that put any "commercial" jibe in an important context. Firstly, there wasn't anything like a dud wine among the 20 vintages tasted (ok, they'd been in perfect storage), though there were vintage /quality differences; even the oldest wines were still drinking very well. Secondly, there was an obvious improvement in quality, especially perhaps in the past half-decade – and that's not a frequent trait, I suspect, of most wines whose commercial success leads to rapid and substantial growth.
It's worth probing a bit Boekenhoutskloof's striving for quality and pedigree with this wine. Spontaneous fermentation has played a role, especially in the syrah, from the start, and generally an avoidance of additives, including acid when possible. As Boekenhoutskloof's current chief winemaker, Gottfried Mocke, says, "Marc's always had a thing about doing things traditionally". Much of the fruit for Chocolate Block is already organic, and (given a new farm coming into the mix and needing conversion) it should be organically certifiable in not many years. And while most of the larger-volume wines (including Classique and such smaller-volume competitors as Vilafonté's Seriously Old Dirt and L'Ormarins Optima) are widely sourced, Chocolate Block has been WO Swartland since 2016. The origin claim is part of a striving for a genuine integrity, but the fact that Boekenhoutskloof now owns such substantial swaths of Swartland vineyards and manages the viticulture behind the wines is crucially important to quality.
And what of the 20 vintages released so far? Syrah has become the dominant variety in the last decade (around 70%), and  that helps to ensure the early drinkability of the wine. But I was struck in my tasting by the vital role of the minor varieties – with grenache and cinsault asserting freshness and contributing, with that smidgen of viognier, to a fragrant charm. More significant for ageability and savoury tannic firmness is the cab sauvignon. Some of the older wines were developing more like a bordeaux-style blend in a way, I felt (though that's hard to explain, beyond finding some dried herbal notes in the development), than a typical syrah-based wine.
The Chocolate Block has always been a fairly rich, opulent wine – with alcohol levels closer to 15 than 14 percent, and residual sugar levels quite often rising above 3 g/l. There is a resultant sweetness (which I would prefer to be not there), but it is not as egregious as on some ambitious and important local reds. Recent vintages, though, undoubtedly show a finer balance, a greater finesse, more purity of fruit – generally an attention to detail that lifts Chocolate Block well above the "commercial" level, when that word is used rather damningly.
Though I certainly don't dismiss the claims of the older vintages – 2012, for example, makes for particularly attractive drinking now. The 2011 and older wines generally showed a greater degree of development, with savoury notes sometimes a little uneasy with the sweet notes I felt. 2005 was for me the best of the earliest vintages, and very good – so too, surprisingly given that it was generally a lesser vintage, was 2006.
The current 2021 is rather lovely, with fragrant charm but firm; lithely powerful but not oppressive in the least thanks to its fine balance. Only the cab now sees new oak, and its presence is subtly informative rather than obvious these days. Plenty of fruit depth, and I found a herbal touch that I liked, and even a note of dark chocolate on the finish – and that seemed nicely appropriate.
Tim James is one of South Africa's leading wine commentators, contributing to various local and international wine publications. He is a taster (and associate editor) for Platter's. His book Wines of South Africa – Tradition and Revolution appeared in 2013.
Like our content?
Show your support.
Subscribe