Tim James: Using all five (or six or more?) red Bordeaux varieties
By Tim James, 6 September 2021
One of things that I'm fondest of in the Cape wine industry is its penchant for blends, which goes somewhat against the New World fixation with mono-varietal wines. Of course unblended wines preponderate at all levels here too – and many announce themselves as such even when they take advantage of the (international) rule that up to 15% of a wine can be from a grape other than the named one. I've gone into this before (because it continually fascinates me) – in discussing why, indeed, some winemakers do find it good to blend different varieties, and specifically in relation to the advantages or otherwise of straight cab versus the red "Bordeaux blend".
It's to that particular blend that I return here, and the not infrequent determination to make use of five different varieties in achieving its quintessence: cabernet sauvignon, merlot, cabernet franc, petit verdot, and malbec. Some producers are so proud of doing so that they name their wine in celebration of the practice (De Toren Fusion V, Van Biljon Cinq, Raka Quinary, Constantia Glen Five, Spier Creative Block Five, and perhaps more). The De Toren website speaks of Fusion V as "crafted from Bordeaux's 'Noble Five' varietals", and Constantia Glen's mentions using the "five archetypal Bordeaux varieties".
But there's one local wine that reminds us that in fact there are six, not five, red varieties that are recognised for red Bordeaux. What's more, both malbec and petit verdot are comparatively unimportant in Bordeaux, especially the most prestigious appellations. Malbec (nowdays more associated with Argentinan wine than bordelais) went into something of a decline in Bordeaux after 1956 when frost killed off 75% of it. Petit verdot has more prestige and is used to a small degree in a few of the blends of the Médoc and Graves.
The sixth official black bordelaise grape is carmenère. It's probably the most minor and generally least respected of all. But not to be forgotten, as it generally has been here by those who stop counting at five/V/cinq. Carmenère hasn't actually been used in South Africa for long, nor in a big way. I know a few varietal carmenères were made in 2016 – Dagbreek Carma and Frölich Carmenère Rosé – but to my knowledge the first time it went into a commercial wine was with Martin Smith's Marathon 2013, an unprecedented blend of that grape and petit verdot. Martin, then the winemaker at Vilafonté, was not allowed, I believe, by his employers to make an own-label wine from any of the varieties used in their brands, hence this combination – eccentric, possibly unique in the world, but certainly qualifying as a "Bordeaux blend".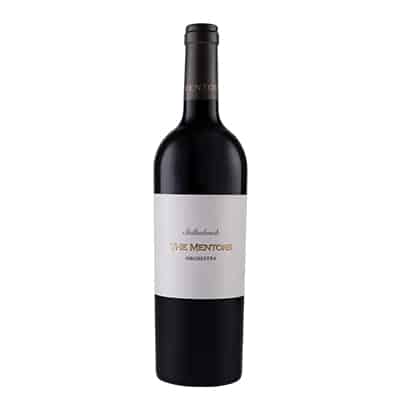 As for using ALL six Bordeaux black grapes, it seems that the first and as yet only, such Cape blend (putting in their place the hitherto proud blenders of a mere five), is KWV's Mentors Orchestra from 2017 (the current release is 2018). Previously it had just the established five. KWV has not trumpeted the fact to my awareness, though presumably at least the winemaker is aware of the corrective achievement. So inadequate is their website, however, that clicking on either "Wine description" or "Tasting sheet" from the website listing – R279.90 – of Orchestra 2018 gave me precisely nothing in terms of information.
I asked the better-informed Jancis Robinson if she knew of any other wines with all six varieties, and "off the top of her head" she couldn't think of any. But added with a touch of tartness: "Which perhaps says it all. I wouldn't regard a wine with all six as somehow 'better' than one made from the two or three of the most suitable for where they are grown." I'd guess, in fact, that it's usually for other reasons (marketing, homage to Bordeaux, amusement or whatever) that winemakers pile up the numbers in their Bordeaux-style reds, often adding in a dollop of petit verdot or malbec – or carmenère – just so they can say it's there, so long as it doesn't actually negatively affect the quality of the wine.
Incidentally, the white version of the Bordeaux blend, has often been invoked in South Africa since the pioneering efforts of Vergelegen with their maiden 2001 semillon-sauvignon, called in those days Vergelegen White and called other confusing things since. But no one has claimed to have a full house of "noble" or "archetypal" white varieties. Presumably because the most famous other grape involved in Bordeaux, muscadelle, is not an acknowledged local variety – I wonder if that's because confusion would result from our peculiar preference for calling muscat blanc à petis grains by the name muscadel/muskadel (or muscat de Frontignan). Further, there seem to be other white varieties allowed in Bordeaux – or at 'least in some appellations: colombard (no problem), merlot blanc, mauzac, ondenc, and ugni blanc. So let's not get too ambitious with the white Bordeaux blend.
As for the red one – whether De Toren, Constantia Glen et al are likely to be abashed when they realise their triumphalism to be unfounded is doubtful. But let no-one at all, even with all six varieties, rest on their laurels. What is now six might, in years or decades to come, be more. Climate change has spurred Bordeaux into cautious action. As of July 2019, in response to temperature increases, the Bordeaux appellation authorities allowed the experimental use of four more red grapes: marselan (a cab-grenache cross), castets (a rare variety first identified in Bordeaux in 1870), arinarnoa (a cross between cab and tannat), and the more famous touriga nacional. But Cape emulators don't need to be in a hurry. In Bordeaux, the newcomers may only occupy up to 5% of a grower's vineyards and 10% of any wine, and then only in the "entry-level" appellations – there's not going to be touriga in your Pétrus or Lafitte any time soon.
Tim James is one of South Africa's leading wine commentators, contributing to various local and international wine publications. He is a taster (and associate editor) for Platter's. His book Wines of South Africa – Tradition and Revolution appeared in 2013
Help us out. If you'd like to show a little love for independent media, we'd greatly appreciate it. To make a financial contribution, click here. Invoice available upon request – contact info@winemag.co.za
Like our content?
Show your support.
Subscribe