Tim James: Visiting some Paardeberg vineyards
By Tim James, 23 September 2019
2
It's easy sitting in Cape Town and hearing reports of the city's reservoirs filling nicely and imagining that the drought is over. In many parts, for many agriculturists, it's not. I fully realised this on a visit last week to three Swartland producers – and in fact, I'd recently heard a similar story from Peter-Allan Finlayson near Bot River in the Overberg: Gabriëlskloof was still in great need of more rain.
On the Paardeberg it was a warm, humid spring day, and there was the faint hope of a shower to come later that day. Everything was looking fresh and green and lovely, and there was the occasional standing puddle of water – for, yes, the winter rains were better than in recent years, giving the prospect of some relief, but the annual rainfall is still significantly down on the historic averages.
My first visit was to Barry Schreiber's farm – not far from Adi Badenhorst's and David and Nadia Sadie's. It supplies grapes to a number of important producers, and houses the new (that is, long unused but now restored) cellar where Jasper Wickens makes his splendid Swerwer wines – his shiraz also comes off the farm. Jasper is married to Franziska, Barry's daughter, who is the viticulturist here (and expecting their first child very shortly). They told me that so far this year they've had some 370 mm of rain, as against the 500-600 that used to be the normal average.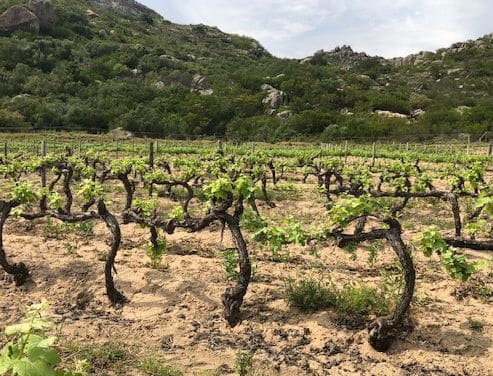 In fact, this lovely farm, at the end of the Siebritskloof valley running into the low, sprawling mountain, is usually a little wetter, as well as cooler, than most of the Paardeberg vineyards – it's even called Waterval, after the water that can pour off the mountain ridge. Franziska is steadily planting more vineyards – this year two Portuguese varieties that should perform well in dry, hot conditions, tinta barocca and tinta amarela (trincadeira). But the main problem in the vineyards nearest the ridge is, I was surprised to learn, dassies – the rock rabbits. Apparently, it's not so much a question of their eating roots, as I'd have imagined, but of their climbing into the vines and feasting on the green shoots!
I will later report further on this, my first visit to Waterval and the JC Wickens cellar.
Next stop was for a quick catch-up at Lammershoek, one of the largest estates committed to the ideals and precepts of the Swartland Independent Producers. A spin through the cellar with Jorrie du Plessis, winemaker alongside cellarmaster Schalk Opperman, continued the focus on vineyards. The Mysteries range is focusing on single-vineyard wines, including one from what seems to be the oldest chardonnay vineyard in the country – bushvines planted in 1981. Not the variety best suited to the Swartland, but a very decent wine and expressing a significant historical moment!
On the matter of sustainability and vines suited to a Swartland in the grip of global warming, Lammershoek's sales and marketing head, Jonathen Ralph, is a great fan of the Italian (mostly Sardinian) variety vermentino, so I dare say there'll be some plantings of that soon. There already is vermentino planted just next door to Lammershoek, at Eben Sadie's small farm Rotsvas. It's one of a dozen or so varieties (I lose count) in the new vineyard destined to one day feed into Palladius. Last time I visited, the vines were not yet in: it's exciting to see the changes in a project like this.
Just as notable are the changes in the black-grape vineyard on Rotsvas, which this year produced its first significant crop (Eben hasn't yet decided what will happen to the wine). It looks remarkable, with a thick, now beaten-down cover crop – 15 types of plants in it – with square areas cleared around each vine. Interestingly, the vines looked much less advanced in terms of shoot and leaf development than others I'd noticed on the Paardeberg that day – because, Eben said, the roots are that much cooler under their substantial blanket.
The meticulous, painstaking work on these vineyards is expensive and laborious. The thoughtful detail of Eben's never-ending work always impresses me. Every aspect of the farm and winery is carefully thought through and, not irrelevantly, done with an eye to beauty as well as usefulness: an elegant cantilevered steel framework for the new carport near the cellar, low and thick white walls everywhere – even curving up to the entrance of a tool shed with a flourish. But the vineyards, both here and those he manages together with other farmers, are his central focus and passion. I came to visit intending to discuss something quite other, but didn't get the chance – or, rather, I chose to listen to fascinating disquisitions about vines and vineyards, soil preparation, and the problems resulting from the use of vine-grafting machines, etc.
An interesting conundrum comes out of Eben's recent interplanting of vines in the gaps of all the vineyards supplying his Old Vineyard series (he's just planted 7000 new vines in them). An old vineyard must be 35 years old to qualify for Heritage status in the Old Vines Project. As individual vines die or for other reasons must be replaced, at what point does the vineyard lose its status? Like the axe which remains "Washington's axe", despite both handle and head having both been replaced. Or like the Cape Fine and Rare Wine Auction, which claims to have been established in 1975 – even though the name and venue are new, and it sells a totally different kind of wine from that of the earlier days of the Nederburg Auction.
Tim James is one of South Africa's leading wine commentators, contributing to various local and international wine publications. He is a taster (and associate editor) for Platter's. His book Wines of South Africa – Tradition and Revolution appeared in 2013.
Like our content?
Show your support.
Subscribe