Tim James: White wines with a good few years – in bottle or barrel
By Tim James, 8 November 2021
2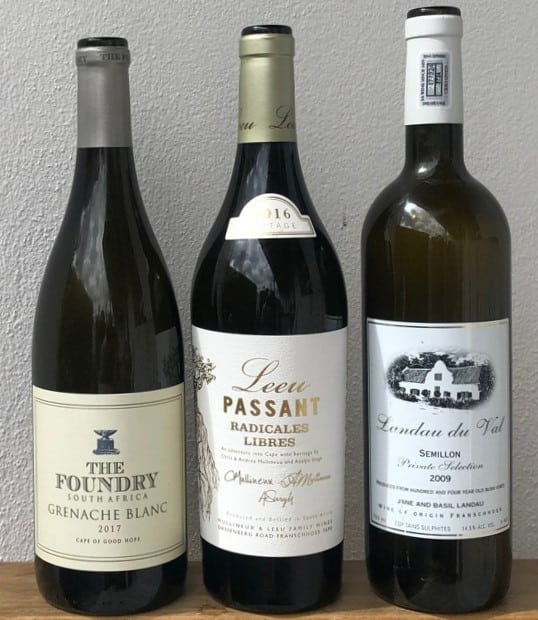 It's certain that at the more ambitious, conscious level of wine appreciation, South Africans are now happier to accept that many white wines don't have to be extremely young to give pleasure – quite the contrary, in at least some cases. It's been a good while since even sauvignon blanc on a retailer's shelf had to be discounted or returned to the producer as soon as the vintage wasn't that of the current year. And the auctions that have become so significant at the top level in the last year or two, show that there's an eager acceptance that at least some white wines are worth a premium when they have years of careful storage adding to their complexity – with sales of mature whites (leaving aside the dessert wines) going beyond the superstars (Sadie and Alheit) to, for example, a number of chardonnays (Chamonix, Cluver, Restless River, Hamilton Russel and others), chenin (Mullineux, Ken Forrester FMC) and white blends (Delaire Graff, Vergelegen).
This last week I've drunk two whites that evidence the advantages of ageing. The Foundry Grenache Blanc 2017 was the younger – though I don't think I missed out by drinking it at a bit less than half a decade old, even though it will undoubtedly go further. Just a totally delightful fine wine, with flavour balanced by elegance of structure, unshowy but poised and confident. My generalisation would be that five or so years is an age at which you're not going to go terribly wrong, in either direction, in drinking the best Cape whites.
Grenache blanc is lovely from its flowery youth onwards, but semillon is less charming when young, I find, which perhaps accounts for its being a "difficult sell". But, gosh, it really comes into its own with time in the bottle. I have had, for example, the Boekenhoutskloof at up to 15 years of age and it always shows itself as one of the finest Cape white wines. Landau du Val, from one of the oldest local (Franschhoek) semillon vineyards, is comparatively up-and-down across vintages for various reasons, but also excellent in many years. Including the golden-glowing 2009: delicately forthcoming and quietly lovely, with a subtle, nuanced complexity – the opposite of showy, and remarkably light-feeling despite a declared alcohol of 14.5%. I drank it with great pleasure over three days, during which it didn't fade – proving its excellence and vitality (though I don't think it would be worth keeping the wine in bottle much longer).
Ageing of a radically different kind goes into my third wine, which comes from the masterly hands of Andrea Mullineux – and from chardonnay five years in old oak barrels: Leeu Passant Radicales Libres 2016. This is the first regular bottling of this wine, which has been considered something of an experiment up till now and sold at two CWG Auctions (oh, I wish that more winemakers would use the auction for this sort of thing, rather than each year punting a tweaked version of a standard wine). The first vintage under this name was 2012, which was essentially a long-aged version of the chenin-based Mullineux white, but since then it has been made from a single cool vineyard of chardonnay from the Tradouw Highlands, just outside Barrydale in the Klein Karoo. Chardonnay, say the Mullineux, "is a variety we feel really well suited to this style of winemaking, as it has a strong affinity for oxygen". The Spanish name, incidentally, is a translation of "free radical", which is a chemistry term, and something to do with unpaired atoms seeking partners (or whatever…); the punning allusion to wild(ish) experimentation is no accident.
Now the experiment is clearly deemed to have been sustainably successful and with the five barrels of 2016 it joins the Leeu Passant line-up. It's being offered only directly from the producer, in a three-pack of three vintages: 2014, 2015 and 2016 – the two earlier vintages being essentially identical to those offered at the CWG auctions in 2019 and 2020. They received average auction prices of R1163 (for the 2014) and R1825 (the 2015) – which makes the price for the three wines together seem pretty reasonable at R2295. It will be available from later this week (mid November), with Club members having a two-day exclusive chance to pluck the cherries before they become generally available.
The wine was not ignored while in barrel for five years. That's not the sort of thing the meticulous Andrea Mullineux does. It was racked each year and the barrels regularly topped up, so that while a degree of concentration took place through evaporation (the alcohol rising to 14.5% and the free extract increasing), the oxidative character of the wine is not at all strongly marked – as it would be in the now-rare Rioja tradition of keeping white wine in oak for many years (sometimes longer than five). Radicales Libres is also marvellously bone dry, which means that its weight, power and concentration do not exclude elegance.
It's a fascinating wine, though perhaps not one for beginners. Chardonnay is seldom charmingly aromatic and "fruity", and this certainly isn't, though the varietal character is far from extinguished. The intensity of flavour is more centred on savoury notes, with salt-preserved lemon being the dominant one to me, with slivers of almond. An excellent, beautifully proportioned and shaped wine, with long-lingering flavour intensity and a real seriousness to it (get something else for light-hearted sipping).
When I asked him, Chris Mullineux told me that the two older vintages included in the three-pack on offer have evolved very little since bottling. Wines made in this way (and I know it from old Riojas too, both red and white), when the grapes and winemaking are good, seem able to cruise effortlessly for ages. So if you're lucky enough to get some of this – no hurry to drink up. I reckon you could safely lay it down for the 21st birthday of someone born in one of those vintage years.
Tim James is one of South Africa's leading wine commentators, contributing to various local and international wine publications. He is a taster (and associate editor) for Platter's. His book Wines of South Africa – Tradition and Revolution appeared in 2013
Help us out. If you'd like to show a little love for independent media, we'd greatly appreciate it. To make a financial contribution, click here. Invoice available upon request – contact info@winemag.co.za