Alvi's Drift Muscat de Frontignan 2014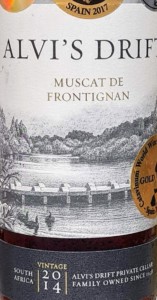 The fortified Muscat de Frontignan from Alvi's Drift outside Worcester is something of category benchmark for me with the 2006 having rated 5 Stars in the July 2008 issue of Wine magazine. The current release is the 2014 vintage – grapes left on the skins for a week before being crushed and fortified and then matured for 18 months in French oak.
The nose is very expressive with notes of coffee, raisins, caramel, mint, fynbos and spice while the palate is hugely dense and viscous, bright acidity preventing it from becoming too cloying. Subtle? No. Deeply satisfying? Yes. Price: R165 per 375ml bottle.
CE's rating: 93/100.
Check out our South African wine ratings database.
Attention: Reviews like this take time and effort to create. We need your support to make our work possible. To make a financial contribution, click here. Invoice available upon request – contact info@winemag.co.za