Anysbos Disdit 2019
1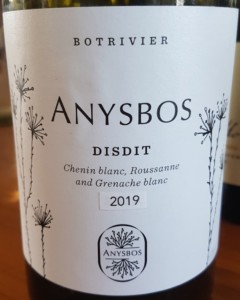 Cape White Blends may be doomed to be forever niche but man, do they make for some spectacular wines. Anysbos is the Bot River property owned by Johan Heyns, who's the brother of Gabrielskloof owner Bernhard Heyns and Marelise Niemann, whose own label is Momento, is the winemaker – Disdit is the name of the white assemblage and it seems to get better and better with each passing vintage.
The 2019 consists of 70% Chenin Blanc, 29% Roussanne and 1% Grenache Blanc. The nose shows some struck-match reduction before white and yellow fruit, herbs and earth. The palate has excellent fruit purity, electric acidity and a super-long finish. I tasted it next to Rocking Horse 2019 from Thorne & Daughters and there was nothing to choose between the two in terms of sheer quality. All of a piece and super-detailed, it's really worth seeking out. Price: TBC.
CE's rating: 97/100.

Check out our South African wine ratings database.
Attention: Reviews like this take time and effort to create. We need your support to make our work possible. To make a financial contribution, click here. Invoice available upon request – contact info@winemag.co.za