Anysbos new releases
4
400ha of land, farming involving some olive groves, goats and 24ha of vineyard from which just two wines are made, a white blend called Disdit and a red called Tesame. That's Anysbos in Bot River, founded by Johan and Sue Heyns in 2008, the acclaimed Marelise Niemann of Momento on board as winemaker since 2016. Tasting notes and ratings for the new releases as follows: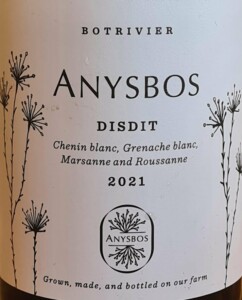 Anysbos Disdit 2021
Price: R330
57% Chenin Blanc, 15% Grenache Blanc, 15% Marsanne and 13% Roussanne. Enticing aromatics with top notes of jasmine and fynbos before pear, peach, apple, guava and spice. The palate is light-bodied and tense, a particular sense of energy about it, the finish long and pithy. Extremely primary at this stage but sure to fill out over the next two to three years (the 2019 is currently drinking spectacularly well). In a very short space of time, this has become a model of excellence for the Cape White Blend category.
CE's rating: 96/100.
Anysbos Tesame 2020
Price: R330
59% Grenache, 26% Shiraz and 15% Cinsault. The nose is fragrant with notes of musk, rose, fynbos and red cherry while the palate is delicate and understated with fresh acidity and subtle tannins. Being Grenache driven, there's a sense that future vintages will only grow in gravitas as the vines attain some age.
CE's rating: 91/100.
Check out our South African wine ratings database.
Like our content?
Show your support.
Subscribe