Hogan new releases
Jocelyn Hogan Wilson studied Viticulture & Oenology at the University of Stellenbosch before joining Franschhoek property La Bri in time for the 2007 harvest. She later took a break from vinous pursuits to start a family before launching her own label in 2014, the range growing slowly but surely since then. Tasting notes and ratings for the new releases as follows:
Hogan The Galvanised Chardonnay 2020
Price: R260
54% of grapes from Elandskloof, 23% Banhoek and 23% Helderberg. Spontaneously fermented and matured for 11 months in fourth- and fifth-fill barrels. Some struck match reduction before pear, peach and lemon plus some oatmeal on the nose while the palate is tightly wound (alcohol: 12%) with pure fruit and bright acidity, the finish long and savoury. Nicely assembled.
CE's rating: 93/100.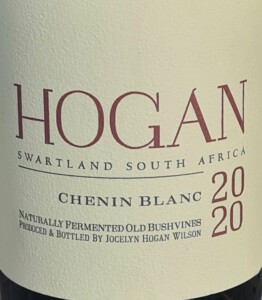 Hogan Chenin Blanc 2020
Price: R345
Grapes from the Paardeberg. Expressive aromatics of peach, citrus, fynbos and talcum powder while the palate has excellent fruit concentration and snappy acidity, the finish long and pithy. Hogan opts for full malolactic fermentation and yet this remains lean and focused – alcohol again a mere 12%.
CE's rating: 95/100.

Hogan  Mirror For The Sun Cabernet Franc 2020
Price: R345
From Helderberg grapes. A pronounced leafy, almost medicinal note sits above red and black berries plus pencil shavings. A somewhat curious palate in that ripe, sweet fruit plays off against rather tart acidity (alcohol is 14.5%). The tannins are fine, however, and the finish is nicely savoury.
CE's rating: 90/100.
Hogan Divergent 2019
Price: R395
34% Cabernet Sauvignon, 34% Cinsault and 32% Carignan – a homage to the famed Chateau Musar as is now well documented. Red and black berries, fresh herbs, earth and spice on the nose while the palate has very good structure – pure fruit, acidity that really pops and crunchy tannins. This vintage retains the singularity that the wine has always had but the components seem better married, the overall wine possessing more harmony than before.
CE's rating: 94/100.

Check out our South African wine ratings database.
Like our content?
Show your support.
Subscribe