Klein Amoskuil maiden releases
2
Klein Amoskuil is the Swartland farm owned by Charles Back where the Spice Route wine brand began in 1998. More recently, some significant developments have happened here, namely the production of natural wine in buried qvevri (terracotta vessels imported from Georgia) starting in 2019, as well as the conversion to organic farming, official certification obtained last year.
In the meantime, the Spice Route tourism destination in Paarl has enjoyed success, so much so that Back and team felt that it was increasingly difficult to communicate the Swartland identity – organic farming – natural wine message via the Spice Route brand and the decision was taken to give the property is own label.
The new range consists of and a Sauvignon Blanc from the oldest block in the country, previously known as the Spice Route Amos Block, and four natural qvevri wines (a white, a prolonged skin contact orange wine, rosé and a red blend).
Tasting notes and ratings as follows:
Klein Amoskuil Organic Sauvignon Blanc 2022
Price: R225
Grapes from a 1965 block. Includes various components: cold and warm ferments, tank and barrel, settled and unsettled juice plus a portion given 90 hours of skin contact. Pretty aromatics of floral perfume, white peach and hay while the palate has lovely texture, smooth but not thick or greasy, the acidity well integrated and the finish gently savoury. Understated and refined.
CE's rating: 94/100.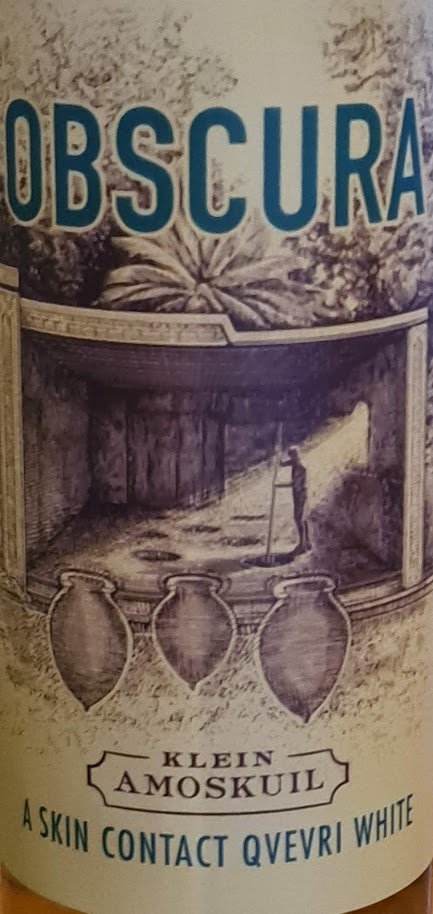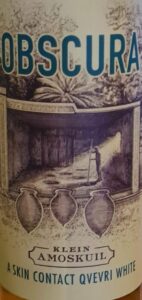 Obscura White 2021
Price: R250
27% Chenin Blanc, 27% Semillon, 20% Viognier, 17% Sauvignon Blanc and 9% Petit Manseng sourced from Klein Amoskuil and Back's Darling vineyards. Left on the skins for six weeks. Wonderfully complex aromatics of green and yellow fruit, fynbos, potpourri, olive oil and some nuttiness. The palate has dense fruit, punchy acidity and a deeply savoury finish. There also some powdery tannins at play here but the wine is not at all clumsy or rustic. Technically on point, super-detailed and taut. Alc: 11%.
CE's rating: 96/100.
Obscura Orange 2022
Price: R300
100% from Darling Grenache Blanc. Left on the skins for eight weeks. Peach, orange, floral perfume, olive oil and spice on the nose while the palate has good fruit expression, lively acidity and a gently savoury finish. Relatively straightforward as "orange" wines go but entirely pleasurable to drink. Only 500 bottles made. Alc: 12.5%.
CE's rating: 92/100.
Obscura Rosé 2022
Price: R225
A co-ferment of Darling Grenache Blanc and Noir. Punch-downs stopped after two days to ensure preferred colour extraction. Left on the skins for four weeks. Curious but compelling aromatics of strawberry, mint, fynbos, ginger and other spice. Very direct on the palate with dense fruit and crisp acidity, the finish nicely grippy and very dry – about as far away from Provencal-style pink as its possible to get.
CE's rating: 93/100.
Obscura Red 2021
Price: R250
55% Syrah, 33% Grenache and 12% Mourvèdre. Left on the skins for six months. Exotic and provocative aromatics of red and black berries, fynbos, earth, some meatiness and spice. The palate is medium-bodied with ripe fruit and fresh acidity initially to the fore, although there's plenty of tannic grip on the finish.
CE's rating: 93/100.
Check out our South African wine ratings database.
Like our content?
Show your support.
Subscribe