La Brune new releases
Nico Grobler, previously of Eikendal, now specialises in Chardonnay and Pinot Noir under his La Brune label. His approach is particularly detail-oriented and fans of these two varieties should definitely be following his progress.
Of the 2022 vintage, he says that the growing season saw less cloud cover leading to more light intensity without necessarily being much warmer which meant a later harvest and a little more richness without a loss of freshness in the resulting wines. Tasting notes and ratings as follows:
La Brune The Valley Chardonnay 2022
Price: R165
Grapes from three vineyards across Elgin. 10% MLF. Matured for eight months in old oak. Struck-match reduction before pear, peach and citrus on the nose while the palate shows good fruit definition and bright acidity before a salty finish. Tightly wound, this considerably over-delivers in terms of quality relative to price. Alcohol: 12.5%.
CE's rating: 93/100.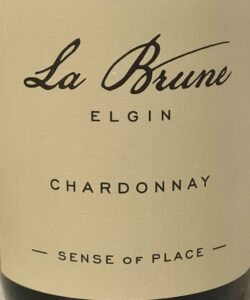 La Brune Chardonnay 2022
Price: R420
Grapes from Lothian exclusively from clone 95. 10% MLF. Matured for 12 months in 228-litre barrels, 25% new. The nose shows lemon with notes of blossom, nuttiness, oatmeal, a hint of spice and reduction in the background. The palate has impressive depth of fruit for a wine with an alcohol of just 13% – power and presence but not overblown. Pleasing texture and well-integrated acidity before a pithy finish. Plenty of detail but quite Old World in the sense of not being overtly fruity.
CE's rating: 95/100.
La Brune The Valley Pinot Noir 2022
Price: R190
Grapes from nine different vineyards across Elgin and incorporating five different clones. 20% whole-bunch fermentation. Matured for nine months in a combination of 228-, 300- and 500-litre barrels, 5% new. Floral perfume and fynbos before red and black cherry while the palate shows pure fruit, vibrant acidity and chalky tannins. Immediately accessible and hugely appealing.
CE's rating: 92/100.
La Brune Pinot Noir 2022
Price: R520
Grapes from own plantings, 60% clone 115 for power and richness, 25% clone 113 for earthiness and chalky tannins and 15% clone 459 for fruit. 50% whole-bunch fermentation. Matured for 11 months in 228-litre barrels, 25% new.
Initially aroma associations are quite dark – black cherry, violets, earth, spice and some smoky reduction but raspberry, herbs and tea leaf emerge with time in glass. The palate is dense with fresh acidity and crunchy tannins – neither too lean nor too plush. Alcohol: 12.5%.
CE's rating: 94/100.
Check out our South African wine ratings database.
Like our content?
Show your support.
Subscribe